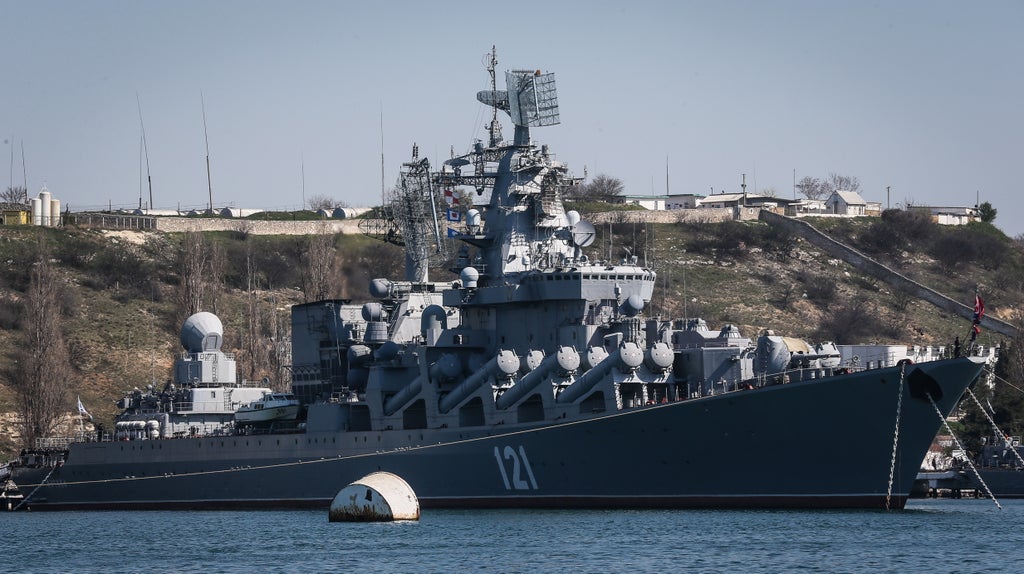 Ukrainian claims to have struck Russia's flagship in the Black Sea with anti-ship missiles are "credible", western officials have said.
There are conflicting accounts of how a massive explosion on the Moskva occurred, with Russia claiming that the cruiser was seriously damaged by a fire which spread to its ammunition store, while Kyiv insists it was successfully targeted by two Neptune missiles.
The facts are yet to be independently verified, but one Western official said that Moscow's version of events was "difficult to believe", while the Ukrainian claim appeared "credible".
If true, Moscow's account of a fire causing an explosion in the ammunition store of a warship would represent "an incredibly inept piece of control by the Russian military", said the official.
But whatever the truth behind the explosion, the loss of the Moskva – the warship told to "go f*** yourself" by Ukrainian troops on Snake Island at the outset of the invasion 50 days ago – would be a "massive blow" to the credibility of the Russian military, they added.
With a range of 170 nautical miles, the Ukrainian-developed Neptune missile would have been capable of striking the Soviet-era ship from a position near the coastal city of Odessa.
Anti-ship missiles promised to Ukrainian president Volodymyr Zelensky by Boris Johnson during last week's visit to Kyiv are understood not to have arrived yet, meaning there is no question of UK munitions being responsible for the strike.
If Ukraine's missiles were indeed the cause of the explosion, it would demonstrate the "determination, initiative and ingenuity" of the eastern European country's troops and their ability "to be able to project their force and to really contest the situation with Russian forces", said the official.
While the Moskva played a major role in Russia's air defence in the Black Sea, its loss "doesn't necessarily undermine their capability fatally", as other vessels will be able to take over its duties, said Western officials.
But they added: "It's an enormous loss regardless of how it's happened. Whether it's as a consequence of ineptitude on board or an attack by Ukrainian forces, it's a massive blow for Russian credibility
"Either they've been vulnerable to an attack by Ukrainians, and that questions their competence, or they've had a fire on board a capital ship, which has resulted in the detonation of its magazine, where its ammunition is stored, and that is just another bit of incompetence.
"So there's something around the blow to the Russian sense of pride in their military. And this is meant to be a military that's modernised itself over the last decade."
The picture of incompetence surrounding the Moskva was of a piece with Russia's military performance in Ukraine as a whole, where Vladimir Putin has been forced to withdraw troops sent on what was intended to be a "thunder road" drive to take capital Kyiv within days in late February, said officials.
Ukrainian claims of 19,700 Russian troops killed may be overblown, but it was clear that "incredible numbers" have died and that morale in the ranks is "at the bottom end of the scale".
The Russian president's efforts to transfer the battered remains of the Kyiv battle groups to the east of Ukraine for a fresh assault on the Donbas region were being hampered by "torrential" rain which has rendered off-road manoeuvres all but impossible.
Meanwhile, the Russian air force appears to be "terrified" of operating over Ukrainian positions after taking numerous casualties.