Key events
61 mins: Uruguay, sensing a chance to turn the screw on tiring opponents, make a raft of changes. A whole new front row of Pujadas, Gattas and Piussi come on, as do backs Felipe Berchesi and Juan Manuel Alonso. For Namibia, Adriaan Booysen replaces Hardwick.
60 mins: The attack ends in frustration as the returning Gaoseb is penalised for sealing off. His captain, Tjiuee Uanivi, isn't happy with Reynal; these technical penalties are starting to hurt his team.
58 mins: Coetzee is back on, with Shikufa heading back to the bench. Gaoseb also returns for Namibia, who have an overlap on the right – but the pass to Mouton forces him to check his run, and Uruguay can regroup.
57 mins: PJ van Lill is on for Namibia, who still have a minute to play with 14 men. It doesn't stop them launching another attack, stopped by a turnover. Has the pendulum swung Uruguay's way?
Arata had a difficult first half but he has shone in the second, setting up Amaya's second score and now putting Uruguay in front. Snapping up a deflected Deus pass, he slaloms past two defenders, leaving Mouton in a heap before sliding over the line. Etcheverry adds the conversion.
TRY! Uruguay 26-23 Namibia (Arata 52′)
Namibia barely have time to reflect on that missed chance before Uruguay break away, setting up Santiago Arata to score a superb solo try!
50 mins: Fourteen-man Namibia continue to be aggressive, with Mouton switching the direction of play for Izaacs to charge forward – but his pass is just too low for Stevens, in sight of the line, to scoop up from his ankles …
TRY! Uruguay 19-23 Namibia (Amaya 49′)
Uruguay sweep the ball out wide to Amaya, who is tackled by Stevens but vaults to get the ball down a split-second before he is clattered into the corner post. A lovely bit of skill, and Etcheverry adds a clinical conversion.
Johan Coetzee is penalised again, and sent to the sin bin by Reynal, after a series of errors. Because Namibia need three front-row players on the field for the scrum, Haitembu Shikufa comes on with flanker Prince Gaoseb temporarily leaving the field.
46 mins: Uruguay win the lineout and scrap for the line, Arata making ground – but the blue wall holds firm under the posts, although an offside presents Uruguay with another chance …
44 mins: Another handling error, and Uruguay lead that particular count 8-1 now. Namibia's weakness is at the scrum, though, and as their pack collapses, Uruguay set up an attacking lineout opportunity.
Uruguay 12-23 Namibia (Swanepoel pen) A terrible start to the half for Uruguay, with another spilled high ball presenting Swanepoel with a regulation penalty. He converts to stretch the lead to nine points.
The second half is under way. At the risk of stating the obvious, this opening 10 minutes – and the scorers of the next try – could be crucial.
Half time! Uruguay 12-20 Namibia
The lineout is spilled but Stevens collects and hoofs into touch, right on the 40-minute mark. Namibia are good value for their half-time lead. Is that elusive first World Cup win finally going to arrive?
39 mins: After an exchange of undercooked kicks, Uruguay look to launch a final attack but can't find any forward momentum until Amaya's awkward kick into touch. Namibia lineout, and a chance to see out the half here.
37 mins: More frustration for Uruguay as Etcheverry's offload to Deus goes forward. That attacking pivot of Etcheverry and Arata has not really got going so far.
Uruguay 12-20 Namibia (Swanepoel pen) Namibia keep their opponents on the back foot, Mouton again carrying well, before Freitas is penalised for a "scoop ball" trying to snatch possession back. Swanepoel adds the three points, and Namibia look set to go in with a half-time lead.
32 mins: Tempers flare between the forwards after a solid half-hour of pushing and shoving. Uruguay are penalised for an obstruction, allowing Swanepoel to ease the pressure with a kick into touch.
31 mins: Solid defensive work from Manuel Leindekar – one of a group of Uruguay players based in France – as he tries to strip the ball away from Ludick, forcing a penalty for not releasing.
TRY! Uruguay 12-17 Namibia (Kessler 28′)
Germán Kessler takes the lineout, Uruguay win the ball and it is worked back to the hooker, who barrels through a gap to score. Etcheverry converts this time, and Uruguay will be feeling much better.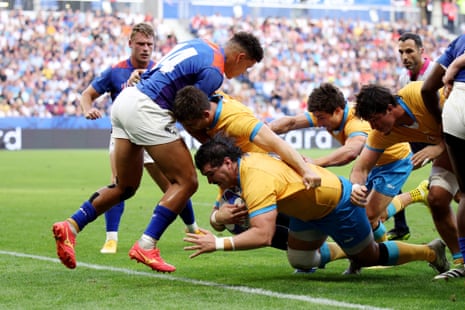 26 mins: It's a repeat at the other end, with Namibia intercepting after Perez finds German Kessler in space, but Reynal bringing play back for an offside. Uruguay go for the corner …
Uruguay 5-17 Namibia (Swanepoel pen): The fly-half converts the penalty, and the lead is back out to 12 points.
23 mins: The Namibian pack grind towards the line and Uruguay stray offside – they turn it over but we come back for the penalty. Swanepoel opts for the three points from close range …
21 mins: Another clumsy error, this time from Bautista Basso, cedes territory to Namibia. This has been a lively old start.
TRY! Uruguay 5-14 Namibia (Amaya 18′)
Deus is held up by two blue shirts but Uruguay keep ball and work it to fly-half Etcheverry, who offloads to Baltazar Amaya. Another hint of a forward pass, but the try stands after Amaya batters his way over the line. Etcheverry miscues the conversion, though.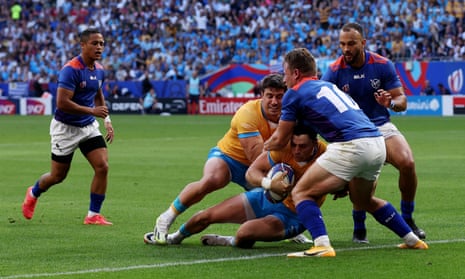 18 mins: The referee, Mathieu Reynal, is something of a stickler at the breakdown and he whistles a Namibia player for the third time in as many minutes. Arata leaves the ball for No 8 Carlos Deus, who surges into space …
16 mins: Up in the booth, Uruguay head coach Esteban Meneses looks a little stunned. His side have another chance to get on the scoreboard here, though, with a scrum 5m out …
15 mins: Loubser intervenes to stop Uruguay hitting straight back, scooting back to collect Etcheverry's diagonal kick under pressure from two players in gold (Uruguay's change kit – Namibia are in their first-choice blue shirts).
12 mins: I have to say that, from the TV angle, Hardwick's pass seemed to go forward – but there is no TMO intervention, and the try stands! Swanepoel adds a tricky conversion to stretch the lead.
TRY! Uruguay 0-14 Namibia (Greyling 11′)
Mouton breaks the lines and Namibia find space on the left flank as Izaacs offloads to Hardwick. The No 8 slips the ball wide as he is tackled and Greyling charges through to score! Oh my word.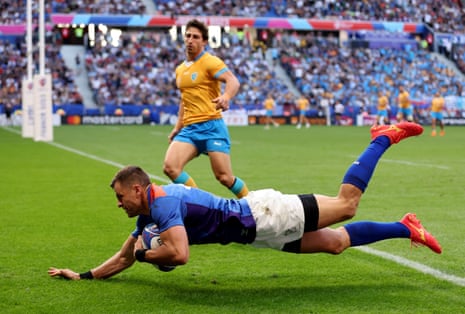 8 mins: It's been an awkward and error-strewn start for Uruguay, perhaps feeling the pressure of raised expectations. An up-and-under is spilled by Etcheverry, allowing Namibia to surge upfield again …
5 mins: Coetzee rested a number of players for the 96-0 defeat to France, and it's paying off early on with his team looking fresher. The attacking move is held up here, though, Uruguay forcing the penalty.
3 mins: I didn't even have time to tell you that Loubser was fit to start before he was celebrating an opening score for Namibia. The pool outsiders have now won a penalty, earning a lineout deep in Uruguay territory.
That will make things very interesting. Uruguay went straight on the attack but Arata's loose pass was snatched up off the floor by Mouton, who was free to burst clear from his own half and score under the posts.
TRY! Uruguay 0-7 Namibia (Mouton 1′)
What a start for Namibia – a try after 59 seconds from Gerswin Mouton, and it's converted by Swanepoel!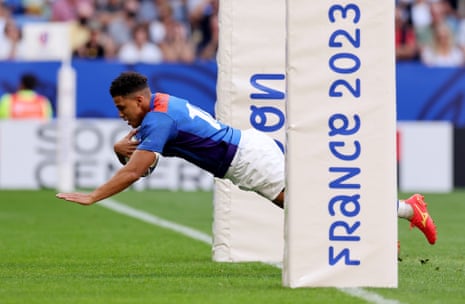 We are under way in Lyon, where there are a few patches of empty seats but a festive atmosphere regardless.
Uruguay lead the teams' head-to-head battle 4-1, including a 26-18 World Cup warm-up match in Montevideo last month. Namibia's only win against today's opponents came in June 2019, when they prevailed 30-28 before the World Cup in Japan.
Cliven Loubser, who kicked 15 points in that victory, is due to start at full-back today, but appears to have picked up a knock in the warm-up – that would be another big injury blow for Namibia.
Before this southern-hemisphere skirmish, here's Rob Kitson on Wales and Ireland's progress in a tournament that has belonged to the north so far.
Uruguay: Amaya, Basso, Pérez, Vilaseca (c), Freitas, Etcheverry, Arata; Sanguinetti, Kessler, Arbelo, Aliaga, Leindekar, Ardao, Civetta, Deus.
Replacements: Pujadas, Gattas, Piussi, Rodríguez, Dosantos, Ormaechea, Berchesi, Alonso.
Namibia: Loubser, Mouton, Izaacs, Burger, Greyling, Swanepoel, Stevens; Benade, Van Jaarsveld, Coetzee, Ludick, De Klerk, Gaoseb, Uanivi (c), Hardwick.
Replacements: Van der Westhuizen, Sethie, Shifuka, Van Lill, Katjijeko, Booysen, Theron, Van der Bergh.
The path towards the final will become clearer for many teams in the next few days, but this third tranche of World Cup fixtures kicks off with a battle between two winless sides playing for little more than national pride.
Not all underdogs are equal, though: while Uruguay have pushed both France and Italy close (and still have a mathematical chance of the quarter-finals), Namibia are already out after three increasingly punishing defeats to Pool A's Tier 1 trio.
Allister Coetzee's line-up is also weakened by injury and suspension, with Johan Deysel serving a five-match ban and Johan Retief sidelined by a spider bite. Still, today represents their best chance to finally claim a first-ever World Cup finals win.
Uruguay are just four places higher in the world rankings but are warm favourites today after their impressive efforts in defeat so far. Victory would be their fourth in finals history, and should cement their status as an emerging Tier 2 rugby nation.
Plenty to play for in Lyon, then. Kick-off is at 4.45pm BST, 5.45pm local time.