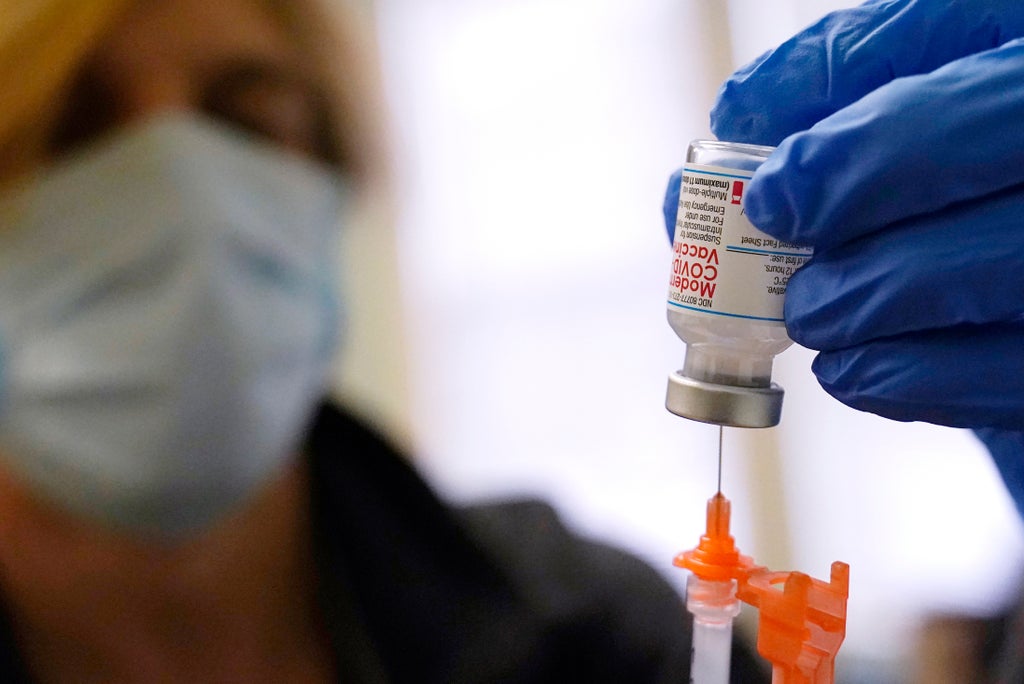 Joe Biden gives an update on federal surge response to Omicron
The Supreme Court has tossed out a Biden administration vaccine mandate that would have required 80 million workers to either get vaccinated or submit to regular testing.
In a blow to the president's push to get more Americans vaccinated, the ruling comes as health experts believe that the US may be approaching the peak of the latest wave of Covid-19 brought on by the highly contagious Omicron variant.
Meanwhile, Dr Anthony Fauci has defended remarks made during a recent hearing of the Senate Committee on Health, Education, Labor, and Pensions.
The National Institute of Allergy and Infectious Diseases director was heard calling Senator Roger Marshall "a moron" when the senator questioned if he should have a publicly available financial disclosure form on Tuesday.
Dr Fauci told MSNBC on Wednesday that he was stunned to know "that a sitting United States senator doesn't realise that my financial statement is public knowledge".
The infectious diseases expert also clashed with Senator Rand Paul during the hearing, who he accused of politicising the pandemic and "kindling the crazies" with his remarks. Dr Paul has since doubled down on his remarks.
1642160757
ICYMI – How the Supreme Court voted on Biden's proposed vaccine mandate
The Supreme Court voted 6-3 along ideological lines to toss out Joe Biden's mandate for businesses requiring those with more than 100 workers to institute vaccination or regular testing requirements.
A second 5-4 ruling in the court allowed the administration's requirement for healthcare workers to be vaccinated to remain in place. Conservative justices John Roberts and Brett Kavanaugh sided with the liberal justices on that decision.
However, the first ruling is nevertheless a major blow to the plan the president announced last year.
In their majority opinion, the six justices wrote that although Covid-19 was indeed a hazard faced by many employees at their workplaces, it did not fall under the legal definition of an "occupational hazard" that OSHA, the US government agency which enforces labour standards, could regulate.
Thomas Fenton14 January 2022 11:45
1642159236
Joe Rogan and Robert F. Kennedy Jr to appear at 'Defeat the Mandates' protest
Robert F. Kennedy Jr. and controversial podcast host Joe Rogan are set to appear as guest speakers at a conspiracy theory-linked COVID-19 vaccine protest in Washington, D.C.
Mr Kennedy, son of former senator Bobby Kennedy and nephew of the former president John F. Kennedy, is slated to appear at the "Defeat the Mandates" rally in D.C. on January 23, Newsweek reports.
The Defeat the Mandates demonstration aims to protest against "forcing vaccinations on Americans" and other COVID-related restrictions.
The 23 January protest is set to coincide with a "World Wide Rally for Freedom" rally in D.C. The "World Wide Rally for Freedom" is a coordinated international anti-vaccine protest movement with ties to conspiracy theory and QAnon groups.
Thomas Fenton14 January 2022 11:20
1642157856
Republicans make Nazi regime comparisons ahead of new D.C. vaccine mandates
A vaccine mandate that is being introduced for Washington D.C. businesses has been met with hostility by several GOP politicians.
The mandate, which was announced by Mayor Muriel Bowser in December, will force many businesses — from gyms and theaters to bars and restaurants — to require that patrons over the age of 12 show proof of COVID-19 vaccination before entering, DCist reports.
News of the new law, which is set to be introduced on 15 January, sparked fury amongst many Republicans – although none were quite as hyperbolic as Rep Warren Davidson (R-Ohio). In a recent Tweet, he compared the mandate to Nazism and seemed to imply that D.C. would eventually round up and kill people who opt not the get vaccinated.
"Let's recall that the Nazis dehumanized Jewish people before segregating them, segregated them before imprisoning them, imprisoned them before enslaving them, and enslaved them before massacring them," he wrote, also encouraging people not to comply.
Thomas Fenton14 January 2022 10:57
1642155017
Less than One-Third of Voters Trust Coronavirus Information from Fauci – Poll
A NewsNation poll of 1,000 voters taken this week found that less than a third (30.8 percent) trust Dr Anthony Fauci when it comes to coronavirus information.
The question asked participants to select from a list of sources who they trusted when it comes to information about Covid-19. They could choose more than one answer.
Listed were Dr Fauci (30.8 percent), President Biden (15. percent), federal health authorities (49.8 percent), your doctor (63.2 percent) and the news media (10.2 percent).
It said there was a margin of error of 5.8 percent.
Former Trump adviser Steve Cortes hit out at Dr Fauci when he shared the results on Twitter Thursday.
she glover14 January 2022 10:10
1642151413
Biden urges businesses to institute their own vaccine mandates
Following the Supreme Court's decision to halt the Biden administration's plans to introduce a vaccine mandate for large businesses, the president said he was "disappointed that the Supreme Court has chosen to block common-sense life-saving requirements for employees at large businesses that were grounded squarely in both science and the law."
He called on businesses to institute their own vaccination requirements, noting that a third of Fortune 100 companies already have done so.
The US companies that have their own vaccine mandates include Door Dash, Deloitte, McDonalds, Google, Facebook and more.
Ella Glover14 January 2022 09:10
1642142648
Covid-19 pills shortages as Omicron rages
Two new Covid-19 pills from Pfizer and Merck that were meant to be crucial to fighting the pandemic are in short supply and have played little role in fighting the Omicron surge .
The Biden administration ordered the two pills late last month, which would reduce the burden on hospitals.
However it did not place mass orders as it did with vaccines, reported Associated Press.
Pfizer said that as its pill Paxlovid, takes six to eight months to manufacture, it can supply only about 250,000 courses of the treatment by the end of this month.
Merck's pill, Molnupiravir, was produced in greater advance quantities but final testing showed the drug was far less effective than Pfizer's pill.
It also contains potential side effects for pregnant women and is considered to be a last option, according to federal government guidelines.
While the federal government has sent 164,000 Pfizer pills to states, allocating them by population-health officials in states said they are inadequate.
There is also shortage of antibody medications, with federal officials limiting shipments to 50,000 doses per week.
Sravasti Dasgupta14 January 2022 06:44
1642140629
19 states have less than 15% ICU capacity
As Omicron cases surge across the US, hospitals have been left overwhelmed.
Data from the US department of health and human services showed that 19 states have less than 15 per cent intensive care capacity as hospitalisations continue to soar.
These include Kentucky, Alabama, Indiana and New Hampshire, Arizona, Delaware, Georgia, Massachusetts, Mississippi, Missouri, Nevada, New Mexico, North Carolina, Ohio, Oklahoma, Pennsylvania, Rhode Island, Texas and Vermont.
The data also showed that hospitals in four of these states, Kentucky, Alabama, Indiana and New Hampshire have less than 10 per cent capacity for intensive care.
As of Wednesday, hospitalisations across the US have reached a record high of 151,261.
Sravasti Dasgupta14 January 2022 06:10
1642138200
Why Anthony Fauci called a GOP senator a 'moron'
Dr Anthony Fauci, head of the National Institute of Allergy and Infectious Diseases, found his way into the headlines this week after he was heard on a hot mic calling a GOP senator a "moron" during a committee hearing.
It comes after a wave of unrelenting criticism from conservatives, writes John Bowden.
Oliver O'Connell14 January 2022 05:30
1642135215
Fauci 'deserves everything he gets', says Rand Paul
Senator Rand Paul has suggested that Dr Anthony Fauci "deserves" criticism for his handling of Covid and told The Independent he 'resented' the US chief medical adviser blaming him for threats made against the top infectious diseases expert.
Oliver O'Connell14 January 2022 04:40
1642134874
Biden administration to send medical teams to six states
President Joe Biden announced on Thursday that the federal government will be sending medical teams to six states to help with Covid-19 care where hospitals and healthcare systems have been overwhelmed by the spread of the Omicron variant.
Military medical teams will be sent to New York, New Jersey, Ohio, Rhode Island, Michigan and New Mexico.
The teams will support the healthcare systems in major hospitals in the states.
A defence official said that more than 40 medical teams from the Army, Air Force and Navy that include a total of 1,000 active duty military medical personnel are available.
Teams will continue to be mobilized and deployed where they are needed in the coming weeks.
A White House official says that this is a "first wave of deployments," and other teams will also be sent to areas where they're needed.
Sravasti Dasgupta14 January 2022 04:34