December 01, 2021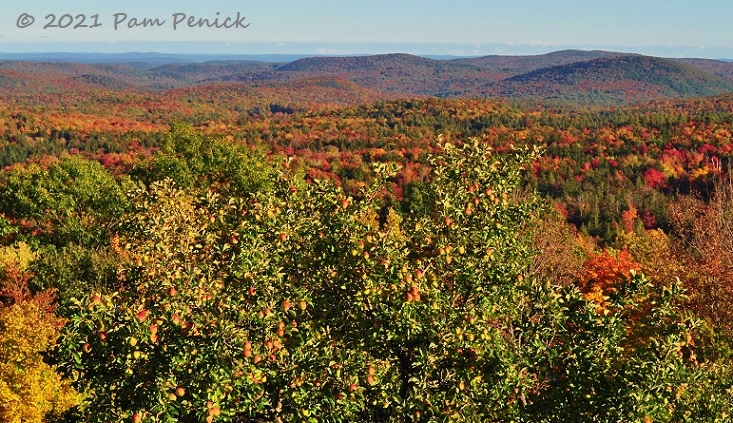 Forty-seven miles — that's how wide Vermont is at its tapered southern end. For someone from the endless state of Texas (773 miles wide, or about 12 hours of driving without stopping for gas, food, or a bathroom), it almost seems like you could stretch out your arms and touch each side.
On our leaf-peeping road trip in early October, we left Peterborough, New Hampshire, after lunch and headed west for the Vermont border and scenic Route 9, also known as the Molly Stark Trail.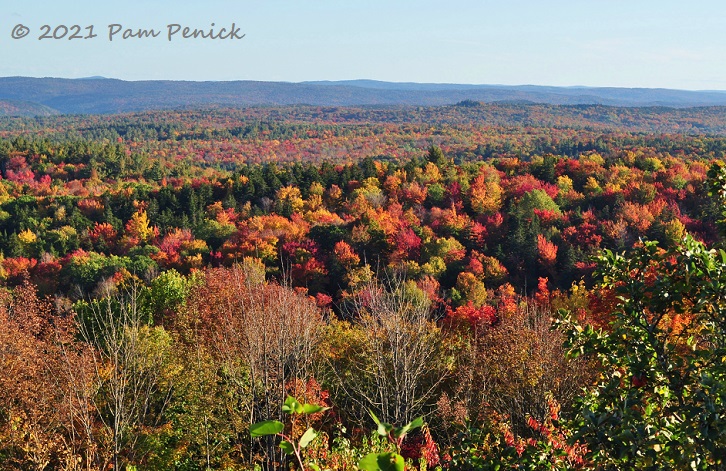 Molly Stark Trail
Named for the wife of Revolutionary War general John Stark — who's said to have rallied his troops by crying out, "There are the Red Coats. They will be ours or tonight Molly Stark sleeps a widow!" — the Molly Stark Trail runs from Brattleboro to Bennington and offers spectacular views of the rolling Green Mountains.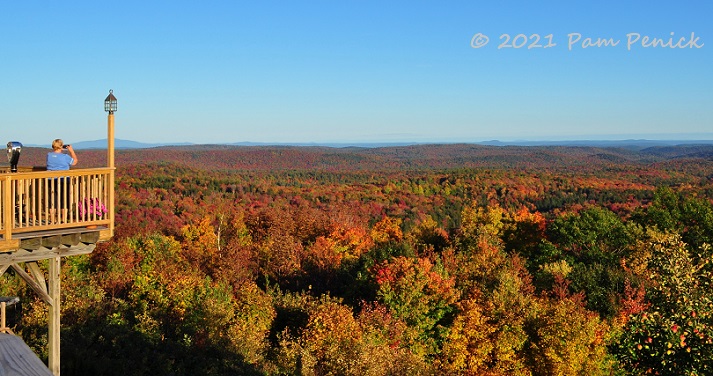 Hogback Mountain Scenic Overlook
At the Hogback Mountain Overlook, we pulled over to join dozens of leaf-peepers admiring blushing trees that stretched as far as the eye could see. That's Massachusetts in the distance.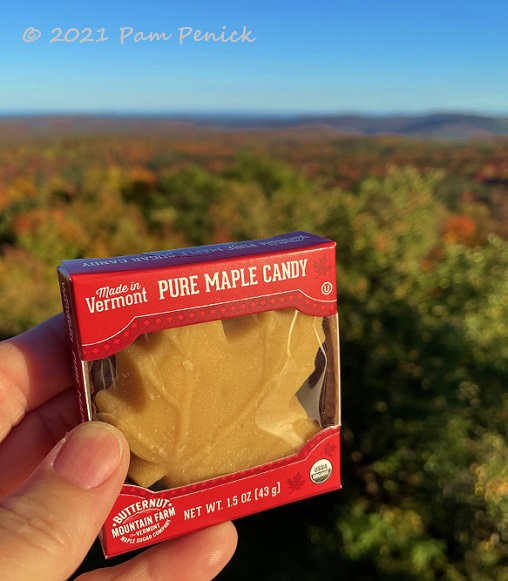 Realizing the Hogback Mountain Country Store, a popular tourist shop at the overlook, was about to close, we dashed in and bought a few packages of maple leaf candy, which David remembered fondly as souvenir treats from family vacations in New England.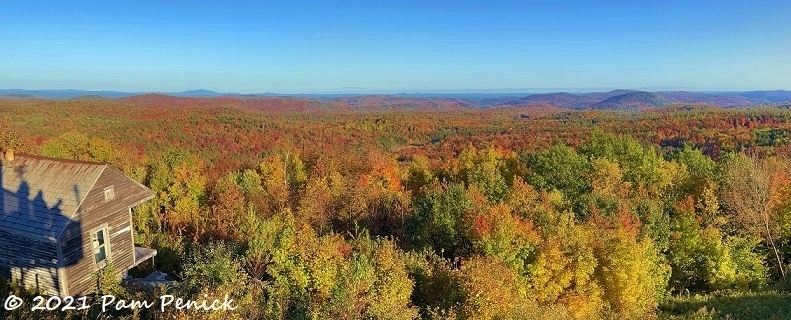 The autumnal beauty of the Green Mountains in late afternoon
Bennington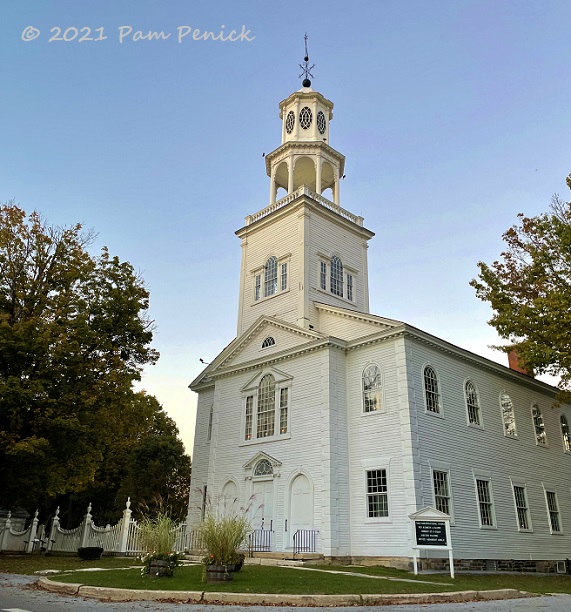 We rolled into Bennington at sunset, drawn off-route to our hotel by a tall obelisk we'd spotted from the highway. Cruising the town's all-American Main Street, we made our way uphill and past a classic white New England church — the Old First Church, where, as it happens, Robert Frost is buried. I was wishing for more time to explore charming Bennington, but we had only a few minutes of daylight left.
Bennington Battle Monument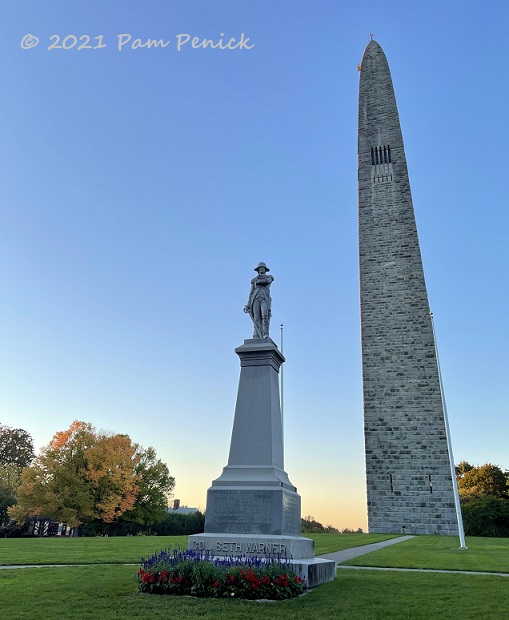 We found the obelisk, the Bennington Battle Monument, pointing skyward on the crown of a grassy hill. Built in 1891, the 306-foot monument commemorates the Battle of Bennington of 1777, a turning point in the Revolutionary War. On one side Seth Warner, commander of the Green Mountain Boys, gazes east from his tall pedestal.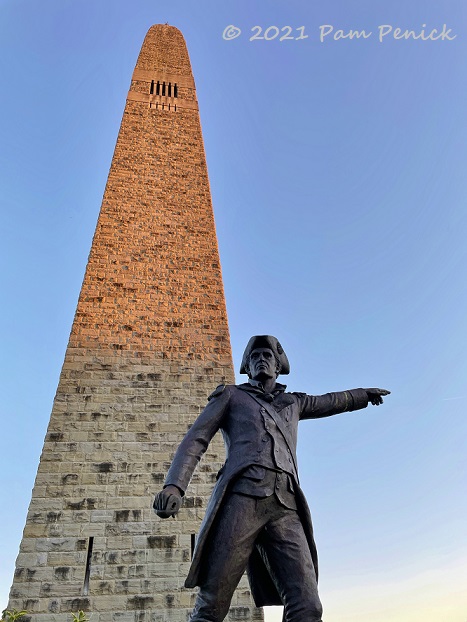 On the other side General John Stark, husband to Molly, heroically points at his foes, urging his men into battle by vowing to win or die trying, widowing poor Molly if necessary. They won. The Redcoats were weakened, the Americans gained an edge, and the tide of war turned. Today, he's memorialized with a stone tower, she with a scenic byway. Both of their names live on.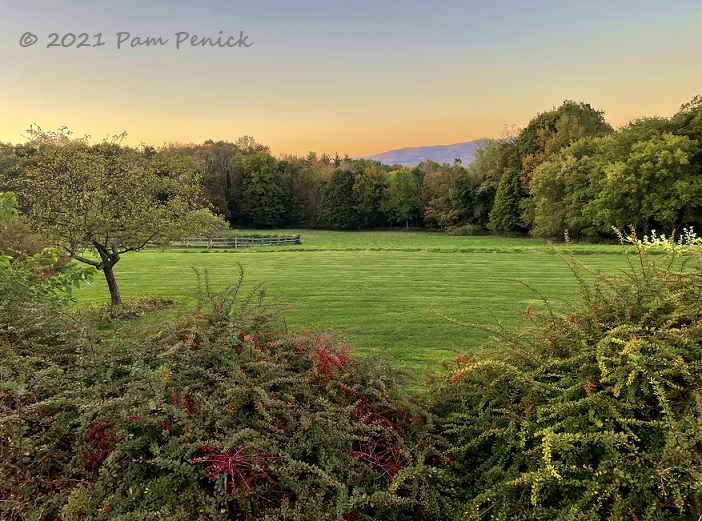 Turning my gaze west, where the setting sun tinted the Green Mountains tangerine, I peeked over a tousled hedge to admire someone's country garden. Tomorrow we'd cross into New York, heading to Innisfree Garden.
Up next: Chinese-influenced Innisfree, a strolling landscape garden in Millbrook, New York. For a look back at the romantic, aster-filled garden of Michael Gordon, click here.
I welcome your comments; please scroll to the end of this post to leave one. If you're reading this in a subscription email, click here to visit Digging and find the comment box at the end of each post.
_______________________
Digging Deeper: News and Upcoming Events
Need design help with your yard? Hire me as your personal garden coach! Maybe you need replacement plant ideas after the big freeze. Or maybe your landscaping has grown tired, and you want fresh curb appeal. Or perhaps you're ready to get rid of some lawn and create a pollinator garden, bird habitat, or hangout space for you and your friends. I'm here to help! Contact me to let me know what's going on, and let's figure it out together. My range is Austin and suburbs within a 25-min. drive of NW Austin, but I'm flexible and can travel farther with a surcharge, so let me know where you are. Weekday morning appts. only.
Join the mailing list for Garden Spark! Hungry to learn about garden design from the experts? I'm hosting a series of talks by inspiring garden designers, landscape architects, and authors a few times a year in Austin. Check out the 2021-22 schedule. These are limited-attendance events that sell out quickly, so join the Garden Spark email list to be notified in advance. Simply click this link and ask to be added.
All material © 2021 by Pam Penick for Digging. Unauthorized reproduction prohibited.