Key events
Full-time: Wales 40-6 Australia

TRY! Wales 40-6 Australia (Morgan, 78)

Drop-goal! Wales 35-6 Australia (Anscombe, 71)

Penalty! Wales 32-6 Australia (Anscombe, 60)

Penalty! Wales 29-6 Australia (Anscombe, 52)

TRY! Wales 26-6 Australia (Tomkins, 48)

Penalty! Wales 19-6 Australia (Anscombe, 43)

Half-time: Wales 16-6 Australia

Penalty! Wales 16-6 Australia (Anscombe, 39)

Penalty! Wales 13-6 Australia (Anscombe, 29)

Penalty! Wales 10-6 Australia (Anscombe, 21)

Penalty! Wales 7-6 Australia (Donaldson, 15)

Biggar out injured

Penalty! Wales 7-3 Australia (Donaldson, 9)

TRY! Wales 7-0 Australia (Davies, 3)

All eyes on Australia's 10

Big names return for Wales

Preamble
Full-time: Wales 40-6 Australia
Jac Morgan holds up Vunivalu over the line and that's the final act. Wales with a famous victory! They qualify for the next round and perhaps consign Australia to an early exit. What a performance. Dominant from start to finish. That is a chastening day for Australian rugby. Where do they go from here? Wales' biggest win over Australia. A night that will go down in Welsh rugby folklore.
80 mins: A penalty gives Australia a chance to set an attack from a line-out.
TRY! Wales 40-6 Australia (Morgan, 78)
The maul is over and the skipper has the try! He comes up beaming! Two wads of tissue in either nostril. Bloody and bruised across his face. He's played every minute of this World Cup and he's put in a mighty shift this evening. Anscombe misses the simple conversion but wow, just look at that score! Who saw this coming?
77 mins: Penalty for Wales at the line-out. Anscombe down field. In fact that's a great kick. Wales with the line-out five out.
75 mins: Now Australia have a penalty for a high tackle on Gordan. North the guilt party. Gordan kicks to the corner. Or at least he tries to. It's too long and out of the dead ball zone. Australian fans have seen enough. They're now flooding out the exit doors.
73 mins: Kerevi is blown for a deliberate knock-on. He was attempting to tackle so it might seem harsh, but the law is the law. Anscombe punts it out. Not long to go.
72 mins: Wales have a scrum after an Aussie knocks-on. This, by the way, will be Wales' biggest ever win over Australia. And it's no less than they deserve. They've dominated every facet of the match.
Drop-goal! Wales 35-6 Australia (Anscombe, 71)
If it wasn't already, that confirms this one is over. Patient from Wales. With nothing on Anscombe, who has controlled this match since he came on for Biggar, slots another three points.
70 mins: Australia's defence pushes Wales out of their 22. But the Welsh still have it. Eight phases in and they're back through the guts with Faletau. Now Thomas and then Tomkins. Phase 11 with Faletau. Adams off the shoulder and then clearing out the ruck. Domachowski from short range. They're keeoing the ball. Anscombe in the pocket…
68 mins: Wales come close. A few charges off the maul from the line-out but Australia hold their line. In fact, they pinch it back after Tomos Williams' pass finds nothing but grass. Australia have to run it. But they lose it in contact. Dear oh dear. Wales with the scrum feed inside Australia's 22.
67 mins: Another penalty against Australia. Bell, I think, got himself in the wrong space defending a Welsh maul.
66 mins: Australia have no choice but to run it from their own 22 off the scrum. It goes to Nawaqanitawase who finds a half gap but he can't connect with Vunivalu from an off-load.
64 mins: Wales can't make this stick. They knock-on after a phase off the top of the line-out.
63 mins: Wales put a few passes together and some strong carries gets the front foot ball that Tomos Williams needs to launch a big kick into Aussie's 22. Nawaqanitawase fields, steps out of the 22 and hoofs it straight out of touch. Sums it up. Wales with the line-out in a great position.
61 mins: Australia keep some possession and they're battering the midfield. Seven phases. It's been an age since they've been in Wales' half. Wales have it after Kerevi is held up and Welsh bodies swarm around the ball. Tomos Williams, on for Davies, with the stiff tackle.
Penalty! Wales 32-6 Australia (Anscombe, 60)
This is turning into a hiding.
59 mins: Australia's scrum does hold but they make a mess of their exit. In fact they give the ball away and then concede a penalty on the edge of their own 22. Australia are disintegrating. They look like a team bereft of ideas or belief. Anscombe to hammer another nail in the coffin.
57 mins: Oh a forward pass douses an exciting Welsh move. Tomkins and North involved. Anscome fizzes one to Williams who then plays it on for Adams. But it's marginally forward so it'll be a scrum for Australia. Can they hold firm?
55 mins: Another superb box from Davies. He was moving in the opposite direction and hooked a kick into the corner from some distance. What a game he's having.
54 mins: For the third time in a row, Wales win a scrum penalty. They're munching the Wallabies front row.
53 mins: Nawaqanitawase knocks-on from the restart. Donaldson is hooked for Gordan. It really feels like Eddie is making things up as he goes along. No plan. No identity. No hope I'm afraid. Wales absolutely bossing this.
Penalty! Wales 29-6 Australia (Anscombe, 52)
They're disappearing over the horizon now.
50 mins: Kick tennis between Williams and Kellaway ends with Wales winning the territorial battle. Kellaway's kick skews off his boot. He's had a nightmare few minutes. Wales have the penalty advantage. Kerevi with a high shot on Tomkins. Lazy more than malicious. Anscombe tries to find Rees-Zammit with a cross-kick but overcooks it. So he'll take aim at the poles instead.
TRY! Wales 26-6 Australia (Tomkins, 48)
Anscombe chips over the top and Tomkins canters through the line and dives over under the poles. Excellent score! The Aussie fullback, Kellaway, was in no-man's land but take nothing away from the Welsh there. They were slick off the line-out and then had front foot ball for Anscombe who could pick his moment and ther chase was perfect. Anscombe slots the easy two. This is a 20 point game now.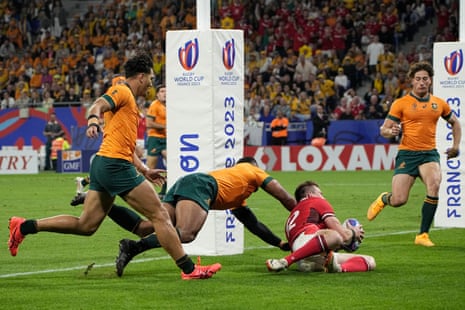 47 mins: Wales play some pretty patterns off the back of the line-out. But it's lateral. Australia defend well. Morgan with a carry. Faletau with a thrust of his own. Tomkins shovels it short for North. On they build.
46 mins: Wales win another scrum penalty. Davies goes down the blind and stabs a kick ahead and it results in a 50-22. Fantastic work from Davies. Not sure he meant that but it's worked out well. Line-out for Wales.
45 mins: Porecki's throw isn't straight! My goodness they just can't string two consecutive good things together. This is shambolic.
44 mins: Slick feet from Davies. He jinks around a couple of defenders. He's having a great game. Anscombe launches a contestable kick which Nawaqanitawase fields to perfection. A lovely take. He also wins a penalty after Adams takes him out in the air.
Penalty! Wales 19-6 Australia (Anscombe, 43)
Anscombe stretches the lead. This is getting precarious for Eddie Jones now. Wales in firm control.
42 mins: Wales now with a scrum penalty. That was an area that was working for Australia in the first half. Now Wales wheel the packs around and get the pen.
41 mins: Wales have the ball after Australia can't free the ball from a maul. Tomkins with the smart play to hold the ball up.
We're back. Can Australia turn this around or will Wales hold out?
It's been good fun. Wales for sure the better side. Australia can still win this if they can just make that final pass stick.
Great line!
At 26 minutes it was 10-6 to Wales but Australia had a line-out seven metres out. Porecki threw an awful ball over the top and a few minutes later Wales slotted a penalty. That was the momentum shifter and I wonder if that'll be the moment that consigns them to an early exit.
"If I was Australian after that penalty decision to go for touch and then to throw it back to Wales I'd go for a long walk and follow rugby league. Dreadful."
Spot on, Tony Mason.
Half-time: Wales 16-6 Australia
Wales almost end the half with a try! It's held up so that'll be that. From the scrum they then get a penalty advantage and attack through Faletau down the right. North has it and steps infield, sucking in a defender. He passes to Rees-Zammit who also steps off his right foot before heading for the corner. North is there to help shive him over the line but Australia get enough bodies under the ball to prevent it being dotted down.
40 mins: Donaldson puts the restart straight out of touch. The wheels are coming off.
Penalty! Wales 16-6 Australia (Anscombe, 39)
Wales stretching away. Australia need to get a grip now or they could be packing their bags tonight.
38 min: A perfectly weighted box from Davies is hauled down by a leaping Adams. North then wriggles through a few tacklers. Anscombe with a short pass for Williams who is rocked. Australia think they've pinched it with Valetini over the ball. The ball was loose out the back but the Aussie No. 8 had to stay on his feet if he wanted it. Instead he fell over the ball. Can't do that, mate. Penalty it is.
36 mins: Wales get a line-out going. It goes through the hands before Anscombe dinks a lovely cross-field kick to Adams. The Welsh winger catches but can't stay in touch.
34 mins: Australia's scrum has functioned well. A solid base allows Kerevi the chance to charge on the front foot and he gets over the gainline. Australia are building their phases. This is more like the Aussie rugby of old. Nope. Scratch that. Kerevi floats a pass straight out into touch.
32 mins: Some tidy work from Kellaway in the back field retains possession for Australia. They then kick down field and Nawaqanitawase chases well. But Wales are secure and then kick themselves. McDermott this time from the back of a long catepillar hoists a high box. Davies goes up to catch it but can't. Nawaqanitawase with another swift chase put the Welsh scrummie off his rhythm. Solid work from the young Aussie winger. A good chase doesn't have to end with blockbuster grab in the air.
30 mins: Hooper takes it into contact but three Wales defenders smother him and rip it loose. Australia looking disjointed out there.
Penalty! Wales 13-6 Australia (Anscombe, 29)
Australia had the line-out eight metres out from Wales' line but the play ends with Wales taking three points.
28 mins: Wales are clean at the line-out and then have a penalty advantage. They can't do much with it. Faletau picks and goes but the attack is lateral. Liam Williams does well to collect a slippery pass but nothin' doin'. So they're back for the penalty. Anscombe to extend the lead.
26 mins: What an awful throw from Porecki. It's over the top and goes straight to Morgan. He then launches an absolute bomb of a kick and wins a 50-22. What a rugby player he is.