4 min read
People living in Wales will have to abide by the rule-of-six and 2m social distancing rules in public places from Boxing Day according to a a suite of new restrictions announced by First Minister Mark Drakeford to try and slow the spread of the Omicron variant of Covid.
Confirmed cases of Omicron cases in Wales grew by 204 on Tuesday to 640, prompting Drakeford to recall the Senedd back from the Christmas recess. After his press conference at lunchtime, he will take questions from members of the Senedd during the afternoon.
There have been concerns that cases could rise to thousands very quickly, which would put further pressure on the NHS in Wales, which is already under considerable strain with staff shortages meaning the army has been called in to support services.
Drakeford said Wales will move to 'alert level two' measures from 6am on Boxing Day.
"Omicron is here already in Wales and it is now spreading quickly. By Boxing Day we can expect to see many thousands of new cases across Wales everyday," he said at a press conference this afternoon.
"The new measures will mean a general requirement of two metre social distancing in all premises open to the public and in work places, subject to a test of 'reasonable measures'. The rule of six will apply to gatherings in regulated premises, such as hospitality.
"All licenced premises will need to take additional measures… including table service and collecting contact details. Face coverings will be required in hospitality settings at all times except when seated.
"Large events will not be able to go ahead indoors or outdoors. The maximum number of people who can gather at an indoor event will be set at 30 and 50 people will be able to meet outdoors."
Up to 50 spectators can gather in addition to a sports team for team sports, and there is the same exception for events involving children.
For weddings and funerals, the numbers of who can attend will be determined by the venue's own social distancing capacity. All guests will need to take a lateral flow test before attending.
Nightclubs are to close from December 27 in Wales. Workers could be fined £60 for not working from home. There will be no additional rules for mixing in people's homes and private gardens.
The Welsh government said it would provide £120 million in support for nightclubs, retail, tourism and events businesses that are affected by alert level 2.
Scottish First Minister Nicola Sturgeon has also introduced new rules for Scotland that come into force on Boxing Day.
Edinburgh's Hogmanay events have been cancelled and football matches will have to be played with limited spectators as all large events outdoors will be limited to 500 people to try and slow the spread of the variant. Indoor events will be limited to 200 people if they are seated and 100 people for standing.
There are no rules on gatherings on Christmas Day itself.
After announcing the new rules yesterday Sturgeon took questions in the Scottish Parliament.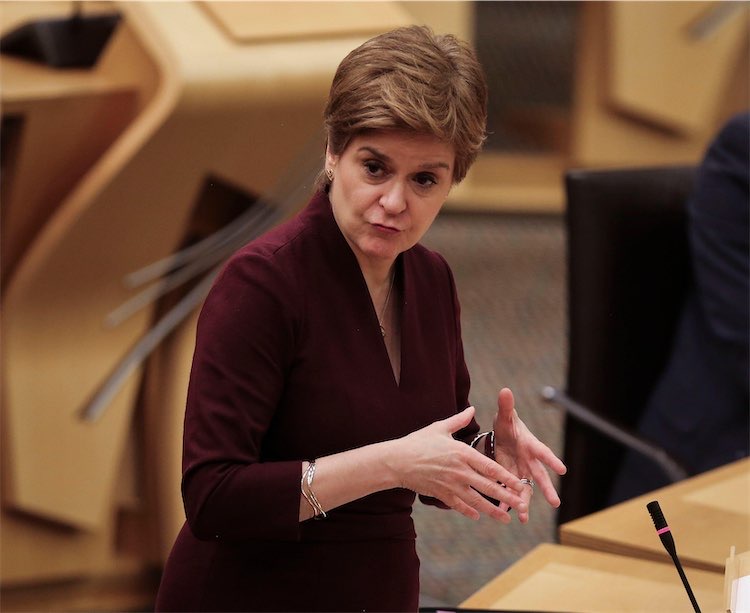 The Northern Irish executive at Stormont is also due to meet today to discuss further potential Covid restrictions to be rolled out in January.
The level of detail on post-Christmas restrictions and scrutiny from politicians is in contrast to England. So far Prime Minister Boris Johnson has said there will be no restrictions for Christmas but could not rule out other measures after that period, though he has not given an indication of what they could be, or if Parliament will be recalled.
The last press conference Downing Street held was on December 15 where Johnson stressed the need for adults to get the booster vaccine – an offer millions of people have taken up so far with record breaking numbers of people being jabbed each day.
After a long Cabinet meeting on Monday afternoon, which resulted in no further action, he did a media interview, and then on Tuesday night released a media clip, where he said there is continuing uncertainty about the severity of Omicron and hospitalisation rate which is why they did not move to introduce rules before Christmas.
After that date, he said: "If the situation deteriorates we will be ready to take action if needed."
However Parliament is not due to be recalled pre-Christmas and the Prime Minister is facing huge pressure from a sizeable portion of his backbench not to introduce tighter restrictions.
PoliticsHome Newsletters
PoliticsHome provides the most comprehensive coverage of UK politics anywhere on the web, offering high quality original reporting and analysis: Subscribe