12.36pm EDT
12:36
"Emily Bronte developed the multiple-narrator style from reading the plays (principally tragedies) of Classical Greece," writes John Starbuck. "The various narrators feature and all the violence in 'Wuthering Heights', which takes place off stage, were described so that the bloody action wouldn't offend either the audience or the gods. You have to wonder if those times have come again, given the lack of action from England."
12.31pm EDT
12:31
Thanks Tim, hello everyone. Jofra Archer isn't the only one whose old tweets can come in handy.
England are now in serious danger of losing a series in the Caribbean for the third time in four visits. Since England's last victory here, in 2003-04, West Indies have won only five other series at home: three against Bangladesh, one against Zimbabwe and one against New Zealand that I'm sneaking in at the end because it doesn't entirely suit my narrative of England being a bit of an embarrassment.
Updated
at 12.33pm EDT
12.24pm EDT
12:24
That's it from me, as

I've finally reached the end of my tether with England
I have something to write for tomorrow's Observer. Thanks for your company, your correspondence and your controlled fury. It's over to the great Rob Smyth, whose greatness extends to volunteering for an extra hour's work when a colleague has a deadline.
Updated
at 12.27pm EDT
12.20pm EDT
12:20
Wicket! Seales c & b Root 13 (West Indies 297 all out)
There it is! For real this time. Seales tries to clonk Root back over his head, but succeeds only in giving him a head-high catch, which he takes with some aplomb.
So Da Silva remains unbeaten, West Indies lead by 93, and England, if they bat the way they did on Thursday, will be in danger of an innings defeat.
Updated
at 12.27pm EDT
12.17pm EDT
12:17
116th over: West Indies 297-9 (Da Silva 100, Seales 13) You couldn't make it up.
12.15pm EDT
12:15
Wicket? Da Silva given out for 100
Gone at last! Da Silva, after raising both arms to the heavens in delight, appear to get an inside edge, which is caught by Foakes. He's given out by the umpire, he clearly agrees, and off they all go – but he hasn't touched it! So they all trot back on again.
12.12pm EDT
12:12
A hundred to Da Silva!
115.4 overs: West Indies 297-9 (Da Silva 100, Seales 13) When Root brought himself on, it felt like the classic last over before lunch that is so often given to a spinner. If so, Root was forgetting that intervals are delayed when the last pair are in, even if they look like batting forever. He takes himself off, brings back Overton and possibly regrets it as Da Silva helps himself to a cut for four, to go to his own Test best, and then a wallop down the ground to reach a hard-earned hundred. There have been many hundreds in this series, and that may well be the most significant one.
Updated
at 12.30pm EDT
12.08pm EDT
12:08
Six to Seales!
115th over: West Indies 287-9 (Da Silva 90, Seales 13) That single took Seales to 7, equalling his highest Test score. And now he sails past it by hitting Leach for six! With a proper shot, too: he plants his foot down the pitch and swings a lofted drive over long-on, no trouble. And then he's missed by Dan Lawrence at silly point – a tough chance as a firm prod goes past Lawrence's right shin. West Indies lead by 83.
Updated
at 12.16pm EDT
12.04pm EDT
12:04
114th over: West Indies 281-9 (Da Silva 90, Seales 7) In desperation, Root turns to himself. His opening gambit is a good one, an arm ball that smacks Seales on the back leg. It looks plumb, but the shake of the head from the ump is backed up by HawkEye, which reckons the ball was doing a touch too much. Seales nurdles to leg to take his first single for several weeks. Root bowls a bouncer at Da Silva which is so high, and wide of leg stump, that it may well be the worst bouncer of all time.
Updated
at 12.16pm EDT
12.00pm EDT
12:00
Missed stumping! Da Silva on 80
113th over: West Indies 280-9 (Da Silva 90, Seales 6) Facing Leach aiming into the rough, Da Silva finally loses patience and goes for a mow. He misses – but so does Ben Foakes behind the stumps. That was another case where if it had been Jos Buttler, people would have muttered "Foakes would have taken that" Da Silva celebrates his good fortune with a cut for four and a sweep for four more. The lead is 86. Bring back Mahmood! (If he's on the field.)
Updated
at 12.16pm EDT
11.56am EDT
11:56
112th over: West Indies 270-9 (Da Silva 80, Seales 6) Overton, after all that time in the deep, is a man with a plan: go round the wicket and bomb Seales. Jofra Archer he is not. I can't tell if he's bowling bouncers or slow ones. Either way, it's yet another maiden.
Updated
at 11.57am EDT
11.52am EDT
11:52
111th over: West Indies 270-9 (Da Silva 80, Seales 6) Leach continues, and tries something that doesn't come naturally to him: a variation. He goes over the wicket to Da Silva, but again it makes no difference, and that's the fifth maiden in a row.
Updated
at 11.56am EDT
11.51am EDT
11:51
110th over: West Indies 270-9 (Da Silva 80, Seales 6) Wonders never cease! Here is Overton. To be fair to Joe Root, and to Ben Stokes who took charge for a few minutes just now, the end product is just the same: a maiden to Seales. He has now Sealed up one end for 85 minutes.
"Quotation marks," says Tim Sanders. "Your 13.55 (GMT) appeal for 'single quotes' reminds me of Emily Brontë's use of nested narrators in Wuthering Heights. Heathcliff's new neighbour, Lockwood, narrates most of the story as told to him by Nelly Dean the housekeeper, who in turn reports what other witnesses have told her. I understand it was a source of much sisterly banter that Emily hardly ever got her emails published on the Keighley News OBO."
That is one of the great emails. It even had "single quotes" in single quotes.
Updated
at 11.56am EDT
11.45am EDT
11:45
109th over: West Indies 270-9 (Da Silva 80, Seales 6) Leach bounces back to keep Da Silva quiet. He's a resilient old soul, but I'm not sure why he's still on – Overton hasn't had a single over today.
"How surprising," says Andy in Brum, "that England are struggling to take tail-end wickets. If only there was a wrist spinner in the squad who could winkle them out." To be fair, not many pundits would have picked Matt Parkinson for this game – but nearly all of them would have given him a debut in the previous one.
11.42am EDT
11:42
Missed chance! Seales on 6
108th over: West Indies 270-9 (Da Silva 80, Seales 6) Stokes tries a slower ball, Seales plays a chip, the ball lollops up – and Leach, at mid-on, seems not to see it in time to dive forward. Those ones are never easy, but Leach, when he gets home, may need to go to Specsavers.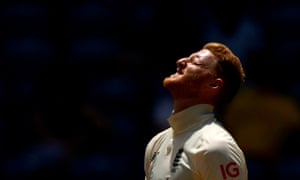 Updated
at 12.08pm EDT
11.38am EDT
11:38
107th over: West Indies 270-9 (Da Silva 80, Seales 6) Leach to Da Silva: five dots, then Leach fires one down leg side and gets away with it, prompting a rueful smile from Da Silva. The cameras cut away to the steel band, who are warming up for the lunch break with a more urgent rhythm than we've seen from the players.
"Ah it's so comforting," says Guy Hornsby, "the dull mediocrity. But added to it, we have a repetition of injuring bowlers, leaving the best quick at 1st change, and no slips when needing wickets. All we need now is the inevitable top order collapse. Sweet, sweet England."
11.34am EDT
11:34
106th over: West Indies 270-9 (Da Silva 80, Seales 6) Da Silva gets the shovel out yet again to pull Stokes for a single. He goes into the 80s, which is like making 150 on a featherbed.
11.32am EDT
11:32
105th over: West Indies 269-9 (Da Silva 79, Seales 6) Leach tries to keep Da Silva quiet by bowling wide of off, but the last ball is short enough to allow a late cut. This game, so unlike the previous two in most respects, has mimicked them in one way: for the third time running, West Indies' first innings has been longer than England's. The difference was 57 overs in Antigua, 37 in Barbados, and it's been 16 so far in Grenada. It doesn't reflect well on England's bowling, or Joe Root's captaincy. They've shown plenty of heart but not enough brain.
11.25am EDT
11:25
104th over: West Indies 268-9 (Da Silva 78, Seales 6) It's still Stokes, so Craig Overton must be either injured or seriously miffed. With a whole over to bowl at Seales, Stokes can only manage a maiden.
Another email from Adam Roberts. "I'm very sad to say that Joe Root is doing his best to confirm all my worst fears about his captaincy."
11.22am EDT
11:22
103rd over: West Indies 268-9 (Da Silva 78, Seales 6) Root persists with Leach, which is fine by Da Silva. His second attempt at a big hit is a better one, a lofted straight drive that is inches away from a six. This partnership has now dragged on for 12 overs.
Here's Tom van der Gucht, with that lethal backhand of his. "There's something vaguely heroic," he slyly announces, "about Root's obsession with picking the most anodyne and unthreatening bowling line-up available. His obsession with military medium and gentle finger-spin, despite it seemingly never paying off and there being potentially more threatening options available,reminds me of Bart Simpson's approach to Rock, paper, scissors."
Updated
at 11.23am EDT
11.17am EDT
11:17
102nd over: West Indies 264-9 (Da Silva 74, Seales 6) Stokes tries a bouncer and Da Silva is equal to it, playing a comfortable pull to take his customary single. The lead is 60.
On Twitter, Gary Naylor picks up on my musings about Mahmoud's length and whether the last man to bowl so full so early in his England career was Darren Gough. "Alan Mullally bowled that length," he reckons. "Two feet outside the off stump." Ha.
11.13am EDT
11:13
101st over: West Indies 263-9 (Da Silva 73, Seales 6) Da Silva, facing Leach, blocks the first five balls, then goes for that mow I mentioned. It's a right old cowshot, but it lands safely in the middle of nowhere and brings him a single.
11.10am EDT
11:10
100th over: West Indies 262-9 (Da Silva 72, Seales 6) Stokes finds the edge of Seales's bat – only to see it going to the vacant third slip and trickling away for four. West Indies lead by 58.
"Good job," says Felix Wood, "that without Broad and Anderson around Root won't feel bullied into wasting his reviews on spurious and over-optimistic appeals. Good job indeed."
11.05am EDT
11:05
Drinks: 'pathetic' from England
99th over: West Indies 257-9 (Da Silva 71, Seales 2) Saqib Mahmood goes off the field, no doubt preparing to open the batting. On comes Jack Leach, so Da Silva can forget about his finger and have a mow if he feels like it. He cuts, hard, but again spurns the single. Then he sweeps and misses, prompting an LBW appeal and a shake of the head from the ump as there was an under-edge. After four deliveries, the field barely changes. Da Silva is able to get out his shovel and work the ball past Root at midwicket. And that's drinks, with West Indies on top and England teetering. "I'll be totally honest," splutters Michael Vaughan, "they've been absolutely pathetic." Apart from Mahmood.
Updated
at 12.09pm EDT
10.58am EDT
10:58
98th over: West Indies 256-9 (Da Silva 70, Seales 2) Da Silva, shovelling to leg as usual, turns down a single off Stokes's second ball, then takes one off the fourth. There's still no slip for him, which has to be a howler. For Seales, there are two slips, a gully and a leg slip, but they're just spectators as he manages a couple of solid blocks.
10.54am EDT
10:54
97th over: West Indies 255-9 (Da Silva 69, Seales 2) Da Silva is in some discomfort. The blow seems to have been to his right hand, which is the one that does all the work – his wagon wheel shows that only 14pc of his runs have come on the off side. Here comes Ben Stokes to bang the ball in at him.
Updated
at 10.54am EDT
10.51am EDT
10:51
The lead reaches 50!
96th over: West Indies 254-9 (Da Silva 68, Seales 2) Runs for Jayden Seales! Like a true tail-end Charlie, he gets off the mark with a flash at Woakes and a top-edge that plops over gully. This piece of filth is good enough to take West Indies to a lead of 50. And that, Butcher spots, is exactly what England allowed the openers to put on.
10.45am EDT
10:45
95th over: West Indies 251-9 (Da Silva 67, Seales 0) Da Silva, facing Mahmood, plays and misses outside off – not that he's in danger of being caught in the slips, because there aren't any. He plays a chip for a single, back over the bowler's head, and then summons the physio to inspect his damaged finger. "I don't think it's broken," says Curtly Ambrose as the physio manipulates it. "If it wasn't before," says Butcher, "it will be now."
Mahmood has been superb again this morning. He has figures of 5-2-5-1 in this spell, to make six wickets at 20 in his week-long Test career – not to mention the top score for England in this match.
Updated
at 10.46am EDT
10.39am EDT
10:39
94th over: West Indies 250-9 (Da Silva 66, Seales 0) Woakes hits Da Silva on the glove, prompting some some hand-wringing. "He's a keeper," says Mark Butcher cheerfully, "should be used to it." He manages to shovel a single and give himself a breather.
10.34am EDT
10:34
England pay for their poor reviews
93rd over: West Indies 249-9 (Da Silva 65, Seales 0) Da Silva was so busy saving his skin that he left Jayden Seales to face a whole over from Saqib Mahmood. One No.11 to another. Mahmood, risking expulsion from the Rabbits' Union for the second time in the match, delivers a vicious bouncer, and Seales does very well to jag out the way at the last moment. Then there's a yorker, which Seales manages to dead-bat, and an LBW appeal, around the off bail, which looks out unless there's an inside edge… There's not, and DRS produces three reds – but England used up all their reviews yesterday, dim-wittedly.
"Good Morning Mr. d, Good Morning everyone." It can only be Adam Roberts, our Cayman correspondent.
"Your excellent preamble (Chris Douglas!) did include this: 'and the decision to let Root carry on as captain will no longer look deluded.' Really? It's still very much captaincy by numbers, not inspiring any confidence (in me). And today, an interesting approach to using the nearly new ball – don't bowl at the stumps and don't make the batsmen play."
Updated
at 10.36am EDT
10.26am EDT
10:26
Da Silva escapes!
He made a signal to say that he'd hit it, and Ultra Edge confirms that he was right. He is a candidate for LBW as he covers all three stumps, but he's still there and will surely look to have a slog now.
Updated
at 10.28am EDT
10.25am EDT
10:25
Wicket? Da Silva given LBW b Woakes 65
Plumb in front, but there may be a nick…
10.24am EDT
10:24
91st over: West Indies 245-9 (Da Silva 65, Seales 0) It was another good over from Mahmood, featuring a fine yorker, which Roach was ready for, going right back to pat it away.
"My prediction," said Mark Slater, before the fall of Roach "Two quick wickets in the first half hour, and Leach opens the second innings with Lees. He retires upon hitting fifty, so he can get back in just before lunch tomorrow for the last wicket and see what the pitch is doing."
10.23am EDT
10:23
Wicket! Roach c Foakes b Mahmood 25 (West Indies 245-9)
The breakthrough! Mahmood bowls a nip-backer, back of a length, and it takes the inside edge as Roach is torn between glancing and getting out of the way. A crisp take by Ben Foakes, down the leg side, and Roach doesn't bother to review: he's done his job.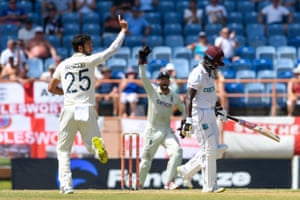 Updated
at 10.42am EDT
10.17am EDT
10:17
90th over: West Indies 245-8 (Da Silva 65, Roach 26) Woakes goes full and Woakesian to Da Silva, but finds only some gentle swing and gets on-driven for four. West Indies lead by 41.
"Tim dearest," says Mac Millings, "Ric Latham may have answered his quick crossword clue – 'Individual who's often stumped? (6-6)' – incorrectly. I looked it up, and the Test batter most often out stumped was Aussie legend Alllan-Border. (I'm pretty sure that's how you spell it.)" Ha.
10.13am EDT
10:13
89th over: West Indies 240-8 (Da Silva 61, Roach 26) Da Silva likes that front-foot pull so much, he plays it again, less well, shovelling Mahmood for two. Joe Root, manning the stable door, moves third slip into the leg-side ring. "I don't like that field change," says Steve Harmison. "I don't see any reason why you'd not have your catchers in for Da Silva as well as Roach." Roach, finding that there's no short leg, flaps at a short one and takes a single off the last ball of the over. West Indies oozing confidence.
10.08am EDT
10:08
88th over: West Indies 236-8 (Da Silva 58, Roach 25) At the other end it's Chris Woakes, who finally had a good spell yesterday – though two of his three wickets came from bowling half-way down, so they were not very Woakesian. Da Silva has a waft too, fending at a lifter, but when Woakes drops short again he plays a superb shot, a front-foot pull for three. Given two goes at Roach, Woakes rather wastes them by not bowling at the off bail. West Indies lead by 32.
10.04am EDT
10:04
87th over: West Indies 233-8 (Da Silva 55, Roach 25) Joshua Da Silva, the batter of the match so far, takes a single first ball, showing plenty of faith in Kemar Roach. Mahmood finds some outswing, but it's too wide of Roach's off stump until the fifth ball, which temps Roach into a tail-ender's waft. And so does the sixth, pitched deliciously full. I'm trying to remember the last England bowler who was brave enough to bowl this length at the start of his Test career. Maybe Darren Gough?
Updated
at 10.05am EDT
10.00am EDT
10:00
The players are out there and the nearly new ball is in the hands of Saqib Mahmood, England's find of the tour.
9.55am EDT
09:55
"Crossword pedantry" is the subject line of the next email. It's not a gambit that would prise the door open everywhere, but the OBO is in no position to carp. "I've just done the quick crossword," says Ric Latham, "and was disappointed with 24A – 'Individual who's often stumped? (6-6).' Unless there's some statistical evidence that keepers are out that way more often than their colleagues, it's a poor clue." It is! And by way of responding in kind, can I ask you to use single quotes next time, to save us having to change them?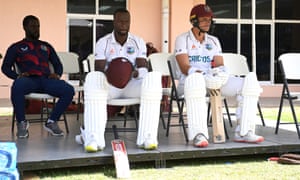 Updated
at 10.15am EDT
9.46am EDT
09:46
Infamy, in for me
The first email of the day is from Tom van der Gucht. "Great Preamble," he says. Too kind! "I especially like your 'Not with a Bangla' pun. It's the sort of bon mot Kenneth Williams would proudly pat himself on the back for in his diaries before slumping again and bemoaning that people fail to recognise his overall greatness…"
As I try to work out just how backhanded that compliment is, Tom decides to add some more. "Actually, having given it some consideration," he writes, "the Preamble reminded me more of Christopher Douglas/Podmore's alter ego Ed Reardon than Kenneth Williams. But still, high praise indeed." The great Chris Douglas! I once had to bowl to him in the nets. Never saw such a dead bat, at least until I came across Kraigg Braithwaite.
9.15am EDT
09:15
Preamble: the crunch
Afternoon everyone and welcome to the third day of the third Test. In a Hollywood thriller, there's often a moment about three-quarters of the way through, when the hero and the villain face off in a fight to the death. For this series, which has been short of thrills, that moment arrives today. If Joe Root gives a team talk before the start of play, he will only need four words. "We have to win."
Over on the other side of the world, England's women know exactly what they must do tonight: beat Bangladesh or go out of the World Cup, not with a Bangla but a whimper. For England's men the stakes are almost as high, the ramifications just as stark. If they win in Grenada, a dismal winter will have a happy ending, a corner will have been turned, and the decision to let Root carry on as captain will no longer look deluded.
If they lose, it will be their fifth series defeat in a row (albeit with an asterisk against one of them, the 1-2 against India that could yet turn into a 2-2 when the decider is finally played in July). They will have lost to one of the lowlier Test teams as well as to the big three. They'll be back to square one and their red-ball reset will come with a red-face emoji. No pressure, then.
Play starts at 2pm GMT. England's first task will be to use the new ball better than they did yesterday morning (or evening). Joshua Da Silva's job will be to turn his unlikely 50 into the performance that settles the series. It should be riveting.