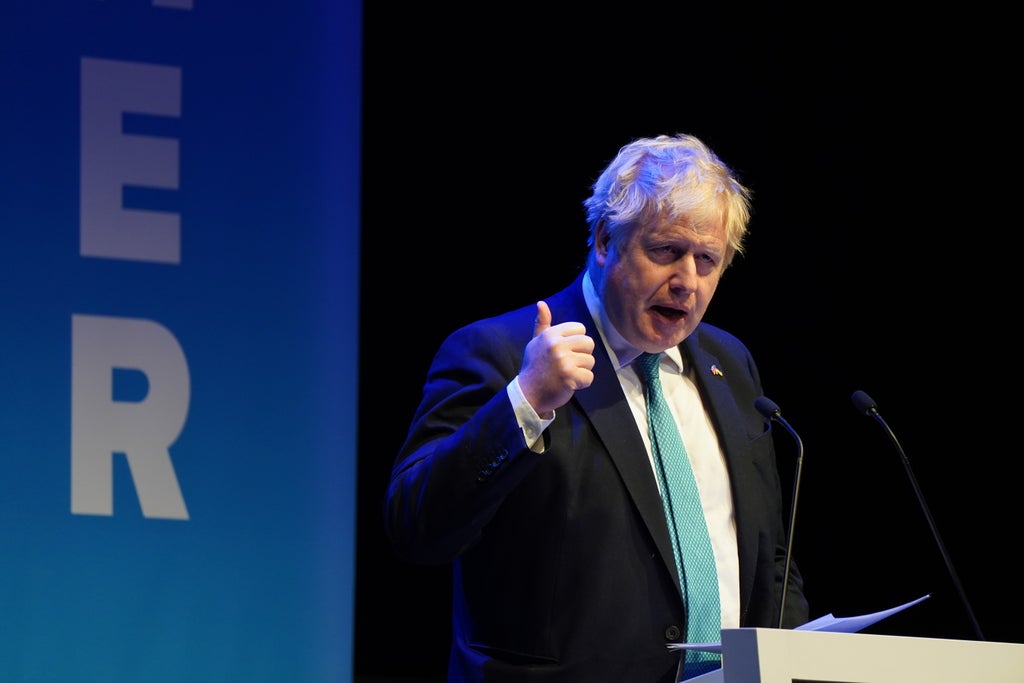 Western nations must never "renormalise" relations with Vladimir Putin, Boris Johnson has said, warning that Russia's war in Ukraine has created a moment of choice for the world between freedom and oppression.
Victory for the Russian leader would usher in a "new age of intimidation" across eastern Europe and give a green light to autocrats around the globe, he said.
The comments came as Russian forces fired a hypersonic Kinzhal missile for the first time in combat, targeting a Ukrainian weapons depot, and pushed deeper into Ukraine's besieged port city of Mariupol.
In the southern city of Mykolaiv, a rescue mission was under way after Russian troops struck a Ukrainian barracks where soldiers were sleeping. Witnesses reported seeing dozens of bodies in the rubble, with local officials saying at least 50 had been killed.
Addressing the Conservative spring conference in Blackpool on Saturday, Mr Johnson described the war as a "turning point for the world".
"It's a moment of choice. It's a choice between freedom and oppression," he said.
"I know there are some around the world, even in some western governments… who say that we're better off making accommodations with tyranny. I believe they are profoundly wrong and to try to renormalise relations with Putin after this, as we did in 2014, would be to make exactly the same mistake."
Mr Putin is panicking about the prospect of being overthrown by a revolution in Russia inspired by the example of freedom and democracy in Ukraine, he said.
Standing up to Moscow and boycotting Russian oil meant economic pain for Britain, he said, "but the cost of doing nothing would be far, far higher".
Mr Johnson dismissed Mr Putin's purported fears of Ukraine joining Nato and stationing missiles on its soil as a justification for invasion, along with his "Nostradamus meets Russian Wikipedia" essay challenging the existence of a separate Ukrainian people.


Ukraine's cultural capital no longer distant from the war
Show all 13
Instead, he said, the Russian president's true motive for his brutal assault was his fear that Russia's people would want to follow Ukraine's example of free elections and free speech.
"Ukraine has a free press and in Ukraine they have free elections," said the prime minister. "With every year that Ukraine progresses – not always easily – towards freedom and democracy, he fears the Ukrainian example and he fears the implicit reproach to himself.
"In Putin's Russia, you can get jailed for 15 years for calling the invasion an invasion. If you stand against Putin in an election, you get poisoned or shot.
"It is precisely because Ukraine and Russia have been so historically close that he has been terrified of the effects of that Ukrainian model on him and on Russia.
"He is in a total panic about a so-called 'colour revolution' in Moscow itself, and that is why he is trying to snuff out the flame of freedom in Ukraine.
"And that is why it is vital that he fails, because a victorious Putin will not stop in Ukraine."
Mr Johnson assured Ukrainian ambassador Vadym Prystaiko – who was present in Blackpool and earlier won a standing ovation from delegates – that: "We stand with the Ukrainian people and our hearts go out to them."
And he warned: "The end of freedom in Ukraine will mean the extinction of any hope of freedom in Georgia and Moldova, it will be the beginning of a new age of intimidation across the whole of eastern Europe, from the Baltics to the Black Sea, and a green light for autocrats everywhere."