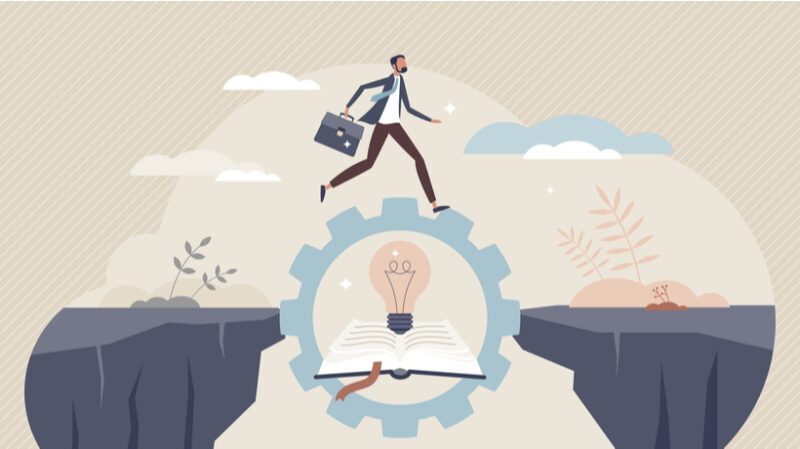 What It Does And How We Got Here
The "Learning Experience Platform" (LXP) has been described as an up-and-coming product category challenging the LMS market. So, what exactly is an LXP? Is it a mysterious new type of LMS? Does it replace an LMS? Can it work alongside an LMS? Let's explore these and other questions about the enigmatic LXP.
Arguably, the first LXP products emerged nearly ten years ago, but the widespread buzz about them began just about four or five years ago. Unlike the mature LMS market which includes several hundreds of products, the LXP market contains fewer than two dozen providers. With a few exceptions, most of the leading LXP products do not come from LMS vendors. Like many relatively newer learning technologies, the LXP space has been confusing at times. As the fog around the LXP continues to clear, its footprint in the learning technology space is growing.
The Difference Between An LMS And An LXP
The LMS is primarily a tool for training providers who need to manage the delivery of formal learning courses and programs. It allows administrators to schedule and handle registration for learning events, distribute learning materials, upload and track eLearning courseware, and manage compliance training. The LXP typically does none of these things. Instead, the LXP acts as a personal learning portal. Learning opportunities and content from multiple source systems are identified, indexed, and tagged in the LXP. The LXP gets to know each individual user and identifies content relevant to their job role, skills, and interests.
Instead of the LMS's traditional top-down employee training approach, the LXP supports a bottom-up approach that puts employees in charge of their own learning and professional development. Both approaches are important. The LMS enables organizations to ensure employees have received regulatory compliance and other needed training. The LXP helps employees find information to help with their tasks at hand and plan and develop their longer-term career skills.
Four Key Trends That Have Led To The Need For An LXP
1. A Broader View Of Learning
Learning is becoming increasingly informal, micro, social, immersive, experiential, and adaptive. While the LMS excels at managing courses and classes, it is not so good at managing knowledge bases, eBooks, performance support solutions, expert blogs, instructional games, social networks, Augmented Reality job aids, Virtual Reality simulations, etc. Organizations need better ways to connect the right people with the right opportunities and content.
2. A Shift Toward Self-Directed Learning
For years, companies and their training departments were viewed as having the primary responsibility for employee Learning and Development. Now, many companies are expecting employees to be responsible for their own learning and professional development. This shift from prescriptive training to self-directed learning requires a different type of support model, one that is well-suited to an LXP.
3. A Sharper Focus On User Experience
Learners are often frustrated by the cryptic prompts, extra clicks, lengthy course catalogs, inferior search capabilities, and relatively lackluster look and feel of their LMS. Taking a cue from popular retail sites that organize themselves around our browsing and purchasing interests, an LXP applies many of the same techniques to provide better, quicker ways to connect us with relevant content.
4. Developments In Machine Learning
Machine learning is driving enhancements to a wide range of software applications. While earlier recommendation engines required Big Data, they are now able to predict a user's needs with smaller data sets and greater accuracy. Better search results and highly relevant recommendations offer significant advantages to people who may have little precious time to hunt and pick and sort through all the noise.
What An LXP Does
The defining characteristics of an LXP have, at times, been elusive. A few gamified, social, and video-centric LMS vendors have described their products as LXPs, even though they are more LMS than LXP. In recent years, LXP products have matured to the point where a common core set of features have emerged. These core capabilities are helpful in defining the category. It is important to remember that LXP products differ from one another, each with its own combination of these features. A formal approach to LXP evaluation and selection is recommended to ensure you find the product that best suits your organization's needs. The LXP's defining features include:
Content aggregation
An LXP acts as a portal to informal and formal content residing in other systems. Unlike an LMS, which houses eLearning courseware and other course materials, many LXP products do not contain content. Instead, they index and link to content residing in your organization's LMS, knowledge bases, electronic bookshelves, document management systems, expert blogs, social networking sites, licensed content, and other repositories.
Content tagging
A key ingredient of the LXP is its ability to apply a customer organization's metadata schema to tag content in a unified way across all its content repositories. A good taxonomy and a diligent approach to tagging content help ensure the effectiveness of the LXP and its value to end users.
Predictive User Experience
Most LXP products use predictive logic to determine which content is likely to be important to an individual. Predictors may include user profile information (such as job role, department, and work location), search and content usage history, self-assessed skill gaps, selected areas of interest, and similarities with other users. The LXP applies these predictors to focus search results and make recommendations. As you use the LXP, it begins to bring to the surface content that is highly relevant to your personal job context, skill level, and professional development goals.
Users in control
The LXP offers an array of features that enable users to take charge of their own learning goals and activities. Skill-based self-assessments help users explore their strengths and opportunities for improvement. Topic checklists allow users to indicate their areas of interest. Users can assemble and track their own personal learning plans.
Conclusion
The LXP introduces new possibilities to organizations that have multiple source systems containing formal and informal content to support performance, learning, and development. It enables them to tag all that content with a common metadata schema. For users, it provides a job- and skills-centered view into content with personalized recommendations and superior search results. It provides tools for users to identify, plan, and track their professional development.
The LXP has become another valuable tool in an organization's learning technologies application stack. It does not replace an LMS. Rather, it provides users a portal to personally relevant content in the organization's LMS and other sources of media, documents, and social exchange.