Where – and when – do I start talking to my child about money?
Make talking about money comfortable and an everyday occurrence, as being responsible with it is a life skill and the younger you start them off the better. You could begin by asking them to help you when you pay cash in at the bank, or talk through what you're doing when banking online so they start to understand how it works.
Your child should understand their needs versus their wants, which admittedly can be hard to recognise at any age, but Barclays LifeSkills has an easy-to-understand tool that will help get them on the right track.
It will help to explain key financial terms in a way they can easily understand. For example, having a budget is simply having a spending limit. If they are given £10 to go to the shops, they have to spend £10 or less. Chat about what they think "income" and "expenditure" is. With income it's the amount of money they will earn or receive, while expenditure is the money they will spend.
Get your child used to how the sums work – they can sit down with you to set a shopping budget, list the items you need to buy and see if the total cost is below budget. If they're over budget, they can decide what things are needed and the other things that can wait for another shopping trip.
My children are only four and six, what are the best ways to start talking to them about money?
There are plenty of easy and enjoyable ways to help younger children begin to learn about money. For instance, you could turn quizmaster to gauge their money knowledge and to help them understand how it works within their world. Questions could include: "Which coin buys the most sweets?" Or, "Which item costs the most?"
When shopping, guessing games to work out how much items will add up to will increase their understanding of value, while pocket money for tasks around the home will familiarise them with saving and budgeting. When out, show them how much items cost on the card reader before you pay, and occasionally try and use cash so they can see all sorts of spending methods.
What sort of account does my child need?
Children's accounts are usually available from age 11 to 18, although you may find some for kids as young as six. A current account is perfect to keep their money safe, with easy access to their cash. If they're hoping to save for a big purchase, it may be better to open a savings account or a junior Isa, which will usually offer a higher rate of interest and get them into the habit of saving.
Always remember to do your research – higher rates of interest on regular savings accounts can mean it's not as easy to take money out. Show your kids a bankstatement, and how things like Direct Debit payments work, so they understand why having their own bank account will become an important part of managing their daily life.
How do I know my child is ready for a debit card?
You are handing over responsibility to your child for their money, so ultimately it's a personal decision. Having a debit card means they can only spend what is in their account, so you could let them get started with small amounts first.
You can help them prepare for a debit card by checking they can show examples of themselves sticking to a budget. You can even have the same conversation with older kids wanting to get a credit card.
I want to give them more financial freedom, but how can I convince my child to save money?
It's back to helping them understand the difference between needs and wants.
Once they know there are some things that they can't and don't have to get straight away, they'll be more than happy to save up for something nice. Encourage them to have small savings goals – set an amount for how much they want to save and a date when they want to reach the target.
Get your child to keep a spending diary for a few weeks and this will help open their eyes to where their money mostly goes. Once they know this, they can easily identify where to make savings, like opting for a packed lunch on some days, or shopping online for the best deal rather than an impulse buy on the high street. Also reassure them that saving can just mean putting aside a small amount each month. Barclays LifeSkills 34 Ways to Save is a really useful tool with more tips on how to actually do it.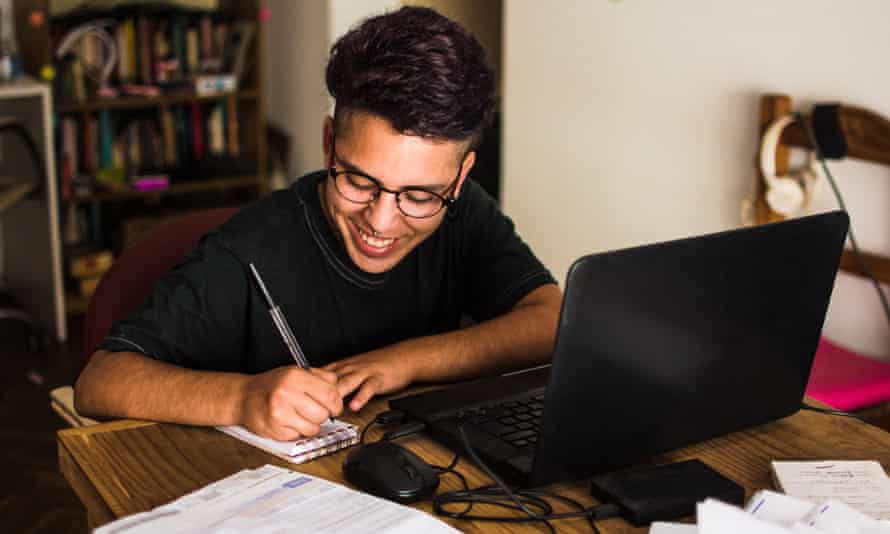 How can I help my child manage their money independently?
Get your child to start thinking about the future. Once they understand that a budget is a plan of how you spend your money, get them to consider the different types of income which would fund this – whether it's pocket money now or a part-time job in the future.
And what do they want to spend their money on? Setting a pocket-money budget will help them save enough cash to purchase it at some point. LifeSkills has plenty of learning activities to build your child's knowledge around budgeting.
My son has a part-time job, but by the end of every month, he is struggling to stay within budget. He goes to university next year – how can we help him survive?
Two words: research and plan. Sounds like your son needs some help with budgeting, so why not sit down with him and list the things he'll have to pay for, the expected cost and how he plans to pay for it. Break it down on a weekly and monthly basis so all aspects are covered. Or better yet, he could set up spending controls and check his balance through his banking app. Barclays LifeSkills has some easily digestible tips for young people making their first steps to living independently.
My teenage daughter has her first proper job – what are the different amounts being deducted in her payslip?
A typical payslip will provide three main pieces of information: gross pay – the amount before tax and any other deductions; the deductions themselves; and most importantly net pay, which is the amount your daughter will take home.
Help her understand her payslip by going through terms such as PAYE (Pay As You Earn) and NICs (National Insurance Contributions). PAYE is simply how much income tax your daughter is paying, which goes towards the provision of public services such as education and the NHS. She will usually get a personal allowance of £12,570 a year before starting to pay tax. The basic rate of tax is 20% for salaries up to £50,270.
National Insurance, meanwhile, is a tax on anyone over 16 who earns more than £184 a week. This contributes to state benefits such as the pension.
Your daughter may also see figures for any student loan repayments and contributions towards a private pension if enrolled in one.
To find out more about teaching money skills to your family, visit barclayslifeskills.com