More than 18 months after the pandemic hit, most organisations are now fully focused on what comes next. What should the new world of work look like? How should hybrid working models operate in practice? And what should employers be aiming for?
But while employers are right to be thinking about these matters, one thing is clear – there is no straightforward end goal. For a start, every business is different and the right solution may be different for everyone. And second, the new world of work will continue to shift and evolve.
"Companies will always have to evaluate their workforce strategies, because every few weeks things could change. So being nimble and adaptable is critical," says Dan Schawbel, author and managing partner of the HR research and advisory firm Workplace Intelligence. "No leader will make the right decision all of the time. The biggest challenge is knowing what to do and when to do it. They will need to rely on data when making decisions."
Making it work
Given the extraordinary amount of change experienced over the past 18 months, every employer wants to make this work. Peter Harte, from UKG (Ultimate Kronos Group), a leading global provider of human capital management (HCM), payroll, HR service delivery and workforce management solutions, says that an organisation's first step should be to do a full digital assessment, to understand how systems need to improve.
"You need to assess where you are in the digital landscape," says Harte, who is group vice president, EMEA at UKG. "And whether you have the tools you need to support hybrid working." This means making sure the basics are in place, allowing workers to access the systems they need anywhere, and that you have the security necessary to make that safe.
Once that's done, he says, technology can be used to improve people's working lives and make them feel more connected to the company. "Apps can, for example, manage shift swapping, whereas in the old days, people had to go via line managers," Harte says. "Even getting access to your own information is important. These sorts of systems really do connect employees to their company."
The next step is to rethink leadership. Harte points out the qualities needed in a great leader have changed – this needs to be articulated and reflected in training throughout the organisation, at all levels of leadership.
Closely linked to that is culture. "Organisations are rushing to be great places to work," says Harte. "They're now thinking about the wellbeing of people and how employees really feel."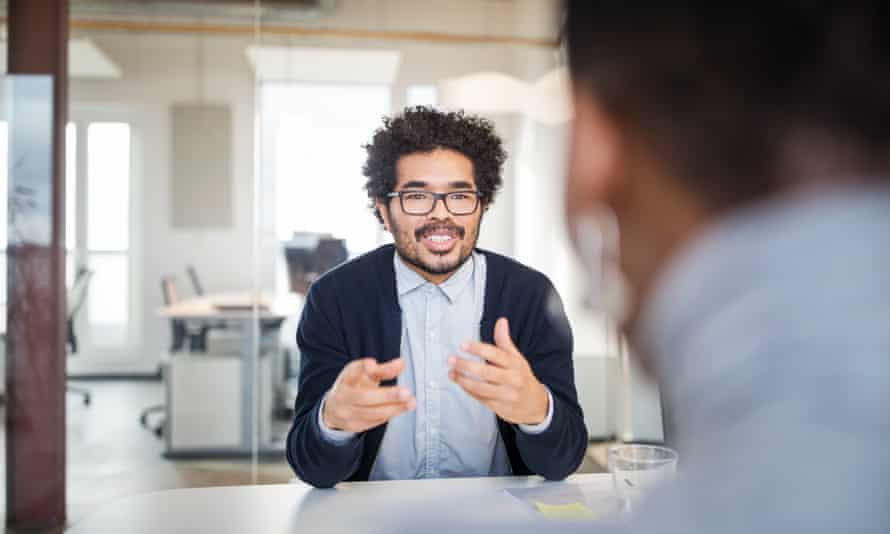 Listen to employees
Schawbel agrees this is critical. But, he says, the most common mistake companies are making is ignoring employees. "One of the biggest things I've seen over the last year is that not all voices in the workplace are heard equally. While the employee voice is becoming more important because we're more decentralised, it's easy to overlook certain voices."
He says that essential workers and younger people aren't heard often enough. "If someone doesn't feel they're being treated fairly or heard equally, they're more likely to leave, and replacing them is time-consuming and expensive."
In a report on the employee voice by The Workforce Institute at UKG, a think tank that researches workplace issues, 83% of UK employees surveyed felt that people at their organisation were not heard fairly or equally — and nearly half (46%) said that underrepresented voices remained undervalued by employers.
The best way to hear employee voices, Schawbel says, is by using pulse surveys – short, quick surveys that are sent to staff regularly. Schawbel says: "Don't just send out an employee satisfaction survey once a year, make it a daily pulse to understand how people are feeling and what their struggles are. Then use your data, whether it's surveys or conversations, to make better decisions."
Harte agrees, adding: "If people feel fairly treated and that they can contribute to ideas, it goes a long way to establishing strong teams." He says that thinking of technology as something that is designed to serve people, not just business processes, is a big part of becoming a people-oriented company – particularly as flexible and hybrid working take hold.
Don't go backwards
While many employees were impressed by their employers' ability to respond quickly to the pandemic, many now fear a slide backward. In a survey of 4,000 people, conducted by Workplace Intelligence for The Workforce Institute at UKG, 38% of respondents are fearful their employers will revert back to the "old way" of operating as soon as possible. This is despite 86% saying they enjoyed the benefits of the new technologies.
If employers are to come out of the pandemic thriving, an engaged workforce will be an absolute must. It might not be possible to predict how the world of work will change in the future, but a strong culture, sense of engagement, and adaptability will be a crucial part of success – whatever that ends up looking like.
UKG delivers award-winning workforce management and HR service delivery solutions to help organisations across the globe drive better business outcomes, improve HR processes, and help make work a better, more connected experience for everyone. To find out how your organisation can benefit, head to ukg.co.uk