April 16, 2022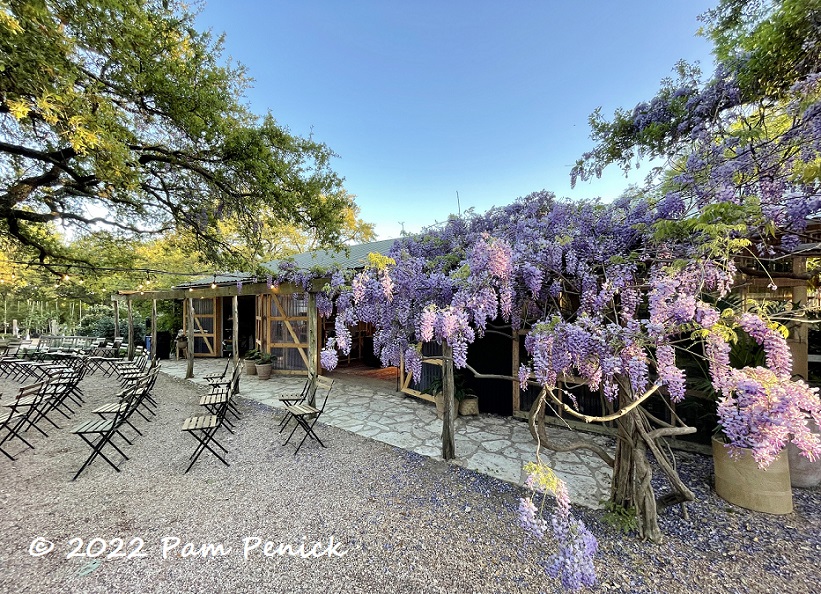 Last week I hosted one of my Garden Spark talks at Barton Springs Nursery, and their beautiful outdoor classroom was made even more beautiful by a wisteria in full bloom.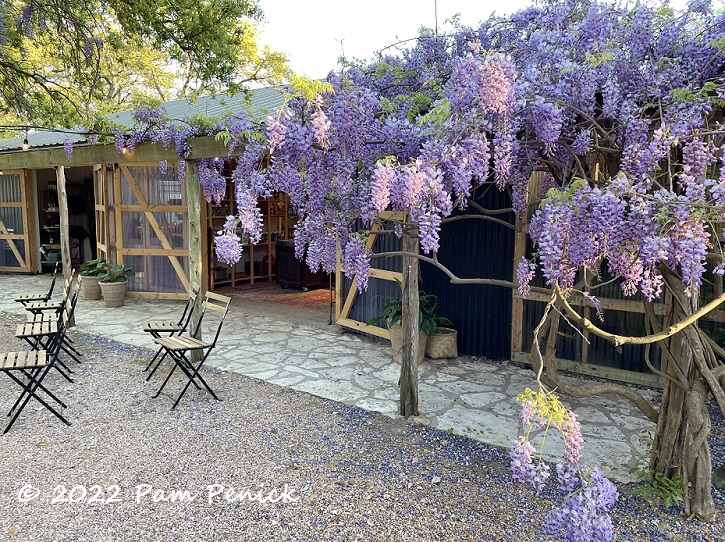 If you know anything about Chinese wisteria, you know it's a monster of a vine. But its spring show is what seduces anyone who plants it: lavender cascades of sweetly scented flowers.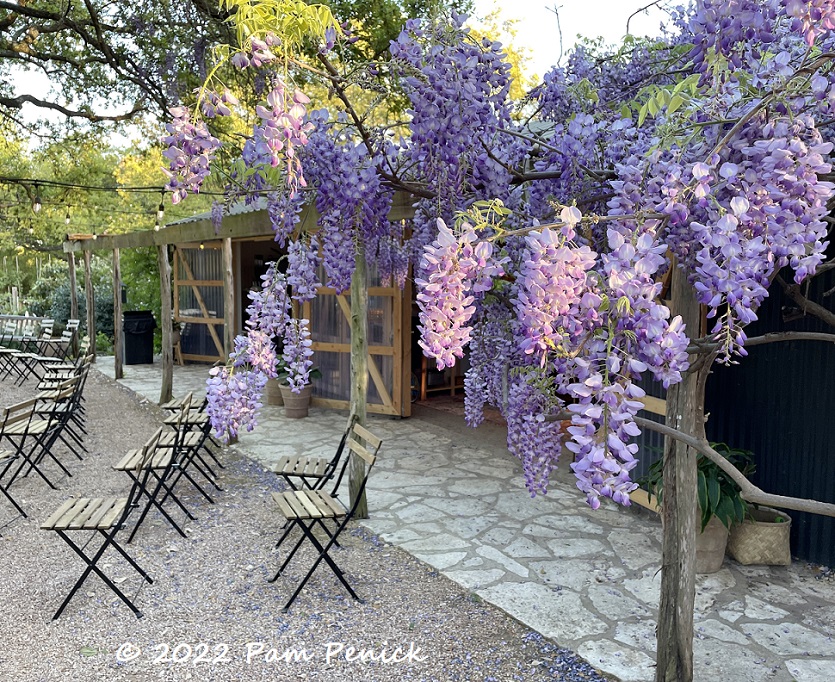 The back rows of chairs occupied a cloud of delicate, sweet fragrance.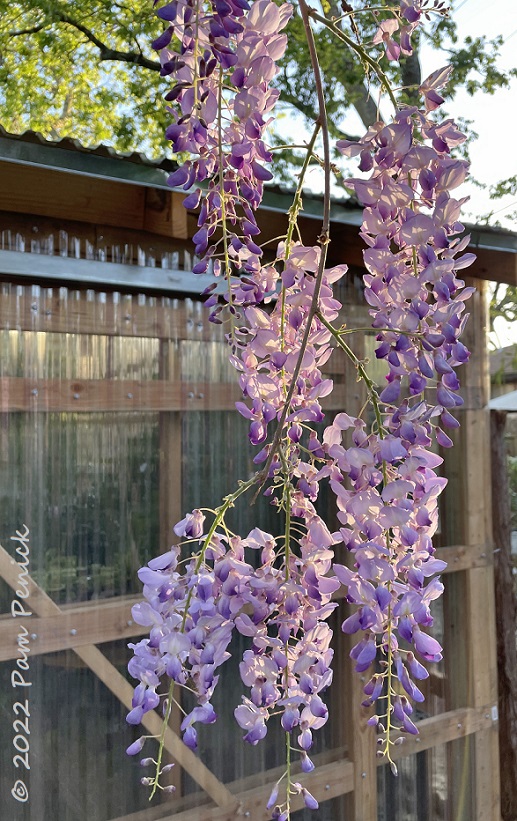 As the sun dropped low, the flowers glowed and swayed in a light breeze. It was breathtaking.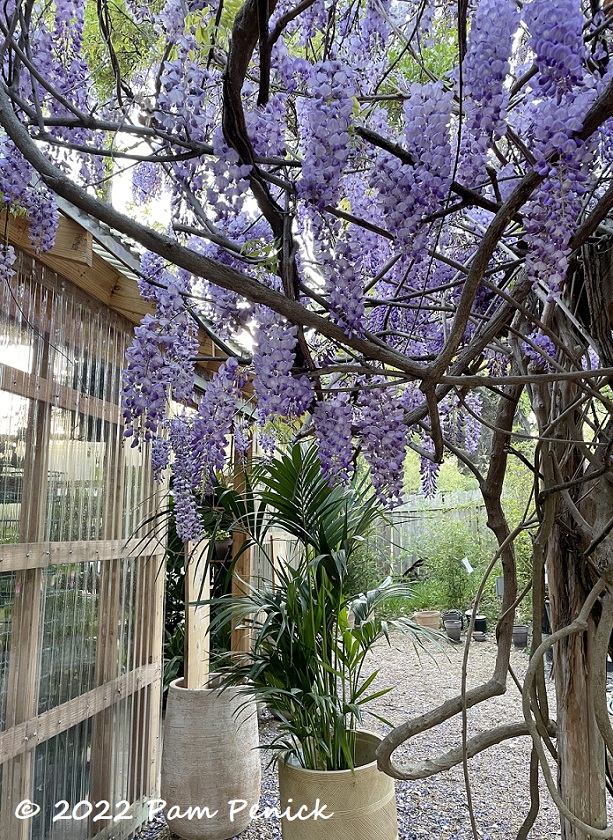 One more photo from underneath — a perspective that also shows the mass of muscular, woody vines. For those who love wisteria but rightly fear its aggressive tendencies, consider planting American wisteria (Wisteria frutescens) instead. And never let any wisteria bloom without taking deep, happy sniffs every chance you get.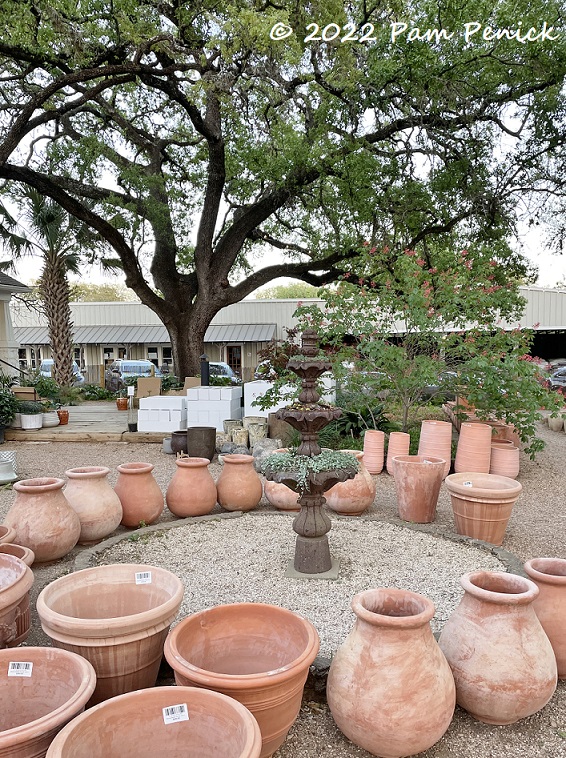 Barton Springs Nursery has long been a favorite of mine.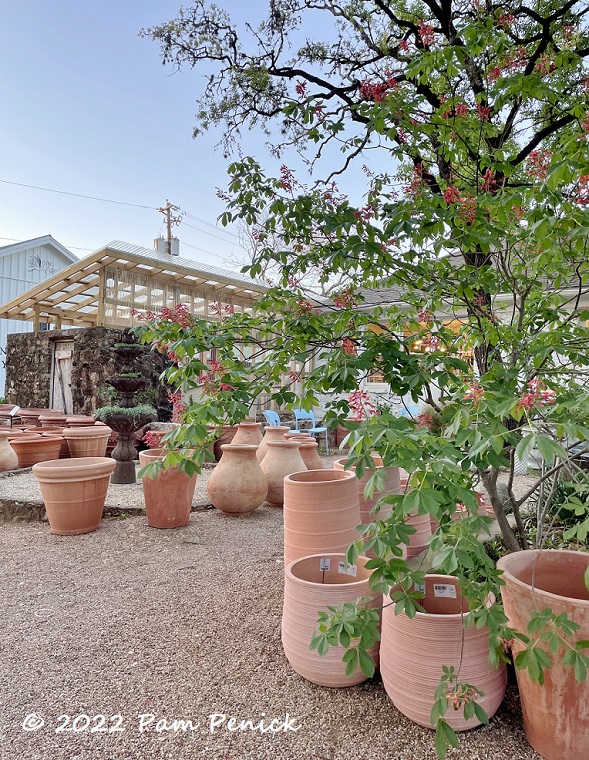 Now that the baton has been passed to new owners, the place has seen some freshening up of the grounds and structures, and a more modern aesthetic is being revealed.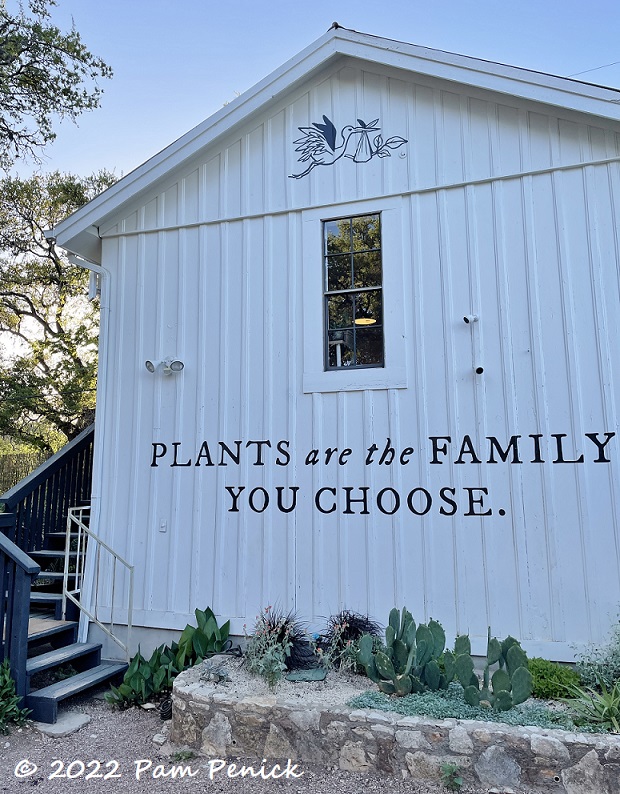 Every time I go there's something new, like the lending library. This time it was a mural that reads, Plants are the family you choose. A stork carrying a bundle of leafy joy flies overhead. How charming is that?
Garden Spark talk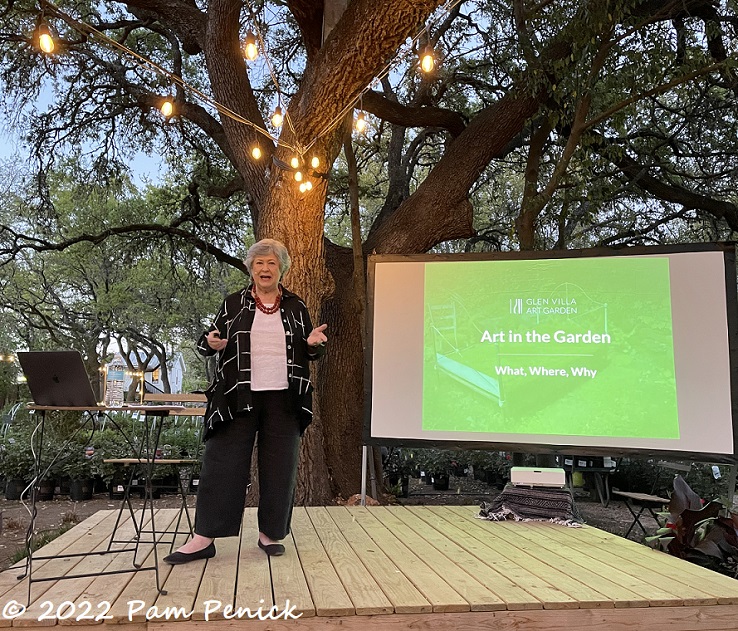 The Garden Spark talk last week was by Canadian garden writer and artist Patterson Webster, who presented an engaging talk about art in the garden.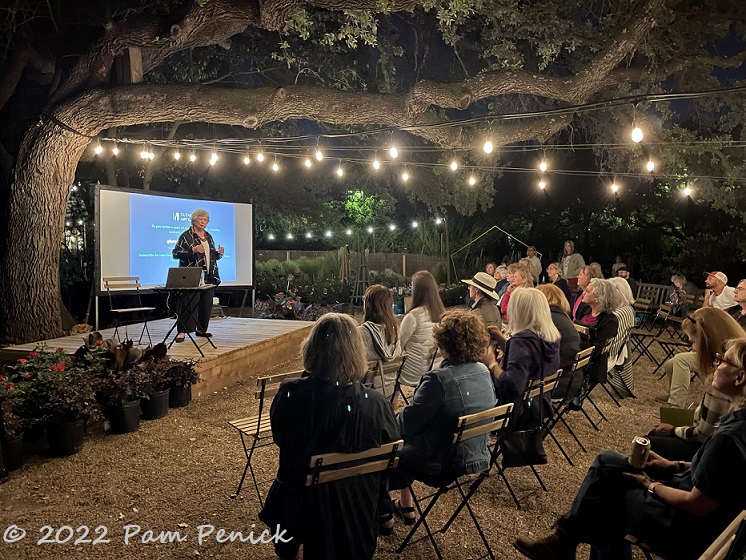 Thanks, Pat, for coming all the way to Austin to get us thinking about art in new ways! Thanks also to Barton Springs Nursery for sponsoring the talks, and a HUGE thank-you to each and every attendee for coming to hear the speakers. Your support is helping to broaden the conversation about garden design in our community. To be notified of upcoming talks and receive early access to tickets, simply click this link and ask to be added to my email list.
I welcome your comments. Please scroll to the end of this post to leave one. If you're reading in an email, click here to visit Digging and find the comment box at the end of each post. And hey, did someone forward this email to you, and you want to subscribe? Click here to get Digging delivered directly to your inbox!
__________________________
Digging Deeper
Explore the Surreal Garden at Zilker Botanical Garden. For two consecutive weekends, the public is invited to attend evening soirées at Zilker Botanical Garden, including botanical-themed neon surrealism, interactive art sculptures, local-favorite foods, craft cocktails, live music, costumes, dancing, and more! A portion of the proceeds benefits the ZBG Conservancy. Tickets are $40 in advance, $50 at the door (plus fees & tax). Dates are April 22-23 and 28-30 from 6 pm to 10 pm. Get tickets here.
Join the mailing list for Garden Spark! Hungry to learn about garden design from the experts? I'm hosting a series of talks by inspiring garden designers, landscape architects, and authors a few times a year in Austin. Check out the 2021-22 schedule. These are limited-attendance events that sell out quickly, so join the Garden Spark email list to be notified in advance. Simply click this link and ask to be added.
All material © 2022 by Pam Penick for Digging. Unauthorized reproduction prohibited.