8.07am EDT
08:07
36 min The scoreline flatters Brentford a bit. But it doesn't flatter Ivan Toney, who has made one and scored one. And he effectively made the one that he scored.
Updated
at 8.09am EDT
8.06am EDT
08:06
Toney made it with a storming run down the left. He got away from the sliding Kilman, drew Coady across and whipped a precise pass towards the unmarked Mbuemo at the far post. The hard part for Mbuemo was saying onside, which he managed; the easy part was cushioning a volley into the empty net.
Updated
at 8.09am EDT
8.03am EDT
08:03
33 min Now Semedo has a shot blocked by Janelt. The game has exploded since Ivan Toney's goal.
8.03am EDT
08:03
32 min: Traore hits the bar! It's all happening now. Traore, 25 yards out in the inside-left channel, lashed a drive that deflected off Jansson, wrongfooted David Raya and thumped off the underside of the crossbar.
8.01am EDT
08:01
NO GOAL! Yep, it was handball from Toney. A job well done by VAR.
8.01am EDT
08:01
Jose Sa saved from Janelt, and then Toney put the loose ball away from a couple of yards with an ingenious volleyed backheel. There are two issues – whether Mbuemo touched the ball before Toney (if so, Toney was offside) and whether Toney controlled the ball with his arm. I think this will be disallowed for handball.
Updated
at 8.01am EDT
7.59am EDT
07:59
There was a man on the line but Toney was behind the goalkeeper, who had sprung from his line to take a terrific save. Hang on, this might be onside…
Updated
at 8.02am EDT
7.59am EDT
07:59
Jose Sa was booked for roughing up the penalty spot before Toney scored. Not that it did any good.
7.58am EDT
07:58
GOAL! Wolves 0-1 Brentford (Toney 28 pen)
Ivan Toney strolls up and sends Jose Sa the wrong way. He really is a magnificent penalty taker.
Updated
at 8.04am EDT
7.57am EDT
07:57
PENALTY GIVEN! And the usually nerveless Ivan Toney will take it.
7.56am EDT
07:56
26 min: PENALTY TO BRENTFORD! This time Marcal has been penalised for holding Toney from the corner. They were both at it, to be honest, but it was pretty stupid behaviour from Marcal. It's being checked by VAR. I can't see it being overturned.
Updated
at 7.57am EDT
7.56am EDT
07:56
25 min There's all kinds of wrestling before Canos takes the corner, which is headed behind by Neves. Toney is unhappy as he was manhandled off the ball by Marcal.
7.55am EDT
07:55
24 min Norgaard's crossfield pass towards Henry is headed behind by Semedo, which gives Brentford their first corner.
7.52am EDT
07:52
21 min Nothing much to report in the last few minutes. Wolves have been slightly the better side, though Brentford again look pretty solid defensively.
7.48am EDT
07:48
17 min Traore goes on one of his runs, storming past a couple of defenders before shooting well wide from 25 yards. Thomas Frank thumps something in disgust at his team's defending.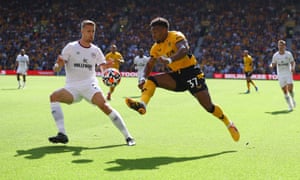 Updated
at 7.57am EDT
7.45am EDT
07:45
15 min Moutinho's near-post corner is headed away as far as Marcal, who volleys well wide from distance.
7.44am EDT
07:44
13 min "Hi Rob," says Duncan Edwards. "It's only 20 years that these two sides ended up losing play-off games, Wolves down in Division One and Brentford in Two. Makes you think, eh? Life. Tskk. Phuff. Meanwhile I'm expecting great things from 'the boy' Trincao today."
That would have made for a good documentary if TV companies weren't so bloody preoccupied with the 9/11 anniversary,
7.42am EDT
07:42
12 min A long, angled cross is headed wide by Toney near the penalty spot. He did well to win it, to be honest, and it would have been a minor miracle had he scored.
7.41am EDT
07:41
10 min Jimenez gets to the byline on the left, tries a rabona cross and falls over. A bit embarrassing but we've seen worse – this one only registered 2.7 on the Dunnometer.
Updated
at 7.42am EDT
7.39am EDT
07:39
9 min: Toney has a goal disallowed! It was a nice finish, steered into the net off the far post, but Mbuemo was offside in the build up. Play was allowed to continue until Toney scored, and then the flag went up. VAR confirmed it was the right decision.
Updated
at 7.39am EDT
7.38am EDT
07:38
7 min Traore skins Ajer on the left edge of the area but then runs into trouble. Wolves keep the ball alive until Moutinho clips a cross straight into the arms of David Raya.
7.35am EDT
07:35
5 min Neves spanks a beautiful crossfield pass out to Marcal on the left. He skips confidently inside Canos but curls well wide from 25 yards.
7.33am EDT
07:33
3 min Sergi Canos is fouled on the right wing, which gives Brentford a chance to flaunt their set-piece prowess. They don't take it: Canos drives this one flat and hard to the far post, where Jose Sa claims confidently.
Updated
at 7.34am EDT
7.30am EDT
07:30
After a pre-match chorus of Hi Ho Wolverhampton, the majority of the players on both sides take a knee.
7.19am EDT
07:19
Just over ten minutes until kick-off. It looks a pleasant day for football at Molineux, mild and sunny.
6.31am EDT
06:31
Team news
Both teams are unchanged. You're welcome.
Wolves (3-4-3) Jose Sa; Kilman, Coady, Saiss; Semedo, Neves, Moutinho, Marcal; Trincao, Jimenez, Traore.
Substitutes: Ruddy, Hoever, Ait-Nouri, Mosquera, Boly, Podence, Dendoncker, Silva, Hwang.
Brentford (3-5-2) Raya; Ajer, Jansson, Pinnock; Canos, Baptiste, Norgaard, Janelt, Henry; Mbuemo, Toney.
Substitutes: Fernandez, Thompson, Zanka, Roerslev, Onyeka, Jensen, Wissa, Forss, Ghoddos.
Referee Darren England.
Updated
at 7.17am EDT
6.30am EDT
06:30
Preamble
The league table never lies, but sometimes – especially at the start of the season – it can be economical with the truth. On paper, Wolves v Brentford is 13th against 10th, a nice little mid-table clash to start the day. But that doesn't quite tell the story of a promising start to the season by both sides.
It's only a slight stretch to say that Wolves could have won all four league games. Instead they lost the first three 1-0, each against top-four wannabes, before winning at Watford a fortnight ago. They have played some really exciting stuff, and if Raul Jimenez gets back to his best they will surprise a few people.
Brentford have taken only two points from their last three games, a mild dose of reality after a joyous victory against Arsenal, but they have looked comfortable against decent opposition. While everyone accepts it will get tougher as the nights draw in, for now they are doing just fine.
Kick off 12.30pm.
Updated
at 6.31am EDT