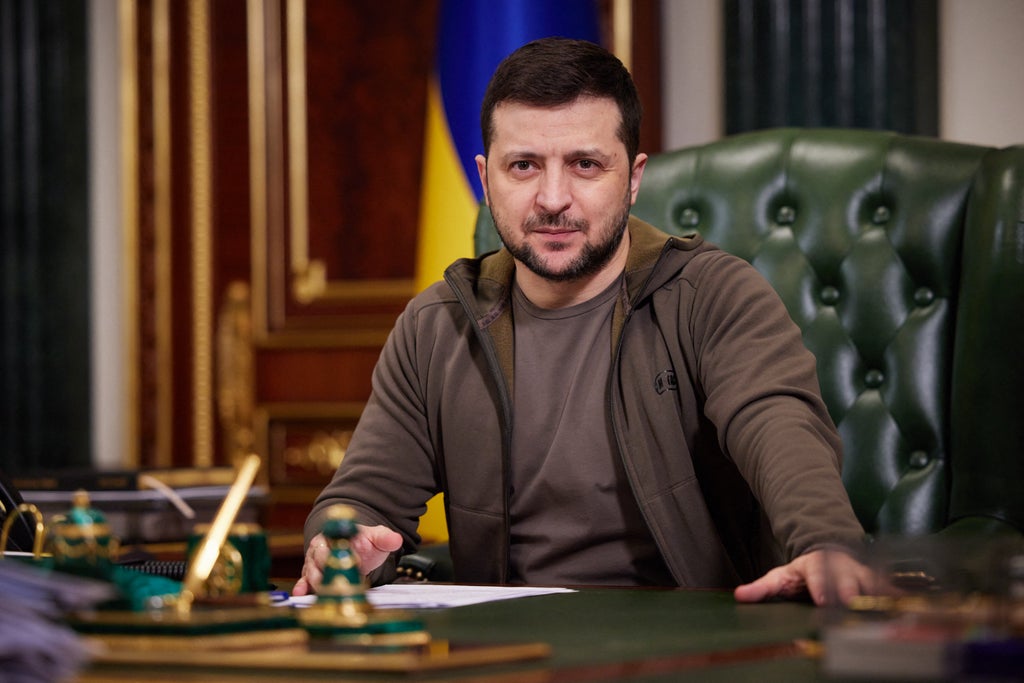 'A champion of democracy': Zelensky given three standing ovations in Canadian Parliament
Ukrainian President Volodymyr Zelensky is set to speak to the US Congress in a virtual address at 9am ET today after being invited by House Speaker Nancy Pelosi and Senate Majority Leader Chuck Schumer .
"The Congress, our country and the world are in awe of the people of Ukraine, who have shown extraordinary courage, resilience and determination in the face of Russia's unprovoked, vicious, and illegal war," a letter from the leaders said.
"We look forward to the privilege of welcoming President Zelensky's address to the House and Senate and to convey our support to the people of Ukraine as they bravely defend democracy."
The Ukrainian president has already addressed Canadian and British MPs.
As Russia's invasion of Ukraine continues, US president Joe Biden is expected to announce $800m (£612m) of aid to the eastern European country, a sum that would bring the total aid sent to Ukraine in the last week alone to $1bn.
Mr Biden is also reportedly considering providing Ukraine with US-made drones, including the recently developed so-called "loitering missile" system known as Switchblade. Drones have played a major part in Ukraine's defence against the Russian assault, in particular TB2 drones supplied by Turkey.
1647435891
Packed auditorium for Zelensky
A packed auditorium awaits the address by the Ukrainian president.
Oliver O'Connell16 March 2022 13:04
1647435249
'Slava Ukraine!'
The last time a Ukrainian president address Congress was in September 2014 after the Russian invasion of Crimea.
Petro Proshenko ended his speech by saying "Slava Ukraini!" — Glory to Ukraine.
Oliver O'Connell16 March 2022 12:54
1647435110
Zelensky to address Israeli parliament
President Zelensky will address the Israeli parliament on Sunday evening, CNN's Hadas Gold reports.
Oliver O'Connell16 March 2022 12:51
1647435002
What time is Zelensky's speech?
If you're preparing to catch Volodymyr Zelensky's speech to the US Congress live, Eric Garcia and Megan Sheets have this guide to how it's expected to unfold.
Oliver O'Connell16 March 2022 12:50
1647434543
Congress gathering for Zelensky speech
Members of Congress are now gathering in the congressional auditorium for Ukrainian President Volodymyr's address at 9am.
Oksana Markarova, Ukraine's ambassador to the US, is also present.
Oliver O'Connell16 March 2022 12:42
1647434313
Will Madison Cawthorn attend Zelensky's address?
Among the Congressional Republicans who have taken a controversial line on the Russian-Ukrainian conflict, none stands out more than Madison Cawthorn, who was recently caught on video referring to Volodymyr Zelensky as a "thug". His remarks drew an instant backlash, including from his own party – and it remains unclear whether he will attend Zelensky's address today.
Andrew Naughtie16 March 2022 12:38
1647432062
Watch: White House press secretary mocks Russian sanctions on Biden's deceased father
A round of retaliatory Russian sanctions banning senior figures in the US from visiting Russia included a baroque list of American elite figures, among them several cabinet members but also Hillary Clinton, who does not hold any public office.
Thanks to what was presumably poor research, it also sanctions Joseph Biden Sr, the long-dead father of the current president, Joseph Biden Jr, who has no plans to visit Russia in the near future.
This error was not lost on the White House.
Andrew Naughtie16 March 2022 12:01
1647428540
Voices | On a Russian journalist's one-woman protest
Writing for The IndependentSkylar Baker-Jordan looks at the case of Maria Ovsiannikova, the journalist who stood behind a news anchor on Russian state TV with a hand-made sign reading "Stop the war. Don't believe the propaganda. They lie to you here."
As he writes, her subsequent arrest and trial – which saw her fined 30,000 roubles, or $280 – is a reminder that plenty of ordinary Russian people deserve the west's support for the "crime" of speaking out against their government.
Andrew Naughtie16 March 2022 11:02
1647424800
What to watch out for as Zelensky addresses Congress
John Bowden explains what to watch out for when President Volodymyr Zelensky addresses Congress today.
Oliver O'Connell16 March 2022 10:00
1647422100
Biden sees minimal poll bounce from Ukraine as Zelensky's US approval soars
While Joe Biden is winning some praise for his administration's aggressive response to Russia's war in Ukraine, it seems there has been little effect on his dismal standing among the electorate.
It's a different story for the American public's impression of Ukrainian leader Volodymyr Zelensky ahead of today's historic address to Congress.
Oliver O'Connell16 March 2022 09:15