January 12, 2022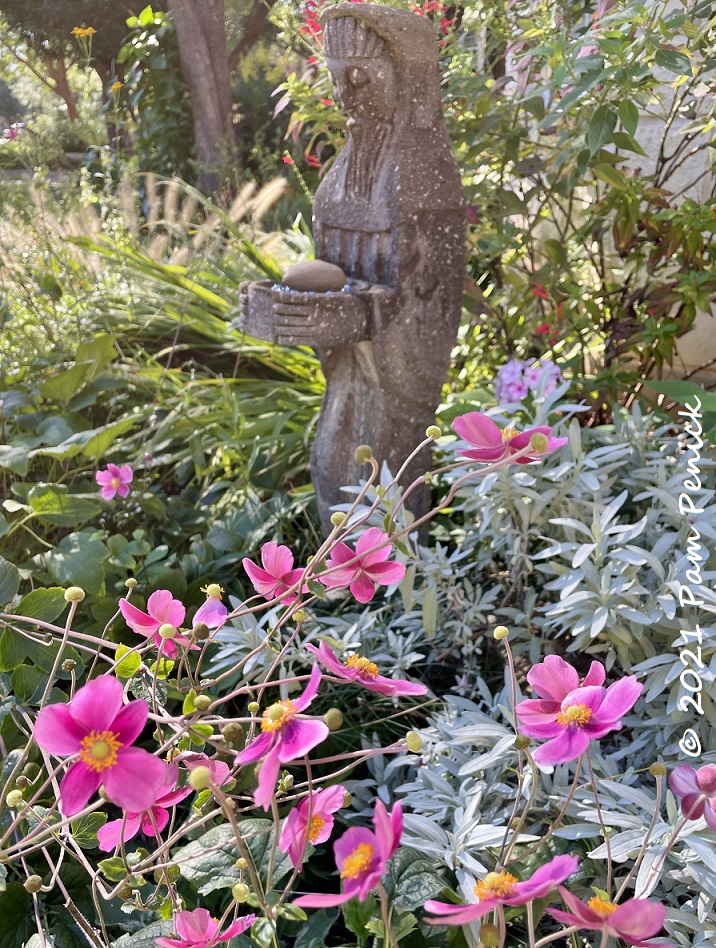 Back in late October, when Loree of Danger Garden was visiting, Cat Jones invited us over for a garden visit. Her lipstick-pink anemones, a passalong from Rock Rose's Jenny Stocker (who's since departed Austin for Arizona), were blooming. We both adore these fall flowers, which Jenny kindly passed along to me too, but they burned up in my garden due to poor placement. Cat has found just the right spot, with morning sun and afternoon shade, and where their roots have access to a gravelly dry creek that funnels runoff, giving them extra water with good drainage during the blistering heat of summer.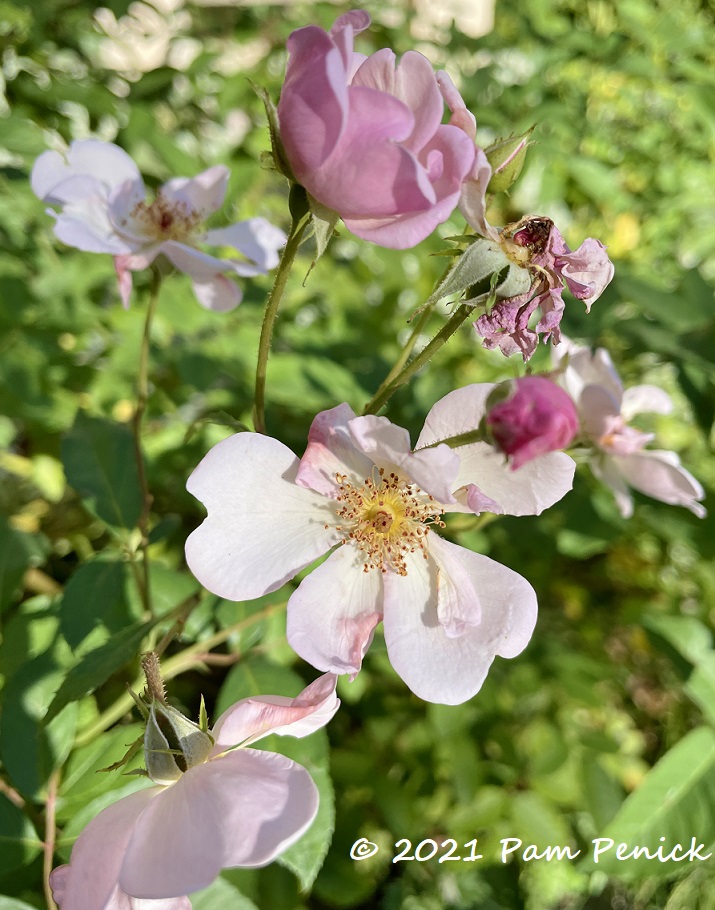 Pale pink roses were hanging on in that romantic way.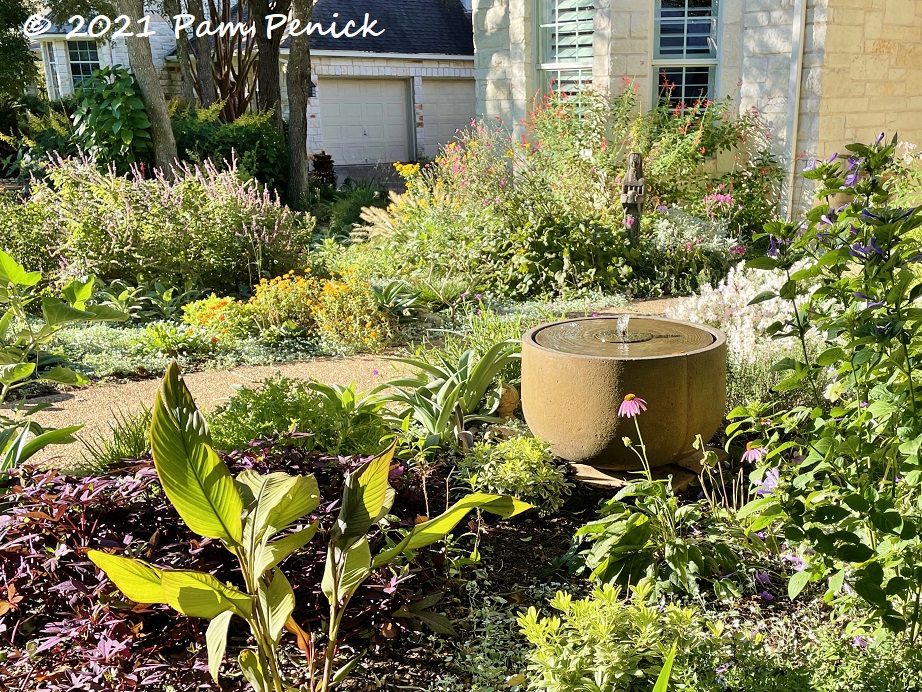 Like all of us in Central Texas, Cat lost a lot of shrubby structure during the Freezepocalypse of Februrary 2021, including, here in her front garden, 'Pringles' yew, 'Soft Caress' mahonia, and 'Cream de Mint' pittosporum. But thanks to lush perennial and annual growth during the relatively mild summer that followed, the casual visitor would never notice what was missing. All was full and lovely.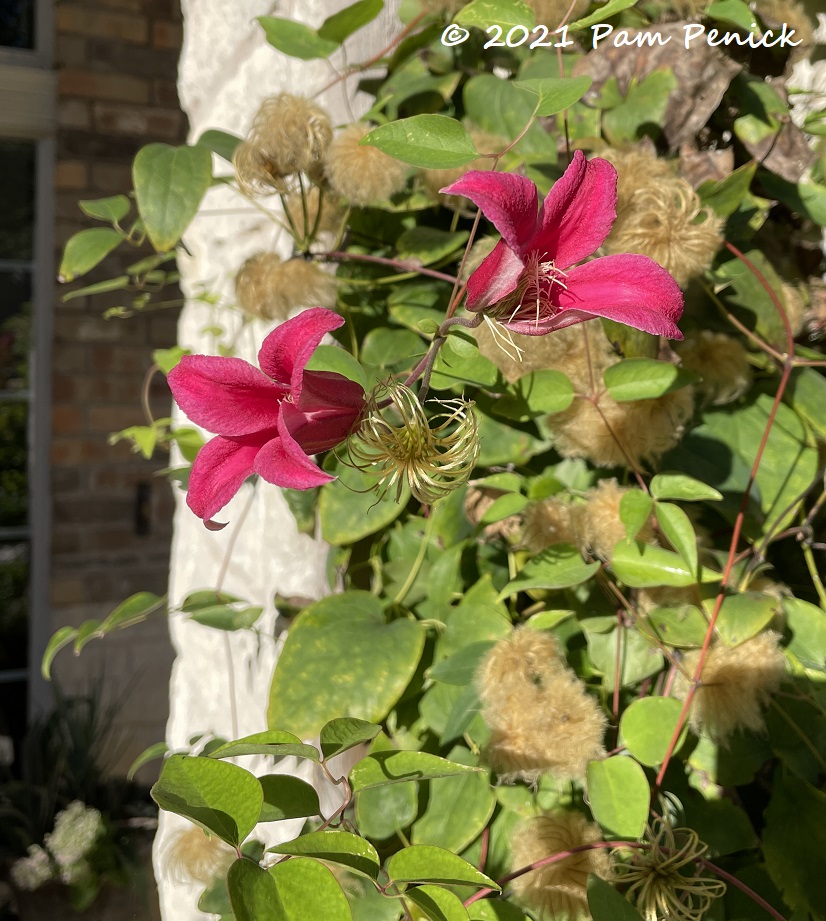 'Princess Diana' clematis climbs a trellis on a stone pillar by the front porch.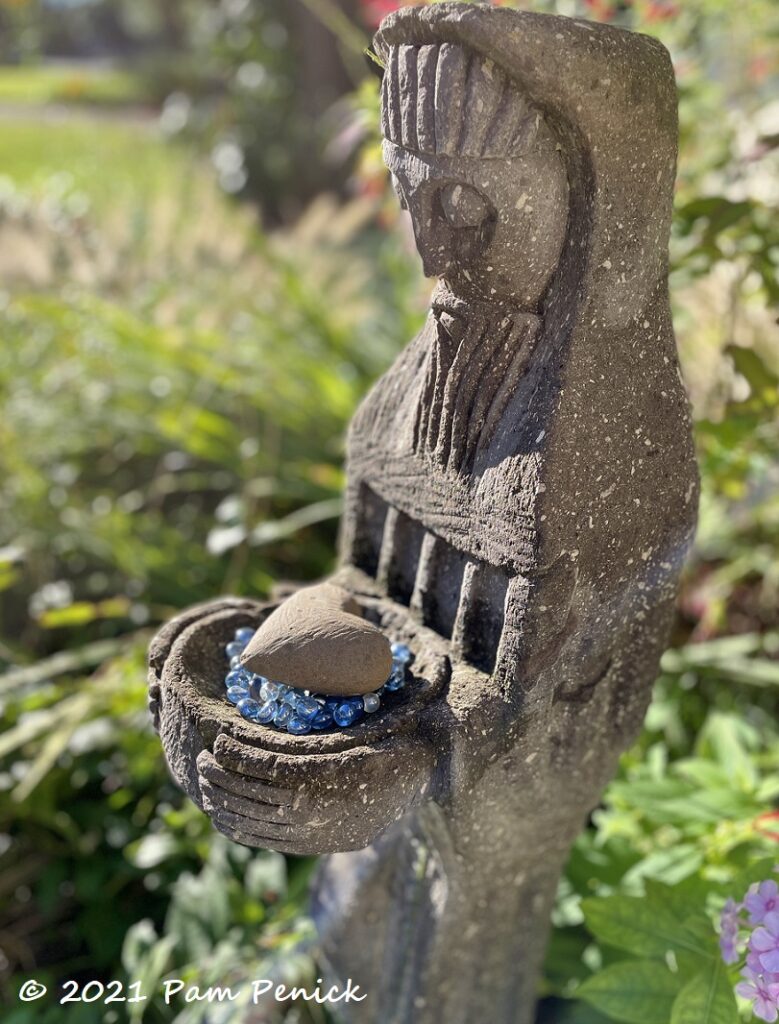 A Celtic St. Francis holding a bowl of blue glass and a stone heart is my favorite of the many beautiful things in Cat's garden.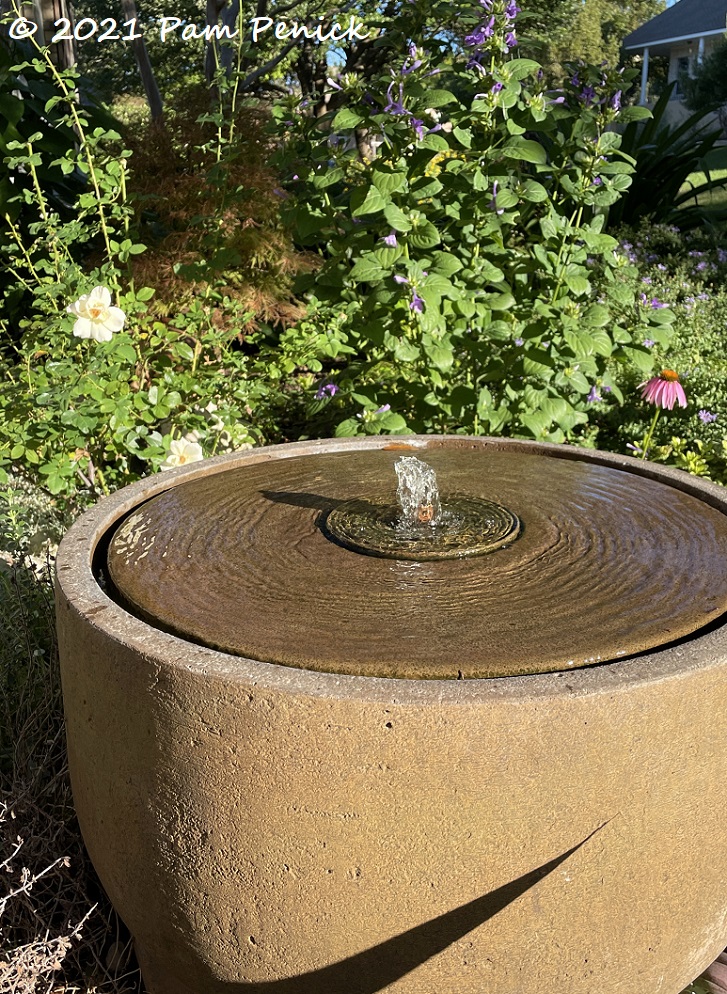 Several water features, almost always in chocolately hues like this one, bubble or placidly reflect the sky in Cat's garden. Behind it, Philippine violet shows off its late-season purple flowers.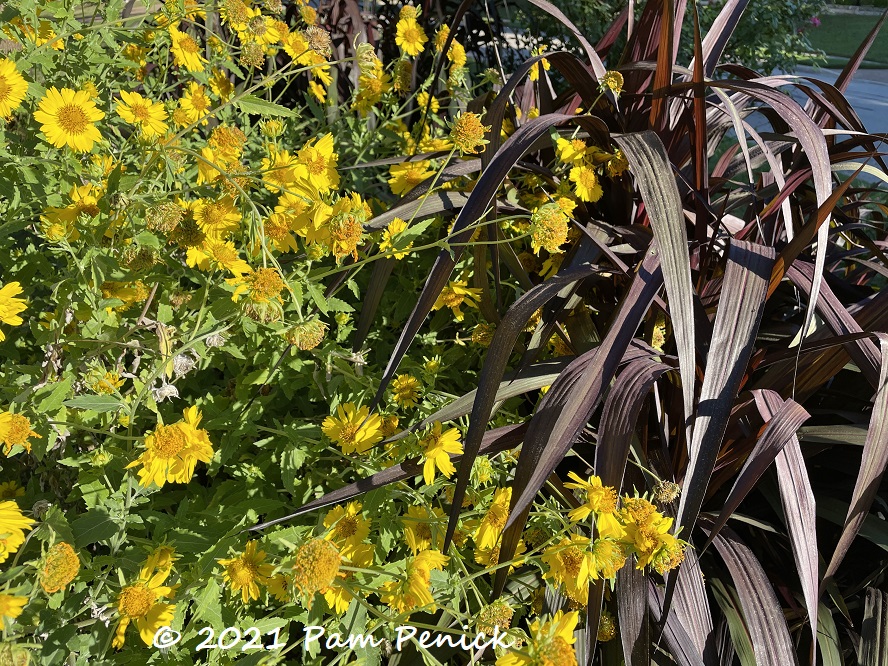 Cowpen daisy and 'Princess Caroline' pennisetum make a pretty autumnal pairing.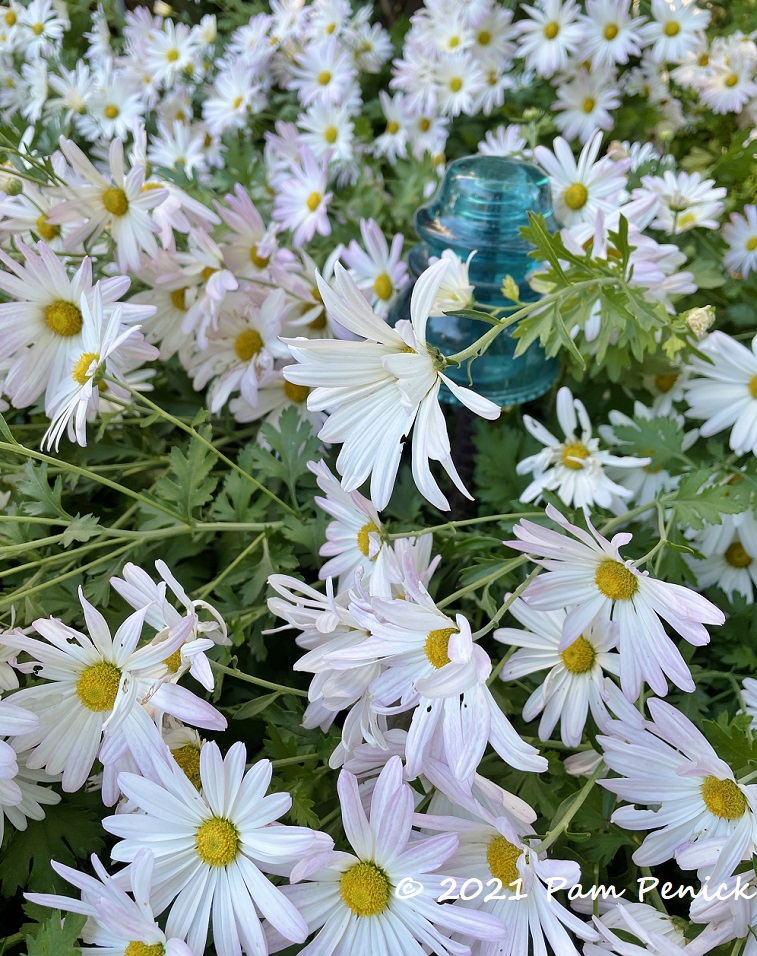 'Country Girl' mums in full bloom crowd around a hose guard Cat made from a turquoise glass insulator atop a rebar stake — a clever idea I've copied in my own garden. You can find old insulators at antique stores and online.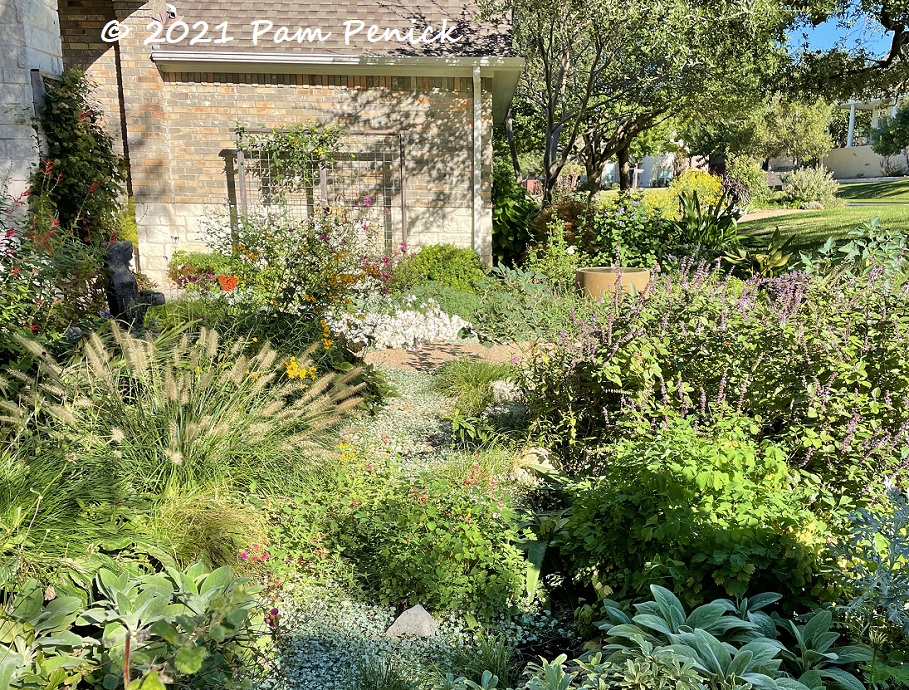 The view across the front garden. The depressed, S-shaped line in the center, carpeted with silver ponyfoot, is a dry creek that funnels runoff from the elevated front lawn away from the porch. Despite backing up to a canyon in west Austin's Steiner Ranch neighborhood, Cat's garden is largely untroubled by deer. A fact I'm not envious of AT ALL.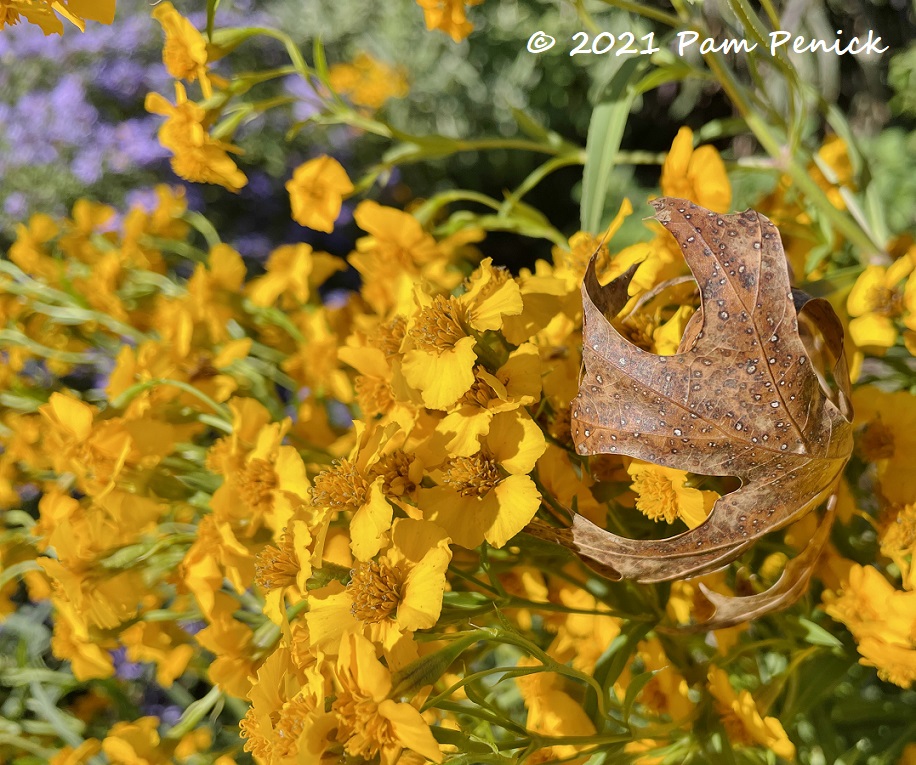 Autumn's embrace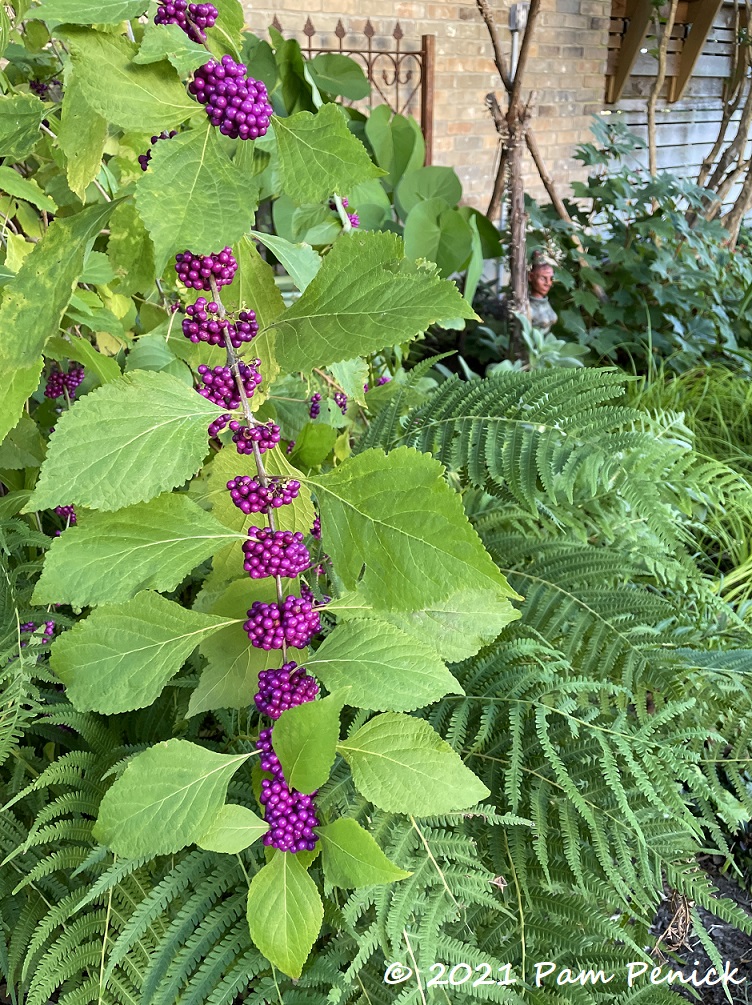 In Cat's side garden, American beautyberry displayed tight clusters of purple berries, a favorite of mockingbirds.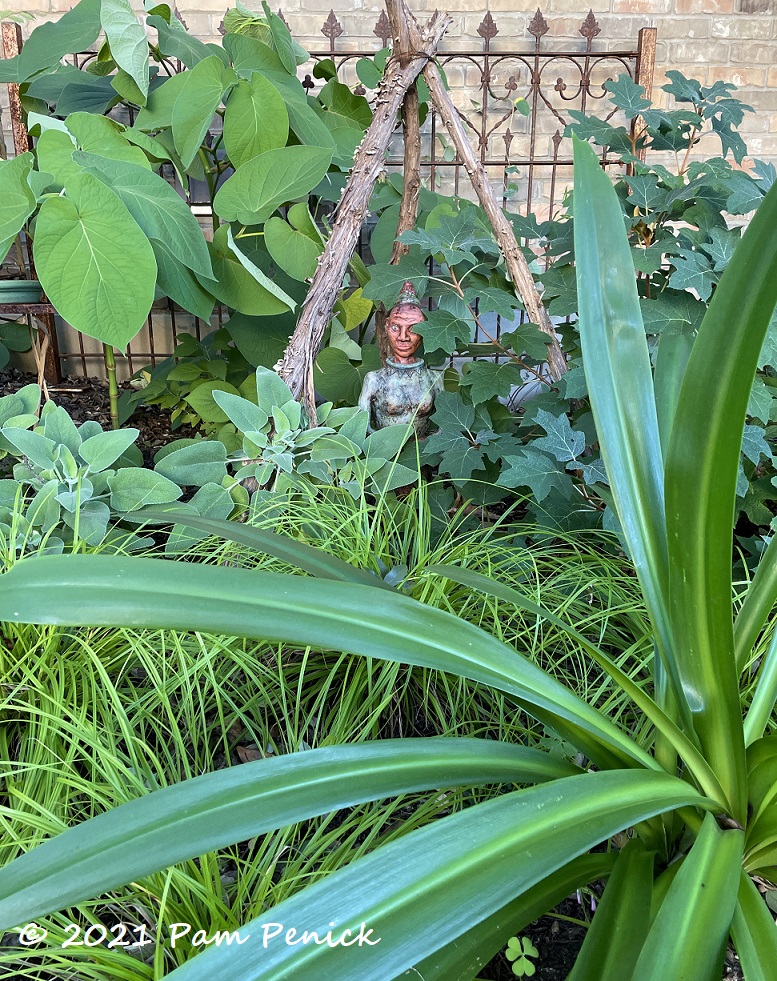 A ceramic woman Cat made in an art class stands watch under a cedar tepee, with 'Everillo' sedge and hymenocallis tropical spider lily in the foreground.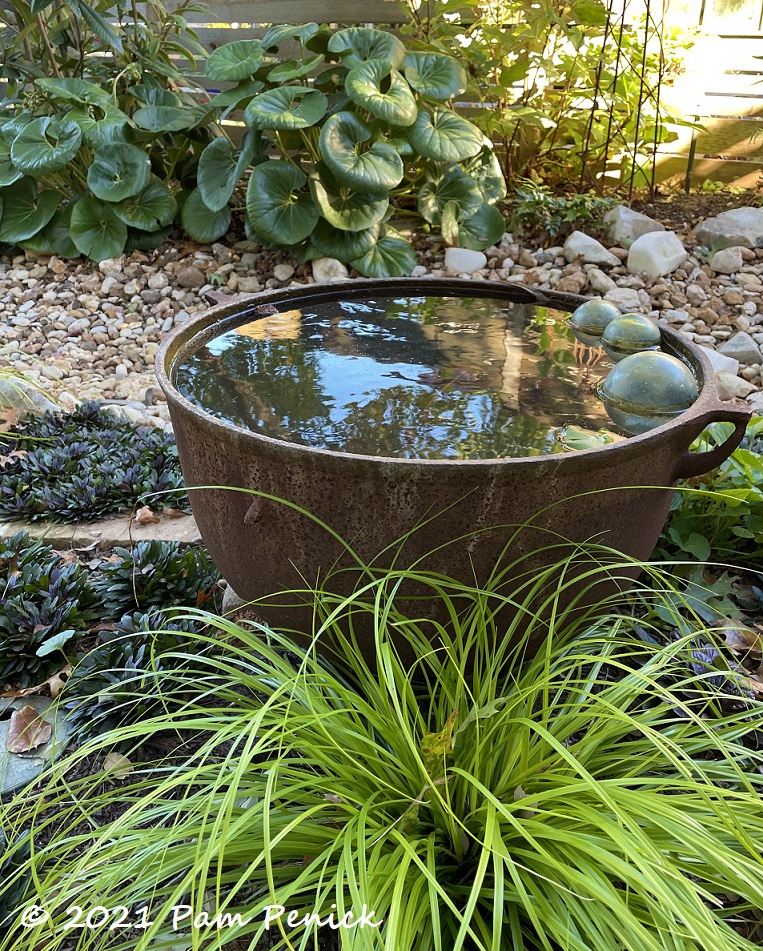 A rusty metal water vessel reflects the sky as a few orbs bob on its surface. More 'Everillo' sedge contrasts with the chocolate-colored bowl. I believe that's 'Chocolate Chip' ajuga at left, with giant leopard plant (Farfugium japonicum 'Gigantea') across another dry creek.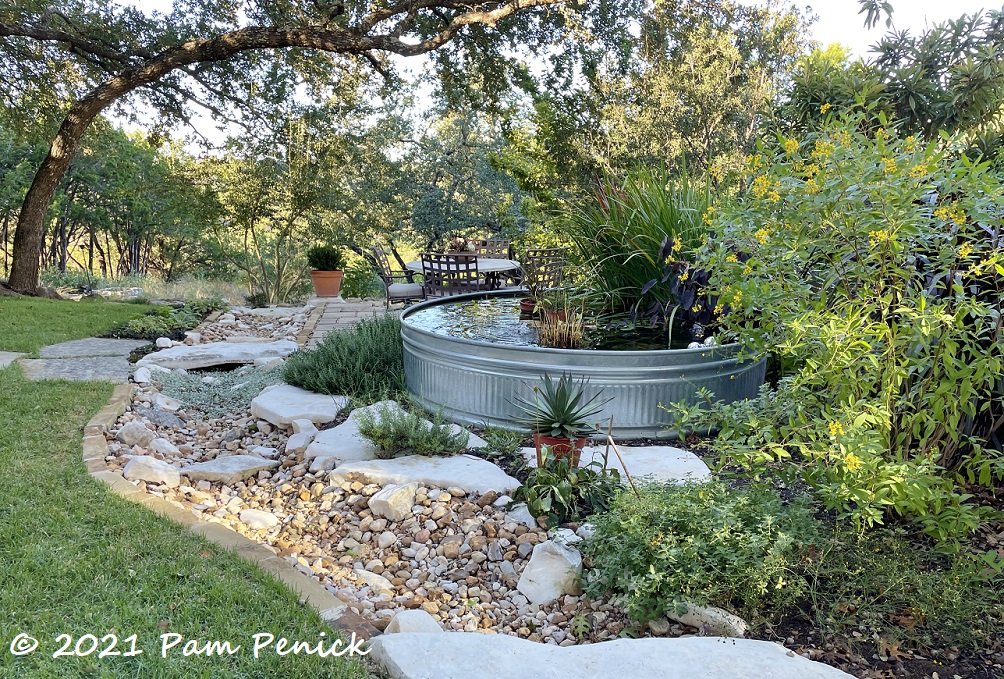 That dry creek — which means business, as you can see from its depth — winds past Cat's biggest stock-tank pond, the focal point of her back garden. A bendy live oak, one of dozens clustering on the edge of the canyon, adds Central Texas flavor.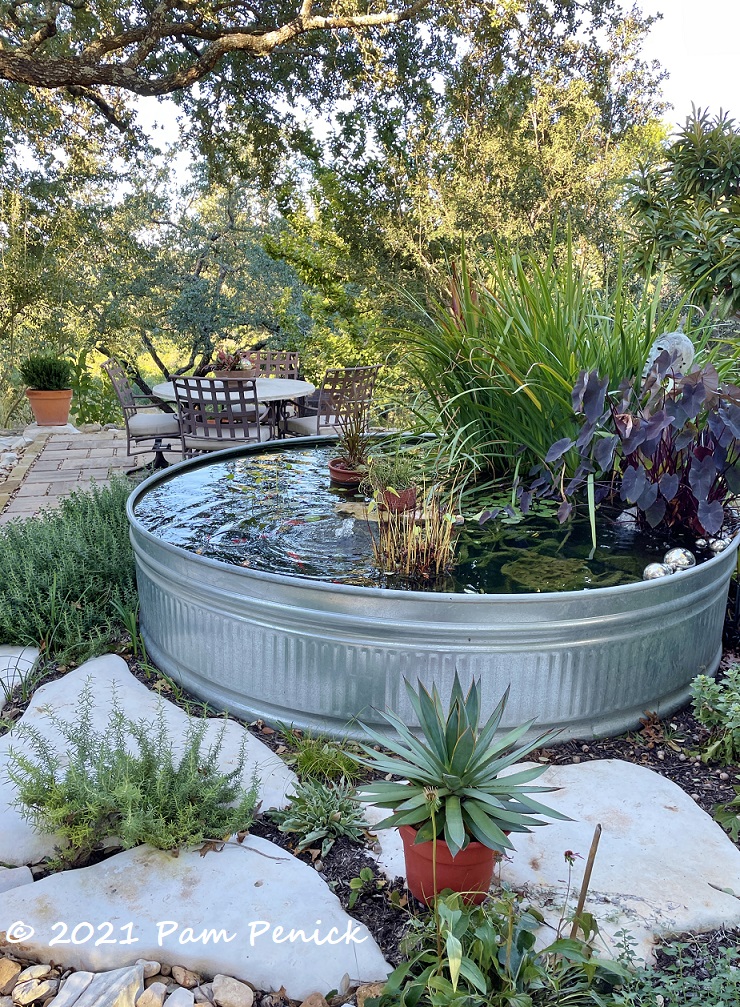 Her pond is a delight and brings back fond memories of my own. Want to make your own stock-tank pond this summer? Here's how.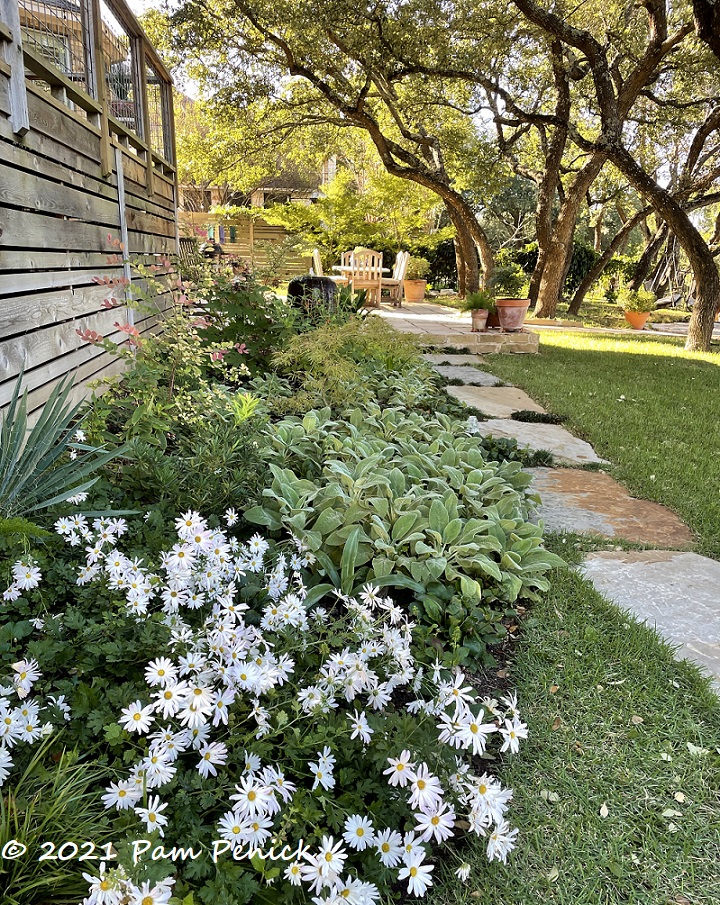 An elevated deck (at left) overlooks the garden and canyon beyond. At its base, a border of lamb's ear, sedge, and 'Country Girl' mums stays low. More bendy live oaks dance beside the main patio at the end of a stone path.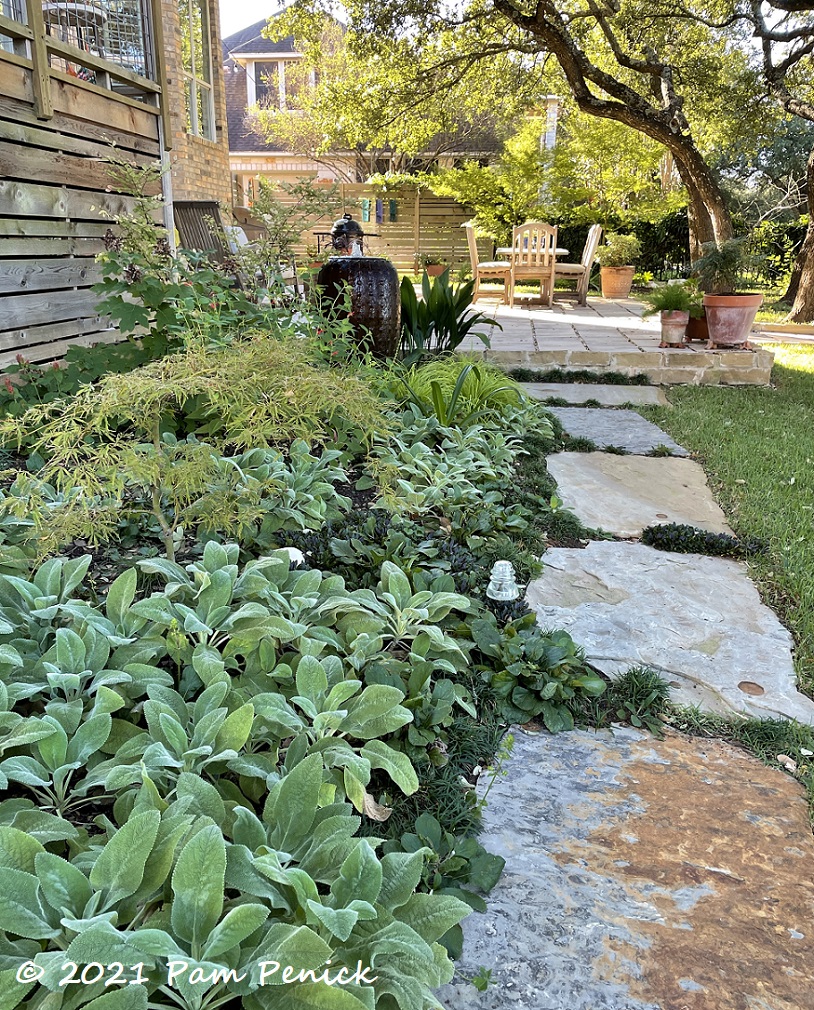 Cat loves Japanese maples and has a petite one growing in this shady border, surrounded by lamb's ear, dwarf mondo grass, and 'Chocolate Chip' ajuga.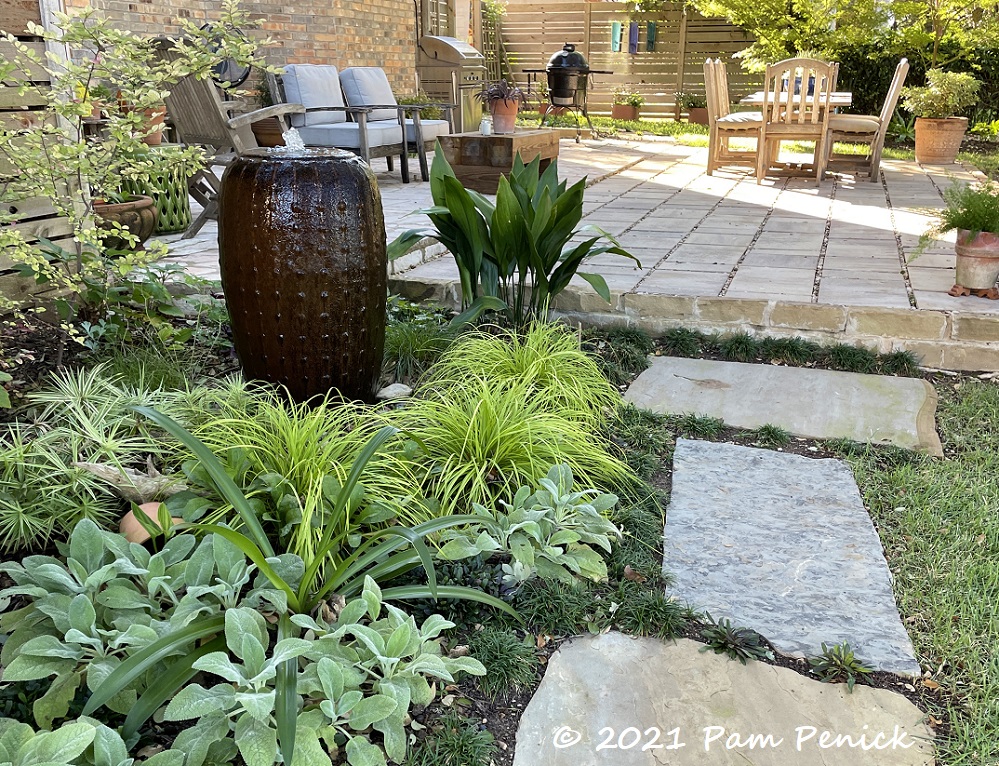 A tall ceramic disappearing fountain bubbles quietly here, with a skirt of contrasting 'Everillo' sedge, 'Sparkler' sedge, tropical spider lily, lamb's ear, and dwarf mondo grass.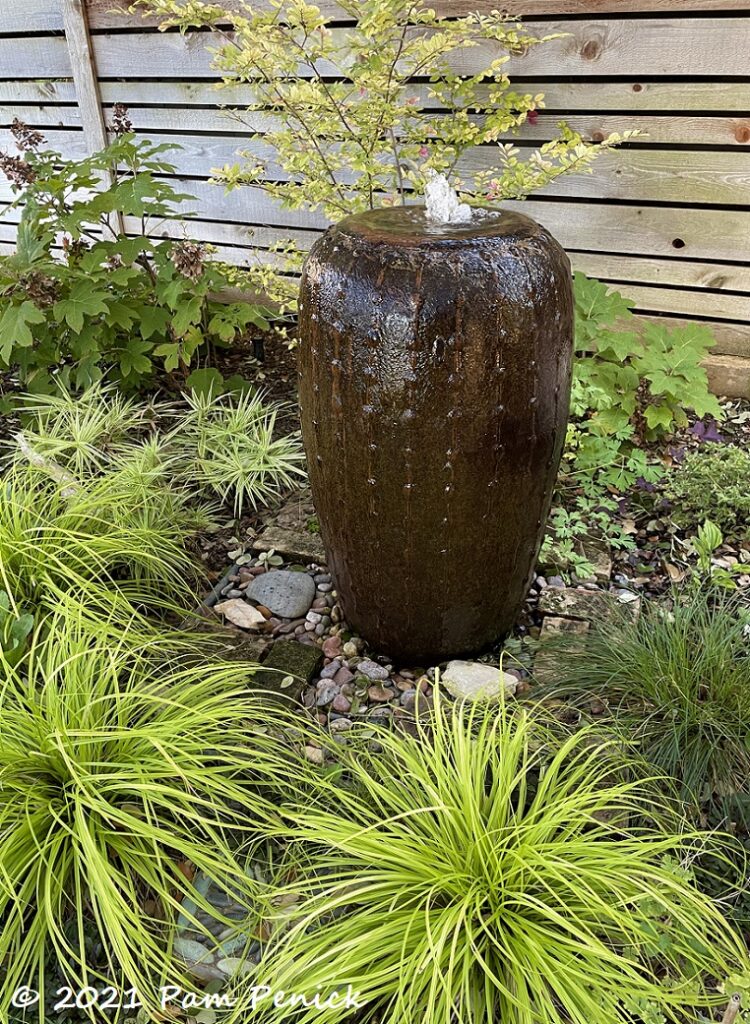 The loropetalum behind the fountain would normally be a rich shade of burgundy. But, like my own, hers sustained freeze damage last February, and although it grew back the leaves look chlorotic. I'm still waiting to see if mine will recover fully.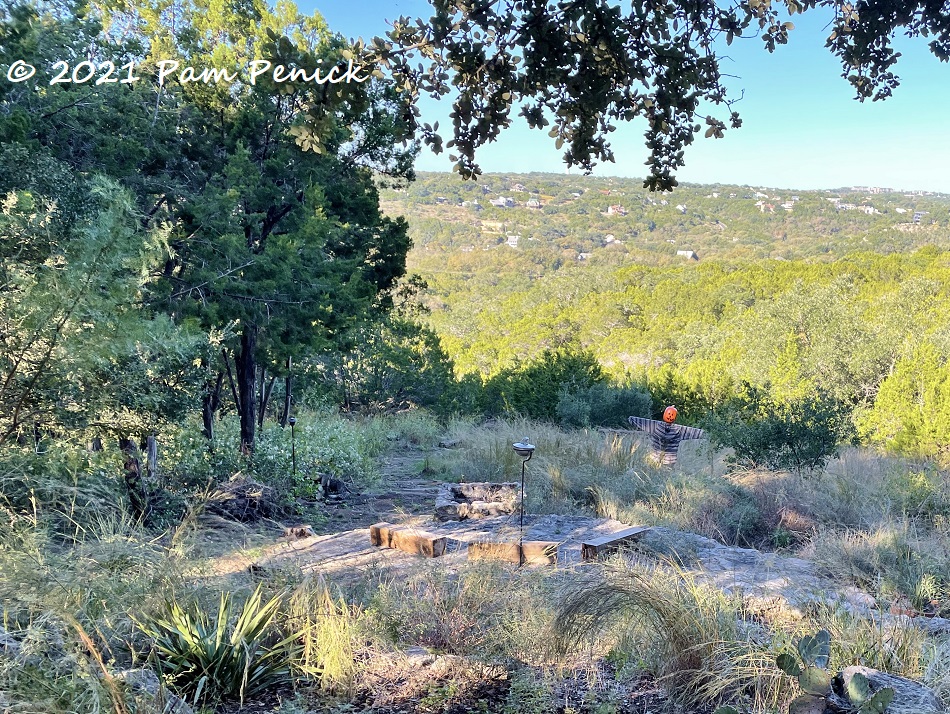 Beyond the patio garden, the land falls away into a canyon. Cat lightly maintains a meadow of native grasses, wildflowers, prickly pear, and yuccas in this sunny, open space. In the center, a stone patio with wood posts for benches invites sunset watchers to come sit.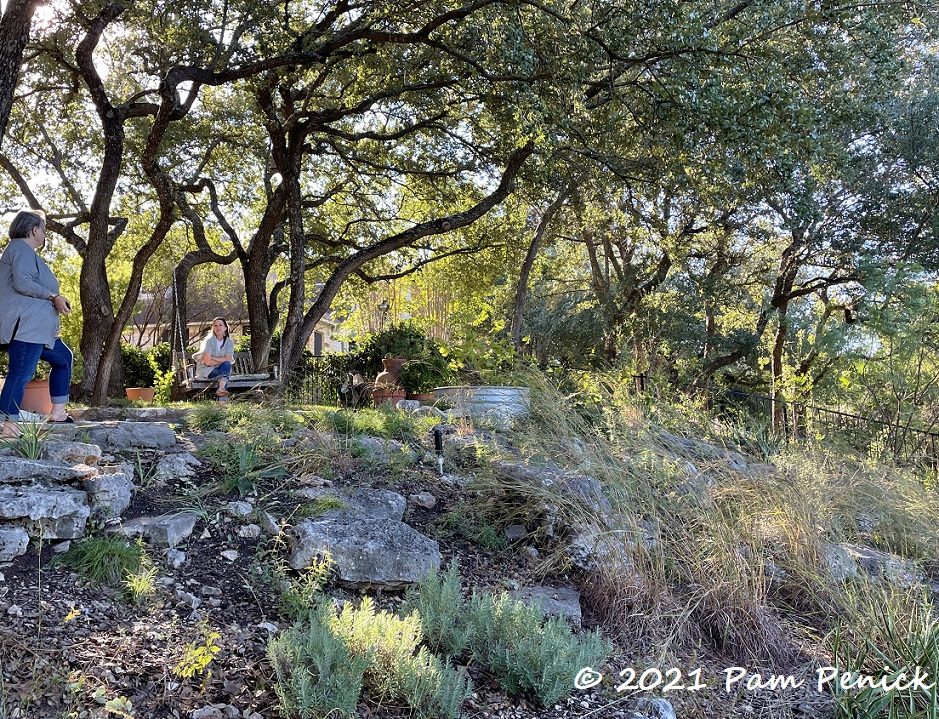 Loree and Cat chat at the edge of the canyon meadow. The swinging bench is Cat's late-afternoon spot for watching the sun go down beyond the hills.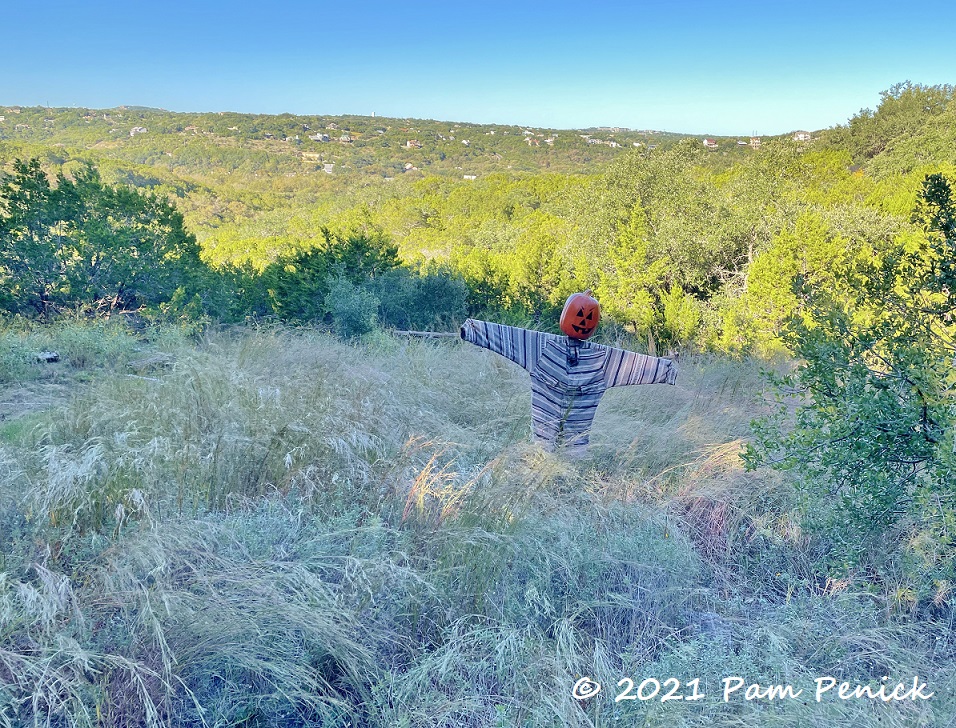 Because our visit was just before Halloween, a scarecrow Jack-o'-lantern was standing vigil in the little bluestem.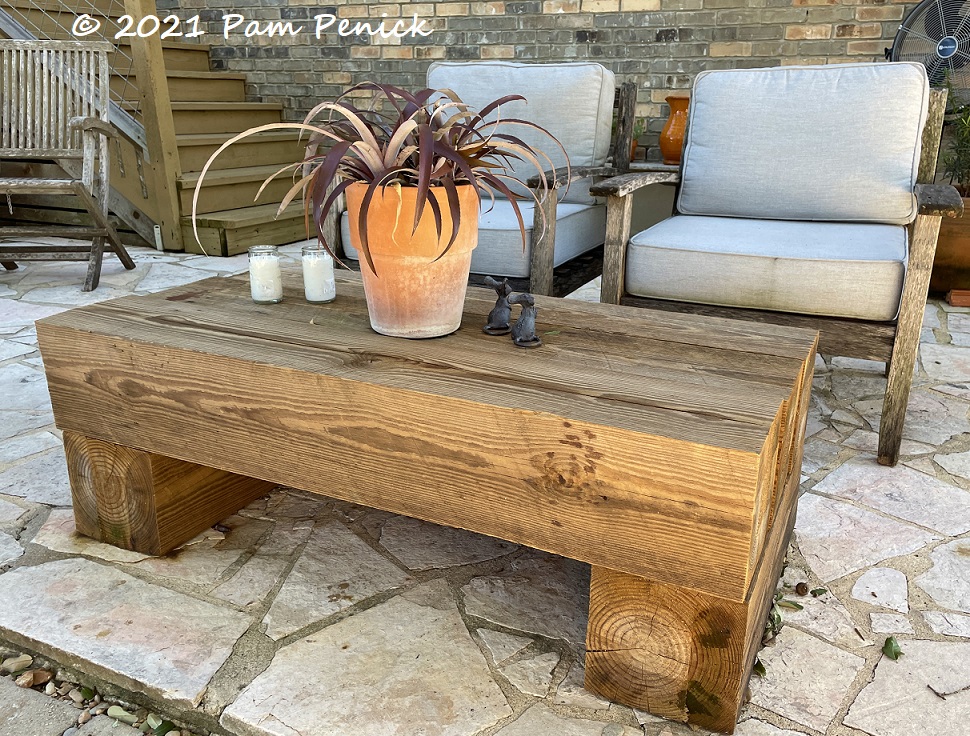 Cat recently removed an upper deck, which they never used, from the back of the house. She had her carpenter cut down the big cedar posts to make this wonderful, chunky porch table.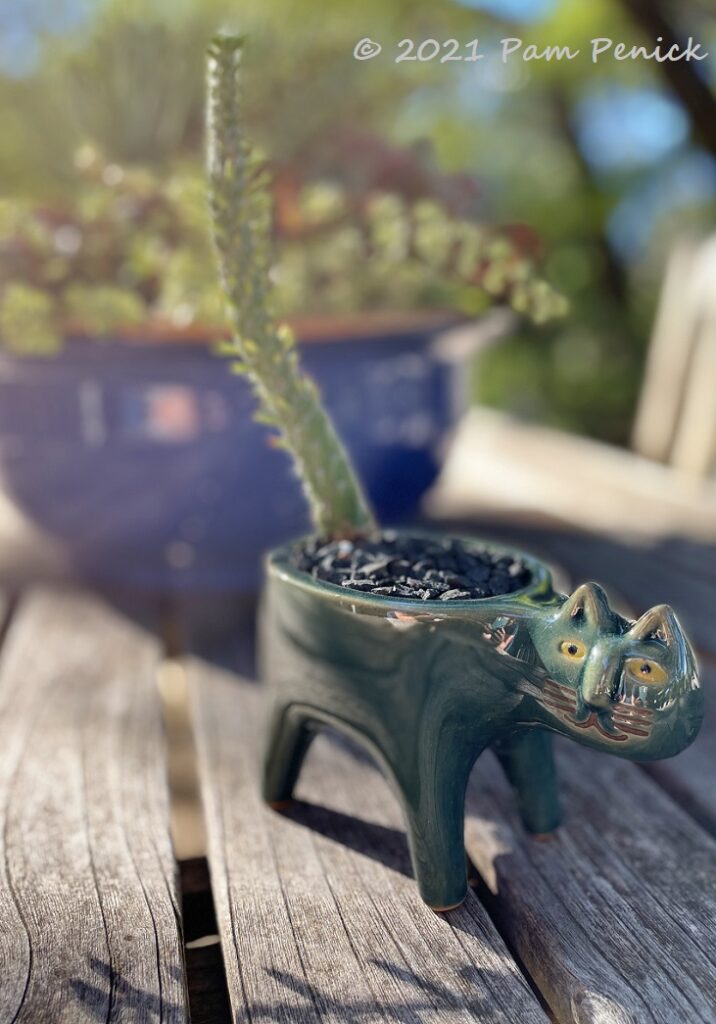 On her outdoor dining table, a green cat pot is perfectly planted with a single succulent stem for a brushy tail.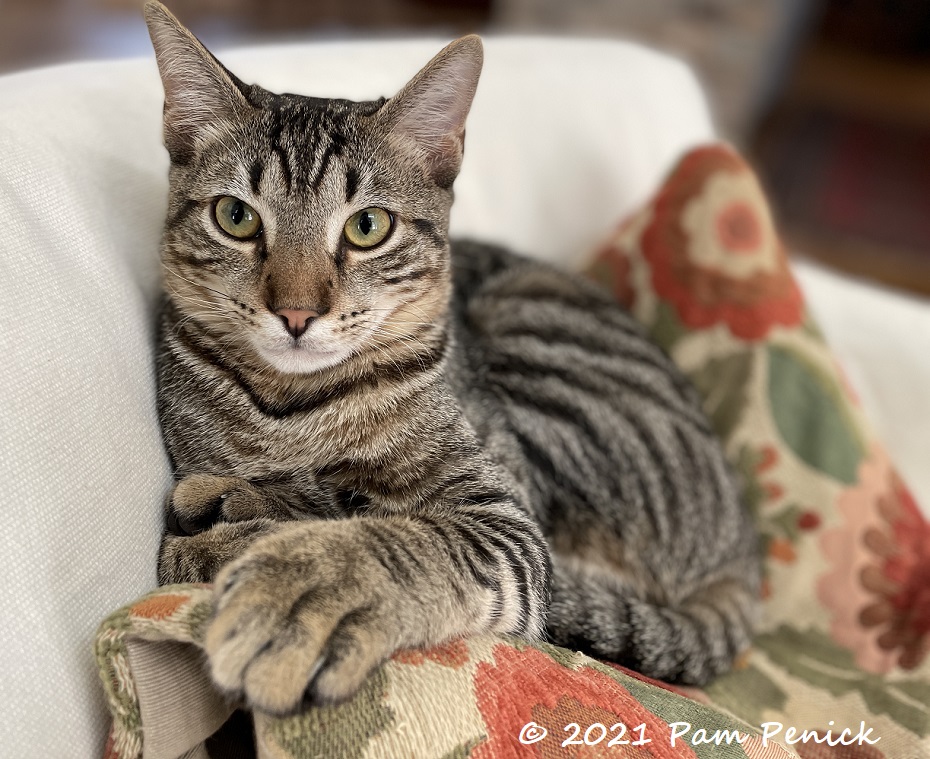 Inside, Papillon and Ollie, two kittens Cat recently adopted, rule the roost. This is Pappi.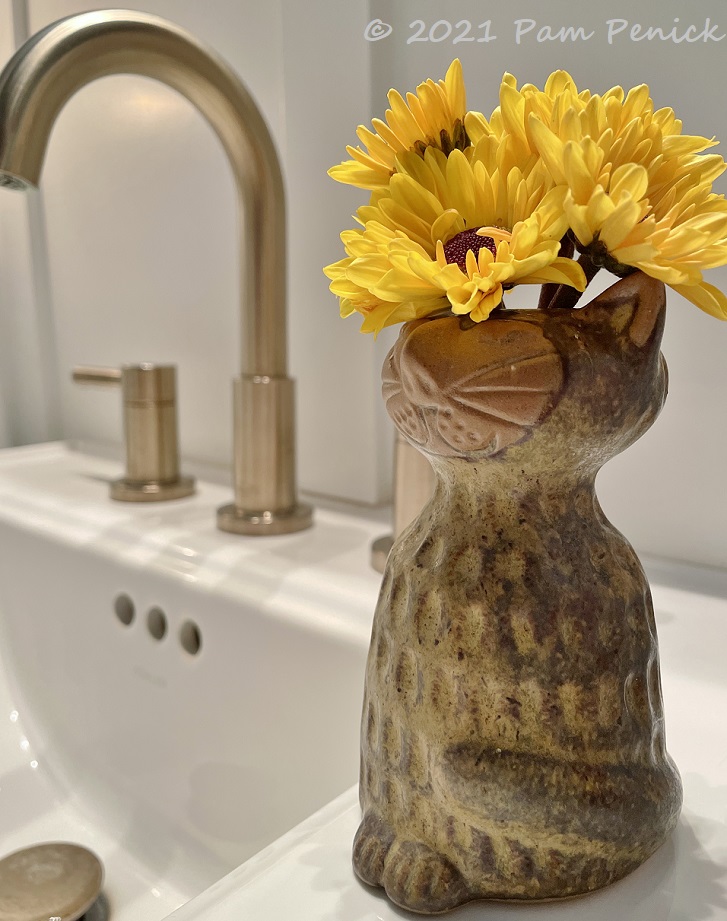 A quick trip to the bathroom revealed another cute kitty — a tiny cat vase with yellow flowers.
It's always a treat to visit Cat's garden, especially during my favorite month of the gardening season in Austin. Thanks for having us over, Cat!
I welcome your comments. Please scroll to the end of this post to leave one. If you're reading in an email, click here to visit Digging and find the comment box at the end of each post. And hey, did someone forward this email to you, and you want to subscribe? Click here to get Digging delivered directly to your inbox!
_______________________
Digging Deeper: News and Upcoming Events
Need design help with your yard? Hire me as your personal garden coach! Maybe you need replacement plant ideas after the big freeze. Or maybe your landscaping has grown tired, and you want fresh curb appeal. Or perhaps you're ready to get rid of some lawn and create a pollinator garden, bird habitat, or hangout space for you and your friends. I'm here to help! Contact me to let me know what's going on, and let's figure it out together. My range is Austin and suburbs within a 25-min. drive of NW Austin, but I'm flexible and can travel farther with a surcharge, so let me know where you are. Weekday morning appts. only.
Join the mailing list for Garden Spark! Hungry to learn about garden design from the experts? I'm hosting a series of talks by inspiring garden designers, landscape architects, and authors a few times a year in Austin. Check out the 2021-22 schedule. These are limited-attendance events that sell out quickly, so join the Garden Spark email list to be notified in advance. Simply click this link and ask to be added.
All material © 2022 by Pam Penick for Digging. Unauthorized reproduction prohibited.