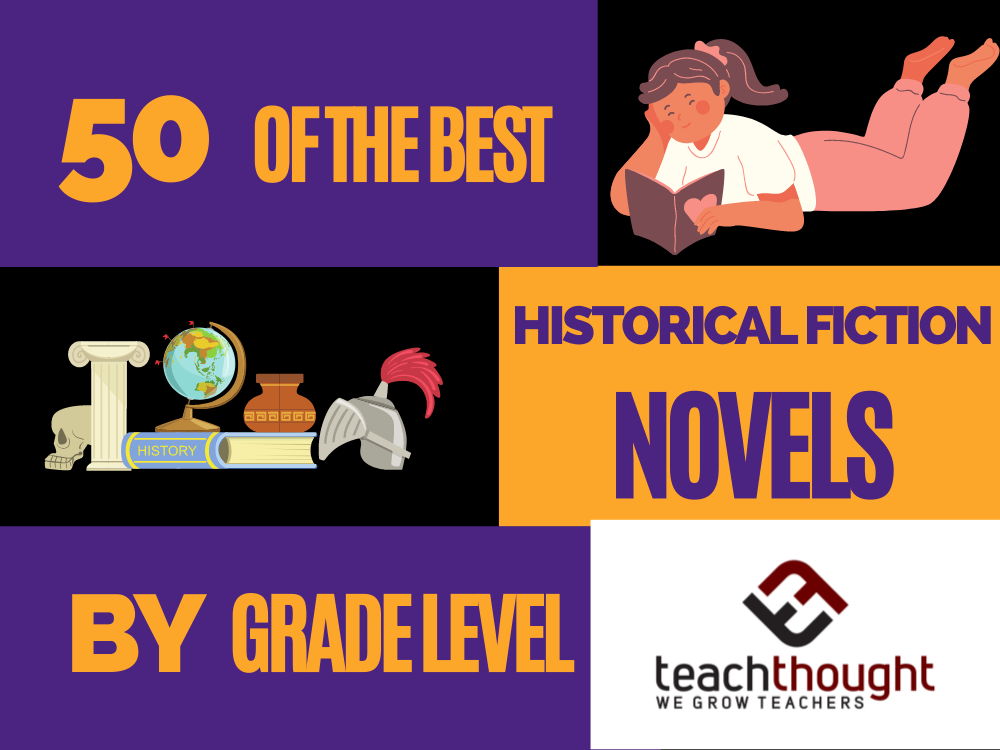 What Are The Best Historical Fiction Books?
Historical fiction books are a popular genre among all grade levels, and a great starting point for reluctant readers.
A typical historical fiction novel centers a fictional protagonist — perhaps based on a real character or group of characters — within a real historical context or set of problems. For example, we could probably create an entire post on historical fiction books related to the Holocaust and World War II — a popular sub-genre among middle and high school students. This list of historical fiction books, divided by grade level, includes selections from across time and location. From the Civil Rights Movement, Gandhi's nonviolent protest movement, the American Revolution, the Iranian Revolution, and LA riots, these 50 novels promise to engage the most reluctant of readers and keep students asking, "What should I read next?"
Disclosure: This post contains affiliate links to products. As an Amazon Associate, I earn from qualifying purchases. Read more about our policy here.
Best Choices for Elementary School Readers
Roll of Thunder, Hear My Cry (The Logan Family Series) by Mildred Taylor
9-year-old Cassie Logan narrates the story of her family's hardships in Book #4 of the Logan family series, which takes place in 1930s Mississippi during the height of Jim Crow segregation and the Great Depression.
The Watsons Go to Birmingham — 1963 by Christopher Paul Curtis
The Watsons are a close-knit family living in Flint, Michigan during the Civil Rights Era. The Watsons' son — Kenneth — narrates the family's journey to Birmingham, Alabama, where the 16th Street Baptist Church bombing is perpetrated by members of the Ku Klux Klan.
The True Confessions of Charlotte Doyle by Avi
Charlotte Doyle is a naïve young girl before she makes the transatlantic crossing from England to America in 1832. This coming-of-age story touches on themes of social class and gender equality, as Charlotte gradually challenges traditional norms with her rebellious tendencies and courageous decisions.
Esperanza Rising by Pam Muñoz Ryan
Readers will fall in love with Esperanza, who shows grit and resilience as her family moves to California during the Great Depression following the murder of her father. Facing illness, financial hardship, and social injustice, Esperanza — which means 'hope' in Spanish, prevails through her namesake.
Number the Stars by Lois Lowry
In this story, Annemarie Johansen — a 10-year-old blonde-haired, blue-eyed girl living in Denmark — chronicles the journey of her best friend's Jewish family as they attempt to escape from the Nazis and avoid being relocated to the concentration camps.
Sugar (The Louisiana Girls Trilogy) by Jewell Parker Rhodes
While slavery has been abolished, African Americans are still being subjected to forced labor. When Chinese laborers arrive at the sugar plantation in Mississippi where Sugar lives, she finds a way to establish common ground and uplift a community.
Finding Langston (The Finding Langston Trilogy) by Lesa Cline-Ransome
This book tells a fictionalized account of a young boy named Langston, who is in despair after his family moves from Alabama to Chicago. Eventually, Langston discovers the poet Langston Hughes in the Chicago Public Library, and begins to find a place in his new home.
When My Name Was Keoko by Linda Sue Park
Set in Korea in the 1940s, this story is told through the points-of-view of two brothers — Sun-Hee and Tae-Yul — as they navigate new laws and the destruction of Korean culture at the hands of the Japanese government.
Step Up To The Plate, Maria Singh by Uma Krishnaswami
Maria wants more than anything to play on the first-ever all-girls softball team in Yuba City, California. Meanwhile, World War II is raging and Maria's Indian father and Mexican mother are struggling to protect their children from discriminatory laws and American prejudice.
Betty Before X by Ilyasah Shabazz and Renée Watson
Betty Before X is a fictional account based on the coming-of-age of Dr. Betty Shabazz, Civil Rights activist. The story details four years in Dr. Shabazz's adolescence as she volunteers, organizes, and overcomes self-esteem challenges.
Inside Out and Back Again by Thanhhà Lai
This beautiful tale, told in verse, reveals Vietnamese girl Hà's encounter with the Vietnam War and migration to America, an unfamiliar place where Hà and her family will face a different set of challenges in Alabama.
Ahimsa by Supriya Kelkar
In 1942, Gandhi asks each family to give one member each to the freedom movement, and 10 year-old Anjali is not thrilled when her father steps up for the cause. Ahimsa tells the story of one girl's experience with ahimsa — nonviolent resistance — as her family becomes more and more dedicated to the cause.
Bud, Not Buddy by Christopher Paul Curtis
Set in Grand Rapids, Michigan, Bud Not Buddy (the second novel written by Christopher Paul Curtis) narrates Bud's placement into foster care and the dangerous settings of Sundown towns, where discriminatory laws prevent African Americans from being discovered in public after dark. The book also touches on the Great Depression, Jazz era, and social issues like racism.
One Crazy Summer by Rita Williams-Garcia
It's the summer of 1968, and three young sisters — Delphine, Vonetta, and Fern — are traveling from New York to Oakland, California to spend the summer with their estranged mother. There, they meet pivotal figures of the Black Panther movement.
I Survived (Complete 21-Book Set) by Lauren Tarshis
From the Titanic, Pearl Harbor, and Hurricane Katrina, to 9/11, the Battle of Gettysburg, and the Great Chicago Fires, author Lauren Tarshis has written 21 books narrated through the perspective of a youth protagonist who lives to tell the story of the harrowing experience. These books are excellent choices for reluctant readers with a penchant for history.
Best Choices for Middle School Readers
Ground Zero by Alan Gratz
Told through the points-of-view of two child narrators — Brandon in New York City on 9/11/2001 and Reshmina in Afghanistan on 9/11/2019 — Ground Zero is a thrilling adventure that touches on themes of survival, peace, and progress. As always, Gratz does an amazing job of making connections between past and present historical events, and the dangers of fear and revenge.
Nightjohn by Gary Paulsen
Nightjohn is the name of a man who escaped from slavery to find freedom in the north, and then returned to the south to teach reading. He knew that the punishment for being discovered is dismemberment, yet he still came back to help others in captivity learn the skill of reading. Sarny is a 12 year-old slave living on a plantation who dares to take advantage of Nightjohn's offering.
A Long Walk to Water by Linda Sue Park
This beautiful story is told through the perspective of two 11-year-old children in Sudan. In 2008, Nya must make two 2-hour treks from her home to the water source each day. Salva is a refugee journeying in search of his family and a safe place to take shelter. Author Linda Sue Park weaves their stories of survival together in an incredible way as they battle isolation, violence, and animal predators.
Code Talker: A Novel About the Navajo Marines of World War Two by Joseph Bruchac
Navajo code talkers were key players in the U.S. effort during World War II — they aided U.S. forces by communicating messages in their native language and were responsible for saving many American lives. This story, told through a 16-year-old Navajo boy's perspective, depicts the journey to become a code talker and simultaneously honors the dedication of some of America's unsung heroes.
Refugee by Alan Gratz
Refugee tells the thrilling stories of three youths, in three locations, set in three critical time periods in world history. Josef is a 13-year-old Jewish boy fleeing from Nazi Germany to Cuba with his family aboard the MS St. Louis. Isabel is an 11-year-old girl escaping Fidel Castro's Communist regime in Cuba for Miami. 13-year-old Mahmoud is traveling with his family from civil war in Syria to safety in Germany. Gratz intersects the lives of these three children in ways that highlight their bravery, humanity, and love for their families.
The Inquisitor's Tale: Or, The Three Magical Children and Their Holy Dog by Adam Gidwitz
Set in France during the medieval times, The Inquisitor's Tale is told by three magical children — Jeanne, William, and Jacob. Jeanne can see into the future, William has superhuman strength and size, and Jacob possesses healing powers. After they meddle with events that occur after the Disputation of Paris, King Louis IX and his officials seek to track them down and punish them.
Woods Runner by Gary Paulsen
13-year-old Samuel is a young boy during the American Revolution. When the British troops burn down his home and take his parents in captivity, Samuel embarks on a thrilling journey to get to New York. On the way, he meets native Americans, mercenaries, and spies, all of whom either help or hinder his mission to save his family.
Anne Frank: The Diary of a Young Girl by Anne Frank
Anne Frank was a real teenager living during the Nazi takeover of the Netherlands. Her diary, found by her childhood friend Miep Gies, and given to her father Otto (the only Holocaust survivor in the Frank family), depicts the authentic thoughts, feelings, and reactions of a girl coming into her own womanhood and grappling with familial and romantic relationships.
Allies by Alan Gratz
Allies hones in on D-Day in German-occupied France — June 6, 1944. Gratz tells the stories of the many groups of soldiers and citizens who fought against the Nazis on that fateful day — U.S, British, and Canadian troops; Algerian Muslim soldiers in the French resistance; and African American soldiers, to name a few. Like most of Gratz's historical fiction novels, prevalent themes include survival, unity, and courage.
Revolution (The Sixties Trilogy) by Deborah Wiles
Set during the Freedom Summer of 1964 in Greenwood, Mississippi, Revolution uses a unique multimedia format — verse, newspaper headlines, images, songs, and prose — to tell the story of Sunny and her reaction to the influx of volunteers from the north arriving in Mississippi to help people register to vote.
Fever, 1793 by Laurie Halse Anderson
In the summer of 1793, yellow fever struck Philadelphia, Pennsylvania. In Anderson's tale, teenage girl Mattie Cook narrates the events that unfold when the city's inhabitants become ill (and die). Both heart-pounding and informative, Fever, 1793 keeps readers engaged with a story that shares connections to the modern COVID-19 pandemic.
Prisoner B-3087 by Alan Gratz
This book is highly popular among reluctant readers interested in learning about the Holocaust. Yanek, a Jewish boy living in Poland during the Nazi invasion, loses everything he loves before being taken prisoner and tattooed with the number B-3087. Gratz's book tells the tale of his journey among 10 concentration camps (and 10 near-death encounters) during World War II.
The Boy in the Striped Pajamas by John Boyne
The Boy in the Striped Pajamas is another story set during the Holocaust, this time narrated through the eyes of a 9-year-old boy — Bruno — who is the son of the Commandant of the Nazi regime. When Hitler orders his family to move to Auschwitz, Bruno is devastated about uprooting his life. Not realizing the significance of his location (a concentration camp), he befriends an imprisoned Jewish boy named Shmuel on the other side of the fence, and becomes increasingly disturbed at his worsening condition. What happens next is a heartbreaking lesson on the beauty of friendship and the evil of prejudice.
Towers Falling by Jewell Parker Rhodes
Towers Falling tells the story of the September 11th attacks on the World Trade Center through the perspectives of three students — Deja, Ben, and Sabeen — who were not present during the events but who are inevitably affected by the cultural aftermath. Parker Rhodes touches on themes like identity, community, and healing in this book that will resonate with 21st century middle school readers.
Hang A Thousand Trees With Ribbons: The Story of Phillis Wheatley by Ann Rinaldi
Phillis Wheatley is known for being the first African American poet. Narrated in first person, Hang a Thousand Trees with Ribbons tells the story of her capture and enslavement, voyage through the Middle Passage, and intellectual and artistic blossoming in America, all taking place during the Revolutionary War.
Best Choices for High School Readers
The Book Thief by Markus Zusak
Told through the perspective of foster child Liesel Meminger, The Book Thief tells a story of family and survival as Liesel steals books, learns to read, and shares her knowledge with her neighbors (as well as the Jewish man hiding in her foster father's basement).
Dread Nation (The Dread Nation Series) by Justina Ireland
Dread Nation blends historical fiction with horror — Jane McKeene is a young girl studying fighting and etiquette in order to protect the wealthy from zombie soldiers of the Battle of Gettysburg. Justina Ireland expertly weaves themes of racism, survival, and compassion in this unique, coming-of-age story.
Angel of Greenwood by Randi Pink
Angel of Greenwood is a love story that takes place in Greenwood, Oklahoma (aka the 'Black Wall Street') and illustrates the horrors of the 1921 Tulsa Race Massacre. Isaiah (the mischief-maker) and Angel (the outcast) come together when their teacher presents them with the opportunity to work for her mobile library. Their lives change forever on May 31, 1921, when an angry white mob attacks the Black community of Greenwood.
The Downstairs Girl by Stacey Lee
Part mystery, part drama, part historical fiction novel, The Downstairs Girl (set in the New South) brings themes of race, gender, and social status to the forefront. Jo Kuan is a maid for the wicked daughter of one of the richest men in Atlanta. She is also the anonymous author of a newspaper advice column for 'proper' Southern ladies. She begins to use her column to critique Atlanta's social ills and inevitably experiences backlash and danger when someone threatens to expose her identity.
The Black Kids by Christina Hammonds Reed
The Black Kids is set in 1992 Los Angeles following the Rodney King riots. Ashley Bennett is a wealthy, Black high school senior who struggles to juggle identity, race, family, and friendship as the world as she knows it falls apart.
Alex & Eliza (The Alex & Eliza Trilogy) by Melissa de la Cruz
Alex & Eliza tells the burgeoning love story of Eliza Schuyler — daughter of one of newborn America's founding families — and Alexander Hamilton, a handsome, young colonel serving General George Washington, himself.
The Awakening of Malcolm X by Ilyasah Shabazz and Tiffany D. Jackson
Told by Malcolm X's daughter, The Awakening of Malcolm X is a story of Malcolm X's teenage years spent in the Charlestown Prison. Here, he accumulates as much knowledge as he can from the prison library, becomes a member of the debate team, and eventually joins the Nation of Islam. It is a story of his transformation from Malcolm Little to Malcolm X, and a larger commentary on race, politics, social justice, religious freedom, civil rights, and prison reform.
Lovely War by Julie Berry
Fans of Ruta Sepetys novels may also like Lovely War, by Julie Berry. The goddess Aphrodite narrates the story of four mortals during World War I and II — Hazel, a classically trained pianist from London; James, a soldier from Britain; Aubrey, an artist from Harlem; and Colette, a talented orphan living in Belgium.
Code Name Verity (The Code Name Verity Series) by Elizabeth Wein
On October 11th, 1943, 'Verity's' plane crashes in Nazi-occupied France. After getting imprisoned by the Gestapo for espionage, she is tortured with the hopes of confessing her secret mission. As Verity grapples with leaving a friend to die in the crashed plane, fighting for survival, and understanding her own identity, she has to decide if it is worth it to reveal her secrets to her sworn enemy.
Blood Water Paint by Joy McCullough
This historical fiction novel tells the tale of Artemisia Gentileschi, a 17-year-old girl who is living in ancient Rome as one of tits most talented painters (despite remaining anonymous). During this time, women have few rights and little protection, and when Artemisia is violated, she must decide if she is going to stay silent or fight back through her artwork.
Between Shades of Gray by Ruta Sepetys
In this story, 15-year-old Lina, her mother, and younger brother are separated from her father by the Soviet forces, who force them on a harrowing journey from their home in Lithuania to a Siberian work camp.
The Underground Railroad by Colson Whitehead
Colson Whitehead creates a real life underground railroad system, and a protagonist — Cora — who escapes slavery in Georgia and travels the railroad to freedom in the north. She encounters terrors at each 'station' along the railroad, including slave catchers and racist community members who threaten to return her to chains in the South.
Soldier Boys by Dean Hughes
Soldier Boys tells the story of Spencer Morgan and Dieter Hedrick — two teenage boys coming to grips with their own identities. Spencer has just dropped out of high school to be a paratrooper, and Dieter is recently promoted into the Nazi regime from the Hitler Youth. Both boys are desperate to prove themselves, and afraid that if the war ends, they won't have a chance to do so. Once they both find themselves in the middle of war, they find that it is not at all what they thought it would be.
The Sandcastle Girls by Chris Bohjalian
Set during the Armenian Genocide of World War I, The Sandcastle Girls tells the story of Elizabeth Endicott, a volunteer who meets Armen, an Armenian engineer in Syria. They fall in love before Armen travels to Egypt to join the British army, soon realizing that he has fallen in love with a wealthy American girl.
The Complete Persepolis by Marjane Satrapi
The Complete Persepolis is a graphic novel that tells the story of author Marjane Satrapi's coming-of-age during the Islamic Revolution. From the beginning of the revolution during her childhood, to her teenage years spent away from her family in Austria, to her self-imposed exile as a young adult woman, Persepolis tells the story of a brave, intelligent woman at odds with her history, culture, family, and country.
The Kite Runner by Khaled Hosseini
Spanning decades across the 1970s to the early 2000s, The Kite Runner tells the heartbreaking story of two boys from two opposing social strata, whose friendship falls apart after a terrible act and one of the boy's subsequent betrayals. Decades later, one of the boys returns to Afghanistan from America to find redemption through rescuing his old friend's child.
Soldier's Heart:  Being the Story of the Enlistment and Due Service of the Boy Charley Goddard in the First Minnesota Volunteers by Gary Paulsen
It's June 18861, at the beginning of the American Civil War, and 15-year-old Charley Goddard is signing up for the First Minnesota Volunteers. Unaware of what horrors await him, Charley quickly discovers what it means to survive the dangers of war. He returns four years later with a 'soldier's heart,' a condition that links post-traumatic stress disorder to an increased risk for cardiovascular disease.
We Are Not Free by Traci Chee
We Are Not Free tells the story of fourteen teenagers who were removed from their homes in San Francisco to Japanese internment camps during World War II. They are Nisei — second-generation Japanese American citizens — who grapple with racism and resentment from Americans determined to exact revenge on Japan after the country's attack on Pearl Harbor.
Out of Darkness by Ashley Hope Pérez
Named as one of the best YA books of all time (according to Booklist), Out of Darkness is set in New London, Texas in 1937, where racism threatens to destroy relations among town residents. After the New London school explosion, protagonists Naomi and Wash represent modern-day Romeo and Juliet in a segregated Texas community.
Copper Sun by Sharon Draper
Copper Sun is set during the horrific transatlantic slave trade. In Africa, 15-year-old Amari experiences her parents' brutal death at the hands of white men, becomes imprisoned with other survivors of the mass genocide, and gets taken aboard a slave ship headed toward America. She endures horrific atrocities on her journey to Sullivan's Island, South Carolina.
Historical fiction novels are great choices for reluctant readers. For more strategies and tips on engaging struggling students, see our post on How I Gave Struggling Students A Sense of Authorship and 5 Ways to Engage Reluctant Learners.