Biden pitches childcare, education and tax plan in Virginia
The world's largest provider of HIV/AIDS care, AIDS Healthcare Foundation (AHF), has applauded Joe Biden's decision to back a proposal to waive intellectual property (IP) rights protections for Covid-19 vaccines.
United States Trade Representative (USTR) Katherine Tai announced the proposal on Wednesday ahead of a World Trade Organisation (WTO) debate on the waiver after a small number of wealthy countries vetoed it.
Ms Tai said that the US will actively participate in the debate on the waiver "to make that happen," with the goal of getting as many people inoculated as possible as the pandemic continues to devastate unvaccinated countries.
It comes as Mr Biden described the GOP as being in the midst of a "significant sort of mini revolution" amid attempts to oust No. 3 House Republican Liz Cheney.
"I think Republicans are further away from trying to figure out who they are and what they stand for than I thought they would be at this point," he said.
Read more:
1620299570
Bernie Sanders applauds Joe Biden for supporting vaccine patent waiver
Senator Bernie Sanders has praised the Biden administration for backing a patent waiver for Covid-19 vaccines, describing it as "the kind of leadership the world needs".
The senator for Vermont said in a statement: "I applaud President Biden and his administration for taking this bold step in response to the world's most urgent crisis. Our vaccination efforts here at home will only be successful if vaccination efforts in the developing world happen simultaneously.
"Supporting this waiver, and putting people over profits, will help us to do that by speeding up the production and availability of vaccines. This is exactly the kind of leadership the world needs right now.
"I also recognise the dedicated work done by activists in communities around the world to put this issue on the global agenda. We are all in this together."
Clea Skopeliti6 May 2021 12:12
1620298775
China rejects G-7 criticism on human rights
China has rejected criticism by the Group of Seven of its human rights and economic record, accusing foreign ministers of meddling in its affairs.
A statement by G-7 diplomats in London on Wednesday "made groundless accusations" against China said a foreign ministry spokesperson, Wang Wenbin. He accused them of "blatantly meddling" in China's affairs.
"China strongly condemns it," Wang said at a press briefing.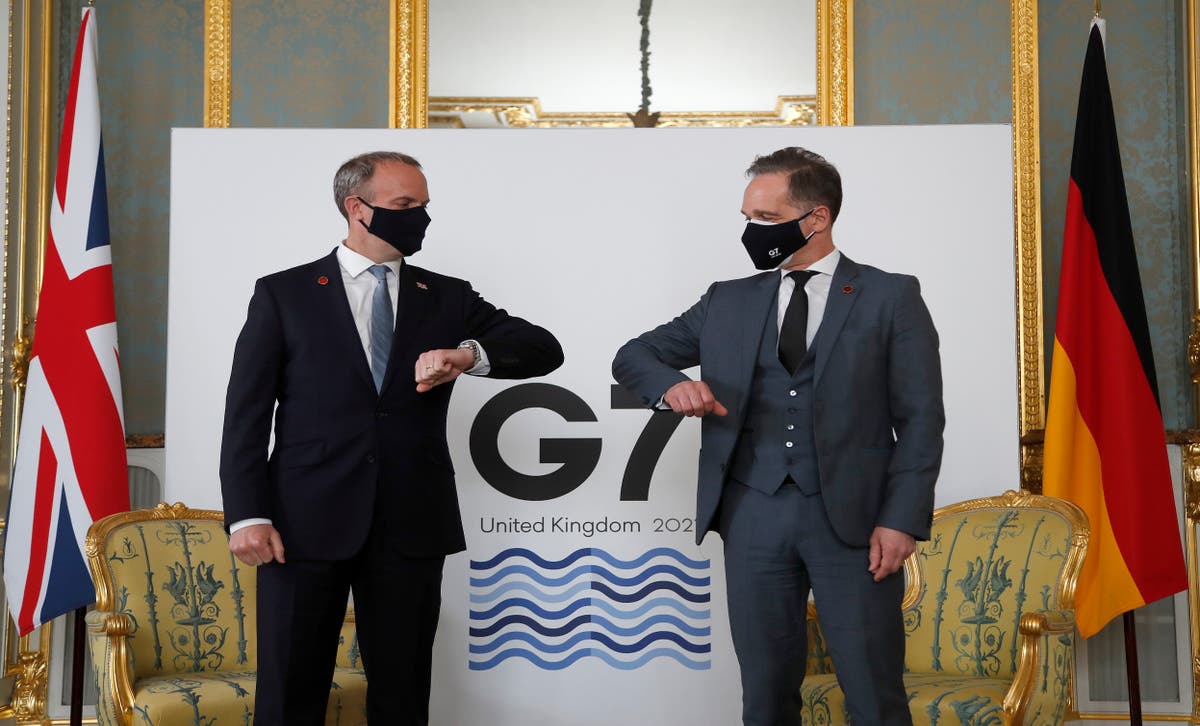 China rejects G-7 criticism on human rights
China's government has rejected criticism of its human rights and economic record by foreign ministers of the Group of Seven major economies and accused them of meddling in its affairs
Clea Skopeliti6 May 2021 11:59
1620295893
Animal rights groups hit out at Republican campaigning with bear
A businessman running a campaign for governor in California has prompted backlash from animal rights activists after he launched his campaign alongside a 1,000-lb bear.
John Cox hired the Kodiak bear, which features heavily on his campaign adverts and website, to kick off his campaign for the recall against incumbent Gavin Newsom in Sacramento on Tuesday.
The animal could be seen milling about behind the candidate as he discussed his plans to make "big, beastly changes in Sacramento," with an electrical wire separating the bear from the crowd.
Clea Skopeliti6 May 2021 11:11
1620294531
EU 'ready to discuss' US proposal for vaccine patent waiver
The European Union is open to discussing a US-backed proposal to waive intellectual property rights for Covid-19 vaccines, European Commission president Ursula von der Leyen has said.
The bloc is exporting more than 200 million vaccine doses globally, while vaccinating 30 Europeans per second.
"The EU is also ready to discuss any proposals that addresses the crisis in an effective and pragmatic manner," Ms von der Leyen said in a speech to the European University Institute in Florence.
"That's why we are ready to discuss how the US proposal for a waiver on intellectual property protections for Covid-19 vaccines could help achieve that objective."
Clea Skopeliti6 May 2021 10:48
1620293520
Joe Biden to argue for $2.3 trillion infrastructure plan in Lousiana
Joe Biden will make the case for his $2.3 trillion infrastructure plan in the Republican state of Louisiana on Thursday, pushing back against GOP lawmakers who advocate trickle-down economics.
The president will speak in the city of Lake Charles in front of a 70-year-old bridge that is 20 years past its designed lifespan.
Mr Biden is trying to convince Republican voters that higher corporate taxes can generate revenue of $115bn for infrastructure like roads and bridges, as well as hundreds of billions of dollars more to upgrade the electrical grid, make the water system safer, rebuild homes and fire up the manufacturing of electric vehicles.
Clea Skopeliti6 May 2021 10:32
1620292576
CNN anchor Jake Taper threatens to ban lying Republicans from his show
The celebrated CNN anchor, Jake Tapper, has indicated to his colleagues that he might ban Republicans from appearing on his show if they "are not willing to stick to standards and facts."
The anchor of CNN's The Lead told hosts John Berman and Brianna Keilar: "How am I supposed to believe anything they say?"
Mr Tapper asked the New Day hosts: "If they're willing to lie about Joe Biden wanting to steal your hamburgers and QAnon and the Big Lie about the election, what are they not willing to lie about?"
Maroosha Muzaffar reports:
Clea Skopeliti6 May 2021 10:16
1620287251
US will 'stand up' to uphold the 'rules-based international system', Antony Blinken says
Antony Blinken has said that the US will "stand up" to uphold the "rules-based international system" amid tensions with China.
Appearing on Radio 4, Mr Blinken said: "We're not trying to contain China, we're not trying to hold it back – we recognise that countries have relationship with China, interests with China – we're not saying you have to choose between China and the US.
"But here's what we are saying: We're in favour of upholding certain ideas, in particular this so-called rules-based international system that we and the UK among others have heavily invested in for generations. Whenever anyone tries to undermine that system by not playing by the rules… then we will stand up to it.
"This is not directed at China, it's directed at upholding that rules-based order… that's been the best guarantor of peace, progress and stability that the world has seen."
Asked about whether this was possible while continuing to trade with China, Mr Blinken said countries have to be "careful" about the nature of this investment.
Clea Skopeliti6 May 2021 08:47
1620286793
US 'will respond' if Russia acts aggressively but would prefer 'stable relationship'
Asked about President Vladimir Putin, Antony Blinken said the government "will respond" if Russia acts aggressively but that the Biden administration would "prefer a more stable relationship".
Mr Blinken told Radio 4: "We're less focused on President Putin or any one individual and more focused on Russia's actions. What President Biden has said repeatedly is that if Russia acts recklessly or aggressively… as it did with interference in our elections, as it did with Mr Navalny… then we will respond.
"We would prefer a more stable and predictable relationship and if Russia chooses that path there are areas where we can cooperate in our mutual interest. But it is really focused on Russia's actions."
Clea Skopeliti6 May 2021 08:39
1620286376
US secretary of state stresses government's 'seriousness' about Iran nuclear deal
Antony Blinken stressed the Biden administration's "seriousness" in wanting to return to the Iran nuclear deal.
"We've been engaged in Vienna for some weeks… indirectly with Iran… we've demonstrated our seriousness of wanting to get back into the Joint Comprehensive Plan of Action (JCPOA)", stressing "compliance for compliance".
"What we don't yet know is if Iran is prepared to make the same decision and to move forward", Antony Blinken told Radio 4, adding that US teams will meet again in the following days to discuss further.
Pressed on whether the US would "stand in the way" if the UK found a way to "hand over money" that it owes to Iran, Mr Blinken called it a "sovereign decision".
Clea Skopeliti6 May 2021 08:32
1620285826
Antony Blinken stresses importance of 'cooperation and collaboration' in tackling global issues
Asked about whether the Biden administration's trade policy is similar to Donald Trump's but "politer" Antony Blinken stressed the US government's focus on collaboration and "looking forward".
Listings issues ranging from the climate crisis to the coronavirus pandemic, Mr Blinken told Radio 4 that "not a single one can be solved by counties acting alone – even the US or the UK".
"There's a greater premium [than in any time before] on cooperation, on collaboration, on working together. That's a driving part of the president's foreign policy.
"That is why we've been re-engaging immediately with our allies and partners and as well in the multilateral systems – the United Nations. That's what's driving us."
Clea Skopeliti6 May 2021 08:23