Unite accuses BP of 'unfettered profiteering'
Sharon Graham, the head of the Unite union, has accused BP of 'unfettered' profiteering.
"People will be confounded by the latest profits announced by BP. In three months, in April to June this year, the oil giant's profits soared to almost £7 billion. Yet predictions are that household energy bills are to rise to a calamitous £3,600 a year. How can this contrast continue time after time?

"The British economy does not work for workers and their families.

Britain's real crisis isn't rising prices it's an epidemic of unfettered profiteering."
Key events
Construction equipment maker Caterpillar has missed sales forecasts, as slowing construction activity in China and a halt in Russia operations weighed on revenues.
Caterpillar, famous for its yellow diggers, has also been hurt by supply-chain problems that dented demand for heavy equipment.
Second quarter sales did rise 11% year-on-year, but at $14.25bn were shy of missing analysts' expectations of $14.35bn.
The strong dollar also hurt Caterpillar's earnings, as it made overseas sales less valuable in dollar terms.
The G7 is looking at all options to improve global energy stability and prevent Russia from profiteering from energy prices, Reuters reports.
This could include blocking the transportation of Russian oil unless it was purchased at or below a set price, its foreign ministers said on Tuesday.
A joint statement, published on the British government website said.
"We remain committed to considering a range of approaches, including options for a comprehensive prohibition of all services that enable transportation of Russian seaborne crude oil and petroleum products globally, unless the oil is purchased at or below a price to be agreed in consultation with international partners,"

"In considering this and other options, we will also consider mitigation mechanisms alongside our restrictive measures to ensure the most vulnerable and impacted countries maintain access to energy markets including from Russia."
Many people are finding it hard enough to afford a home, let alone a supercar, as rising bills eat into their incomes.
But despite this squeeze, Nationwide reported this morning that house prices continued to rise last month, lifting the annual pace of house price inflation to 11%.
The average price of a home was £271,209 last month, up 0.1% from June, with shortages of properties on the market keeping prices high.
Nationwide chief economist, Robert Gardner, said.
The housing market has retained a surprising degree of momentum given the mounting pressures on household budgets from high inflation, which has already driven consumer confidence to all-time lows.

"While there are tentative signs of a slowdown in activity, with a dip in the number of mortgage approvals for house purchases in June, this has yet to feed through to price growth."
Here's the full story:
Plus some reaction:
Record profits at Ferrari as wealthy snap up supercars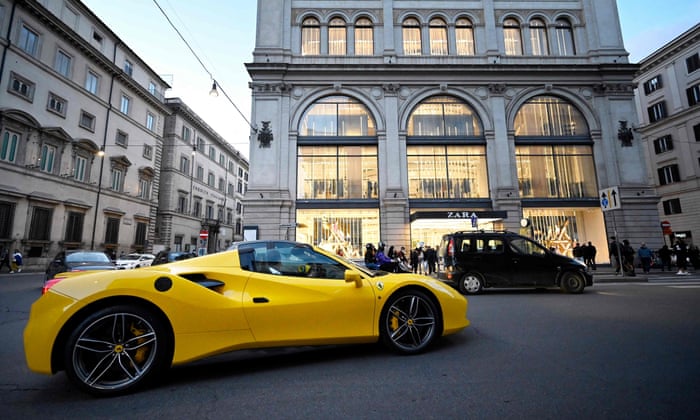 While millions of families face the misery of rising inflation and unaffordable energy bills, the wealthy have drive sales and profits at Ferrari to record levels.
The supercar maker has posted its best ever quarterly revenues and EBITDA earnings, and lifted its full-year forecasts.
Ferrari saw strong demand in the last quarter for its Portofino M model (which will set you back £175,360, AutoExpress reported last year) and the F8 family (where the Tributo coupé starts at £203,476, according to The Car Expert, and the Spider begins at around £226,000).
Despite such huge price tags, new orders also hit a record in April-June.
There was also an increase in revenues from personalizations, as customers spent more on individual features for their new motor.
Benedetto Vigna, CEO of Ferrari, says:
"Ferrari continues a phase of strong growth, with quarterly record results in terms of revenues, EBITDA and EBIT.

The quality of the first six months and the robustness of our business allows us to revise upward the 2022 guidance on all metrics. Also the net order intake reached a new record level in the quarter" .
Ferrari's adjusted EBITDA rose 15% in the April-June period to €446m ($456m), ahead of forecasts, while shipments rose almost 29% to 3,455 units in Q2.
Nearly 29,000 individuals in England and Wales filed for insolvency in the last quarter, due to being unable to repay their debts.
That's 7% more than a year ago, although 10% less than in January-March this year, as people's budgets came under rising strain from inflation. Those figures could rise as energy bills jump this winter, and interest rates rise.
Paul Rouse, partner at Mazars, warns:
"Ramping up interest rates to slow surging inflation is the kind of strong medicine that is inevitably going to lead to more bankruptcies.

At some point the dam will break – it's only a question of when."
Three-quarters of these were individual voluntary arrangements (IVAs), where people reach an agreement with their creditors over how to handle their debts.
There were also 5,772 debt relief orders and 1,596 bankruptcies.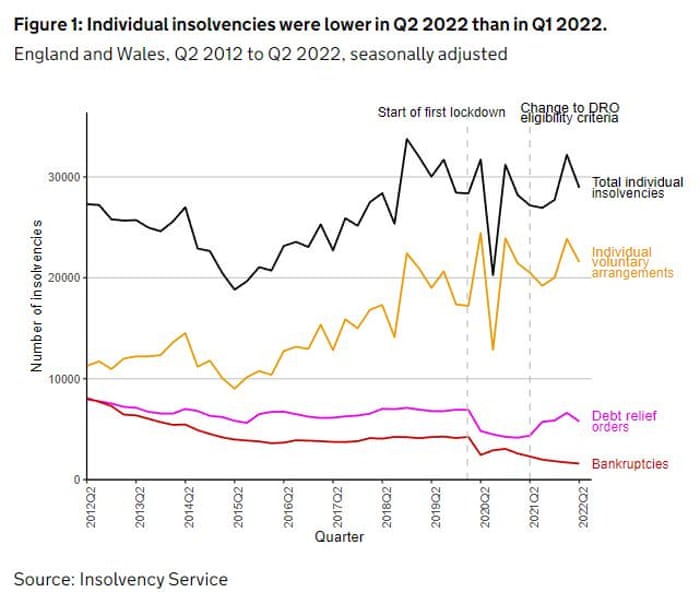 In addition, more than 75,000 registrations for breathing space from debts have been recorded since the government scheme began in May last year.
That programme gives those in debt a two-month break from debt collectors and bailiffs, with their interest, fees and charges frozen.
And with households facing a tough winter ahead and soaring energy bills, more may be forced to consider insolvency as an option.
Christina Fitzgerald, president of insolvency and restructuring trade body R3:
"Price increases across the board mean that the impacts are being felt differently by different types of consumers.

For those on the lower end of the income scale, budgeting can only stretch so far and it is worrying that, for some, credit cards and other types of debt may feel like the only option to cover even the essentials."
Fitzgerald said that, with the energy price cap due to rise again later this year and a very tough winter ahead for many individuals and families:
"Many more may be forced to consider an insolvency option to help resolve their financial issues."
BP CEO Bernard Looney, and chief financial officer Murray Auchincloss have both decided to donate their £400 energy bill discounts to charity, The Times's Emily Gosden reports, after she asked them about their plans.
Those discounts will arrive for every home in the autumn, as part of the government's cost of living support package; ex-chancellor Rishi Sunak had already urged rich people to give them to charity.
Here's how the decision unfolded:
Back on BP, chairman Bernard Looney has said the company will increase its spending on new oil and gas by $500m in response to the global supply crunch.
"We will direct more investment towards hydrocarbons to help with energy security in the near term," Looney said.
"We'll probably direct about a half a billion dollars for hydrocarbons."
The jump in company failures in England and Wales in the last quarter driven by the ending of government imposed pandemic protective measures, agrees Jeremy Whiteson, Partner in Fladgate's Restructuring and Insolvency practice:
Whiteson points out that several protections were wound down by the end of March 2022.
That included restrictions on creditor actions (particularly winding up petitions and landlord remedies) as well as cash flow funding assistance (including bounce-back loans, CBILs and more sector specific assistance).

The end of these schemes would inevitably increase insolvencies.
Whiteson is also concerned that creditors' voluntary liquidations hit their highest level since 1960, led by construction, wholesale retail and food services firms.
With economic storm clouds gathering this is a concerning situation. Inflation, recession fears, constriction of fuel and food supply and world geo-political risks all threaten to worsen the position for business in England and Wales.
In Germany, the benchmark electricity price for delivery next year has surged to an alltime high, reports Bloomberg's Javier Blas:
Prices climbed as fears of gas shortages this winter ripple through European energy markets, to levels that will be extremely painful for energy-intensive companies as well as households.
Voluntary liquidations in England and Wales hit record high
Rising energy bills are driving some companies into insolvency, as firms struggle to cope with higher costs, and the withdrawal of Covid support from the government.
Corporate insolvencies in England and Wales jumped by over 80% year-on-year in the last quarter, with the number of firms choosing to be liquidated hitting its highest level in at least 60 years.
Insolvency Service figures show there were 5,629 company insolvencies in April-June, up 13% on the last quarter, and 81% more than a year ago.
This includes 4,908 creditors' voluntary liquidations (CVLs), where a company which can't pay its debts decides to fold.
The number of CVLs increased to the highest quarterly level since the start of the series in 1960, the Insolvency Service reports.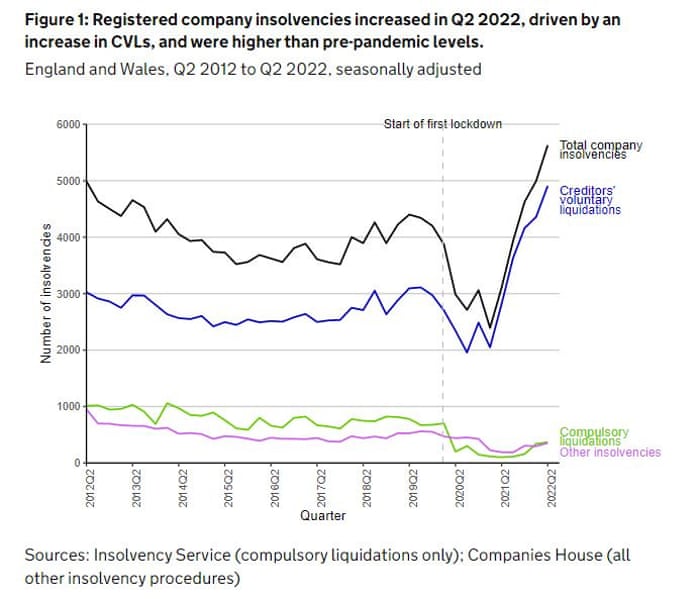 John Cullen, business recovery partner at accountancy firm, Menzies LLP, warns that corporate insolvencies are now "rising rapidly,":
This is indication of the severe cashflow pressures that many businesses are facing, which are exacerbated by soaring energy and fuel costs. Inflation is testing the viability of businesses across industry sectors and with interest rates expected to rise again this week, the cost of borrowing is also set to rise.

"At the same time as facing significant cost increases, many businesses are being hampered by supply and staff shortages, which are limiting revenues at a critical time, just as demand levels are recovering or back to pre-pandemic levels.
Many directors are opting to close their businesses as they lack confidence in their trading prospects in the current climate, explains Christina Fitzgerald, President of insolvency and restructuring trade body R3:
Fitzgerald adds:
"With household disposable income dropping for the eighth consecutive month in June, consumers are having to prioritise household bills before they can think about spending their money elsewhere – and this will have a knock-on effect to businesses that simply won't see the footfall they are used to.

"This, coupled with a combination of soaring costs across the board, supply chain issues, and a tight labour market, has meant an uphill battle for many businesses, especially for those still reeling from the pandemic.
Five energy firms make $60bn profits in last quarter
Five of the world's largest energy companies have now raked in almost $60bn in profits between them, in just the second quarter of 2022.
Shell smashed its profit record; last week reporting adjusted earnings of $11.5bn in April-June, while France's TotalEnergies tripled its adjusted net income, to $9.8bn.
US oil giants also had a record breaking quarter, with ExxonMobil making an unprecedented $17.85bn profit for Q2, nearly four times as much as the same period a year ago, and Chevron made a record $11.62bn.
Back in June, president Joe Biden singled out Exxon for criticism, saying:
Why don't you tell them what Exxon's profits were this year? This quarter? Exxon made more money than God this year.
Add today's $8.5bn adjusted profit at BP, and it's clear that the jump in oil and gas prices due to the Ukraine invasion has resulted in jaw-dropping earnings for the energy giants, as many millions of families struggle.
Energy analysts at SP Angel say:
The five remaining Majors (Exxon, Chevron, Shell, BP & Total) have announced c.$59bn in 2Q22 profits, up almost 100% y/y, and returned c.45% of this to shareholders during the quarter.

Based on their aggregate $1.1 trillion market cap, this quarter would represent an implied annualised profit margin in excess of 20%.
Unite accuses BP of 'unfettered profiteering'
Sharon Graham, the head of the Unite union, has accused BP of 'unfettered' profiteering.
"People will be confounded by the latest profits announced by BP. In three months, in April to June this year, the oil giant's profits soared to almost £7 billion. Yet predictions are that household energy bills are to rise to a calamitous £3,600 a year. How can this contrast continue time after time?

"The British economy does not work for workers and their families.

Britain's real crisis isn't rising prices it's an epidemic of unfettered profiteering."
BP: what the analysts say
Oil companies' surging profits are becoming a 'political risk', says Stuart Lamont, investment manager at Brewin Dolphin, as calls for a new windfall tax grow louder.
"BP has mirrored Shell's exceptional results last week – albeit, with the disposal of its stake in Rosneft hanging over the first six months of 2022. The energy company is in a great position, with sales soaring, strong profits, and debt falling.

Shareholders will be pleased that this is being converted into returns, with 60% of surplus cashflow being distributed to them through dividends and share buybacks.

However, BP's and its peers' results are also likely to attract further political attention, which is becoming a real risk for the future."
Allegra Dawes, senior analyst for Industrials, Materials & Energy at global primary research firm Third Bridge, predicts BP will keep handing cash back to shareholders:
Despite today's elevated oil and gas pricing environment, our experts don't expect BP to alter its investment plans in the next 12-18 months. Should they decide to accelerate spending there will face significant challenges, especially for large scale projects."

"Investors expect more share repurchases and dividends from BP and other oil supermajors thanks to record-breaking profit and cash flow levels."

"BP is likely to stay committed to £18bn investment in the North Sea despite the windfall tax imposed by the British Government.

Our experts say the North Sea remains strategically critical to BP with a resilient hydrocarbon business in the West of Shetland, CCUS on the Northeast coast, and wind projects with various partners in England and Scotland. Some of those investments come with significant tax incentives."
But Chris Beauchamp, chief market analyst at IG Group, predicts BP could have eached a 'high water' mark, as oil has fallen back from this spring's peak.
While there is plenty of good news in BP's numbers, as cash generation surges and a rise in the dividend is planned, there is also a sense that this could be a high water mark for now.

The boost has come from comparisons with last year's much weaker performance, and is unlikely to be repeated for much longer. In addition, oil prices are well off their June highs and seem in no hurry to rise again. Those expecting today's update to support a charge to the [share price] highs of 2019 may be disappointed.
Full story: BP profits triple to £7bn as oil prices surge because of Ukraine war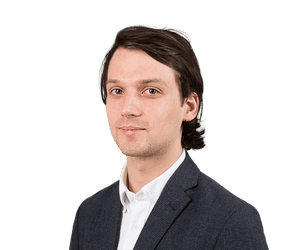 Jasper Jolly
BP will hand billions of pounds to shareholders after tripling its profits to nearly £7bn in the second quarter of the year amid high oil prices during Russia's invasion of Ukraine, even as families struggle in a cost of living crisis.

The FTSE 100 oil company's preferred measure of profit, which it describes as its underlying replacement cost profit, rose to $8.5bn (£6.9bn) between April and June.
That is up from $6.2bn in the first three months of the year, and three times BP's underlying profits of $2.8bn in the second quarter of 2021.
It was the second highest quarterly profit in BP's history, behind only its $8.8bn underlying profit in the summer of 2008.
Rachel Reeves, the shadow chancellor, said the "eye-watering profits" showed that the government was "totally wrong" to have given significant tax breaks to oil companies.
BP also said it would hand investors $3.5bn through a share buyback programme, while it increased its total dividend payout by 10% to about $1.1bn.
Oil companies in the UK and beyond have enjoyed booming earnings in recent months on the back of rising energy prices as households around the world have struggled with soaring bills.
As Russia's invasion grinds on, the research firm Cornwall Insight predicts the energy price cap on bills in Great Britain is on track to rise to £3,615 a year from January.
Here's the full story: