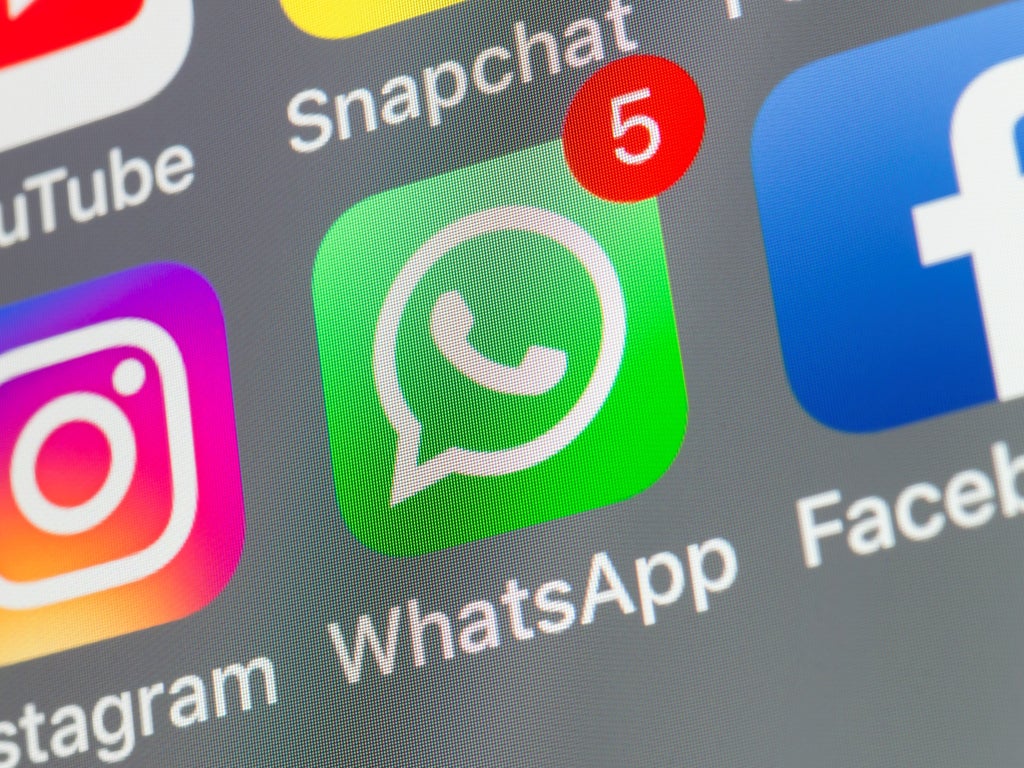 WhatsApp, Instagram and Facebook have started to come back online after being down for more than six hours in a major outage.
The three apps – which are all owned by Facebook, and run on shared infrastructure – stopped working shortly before 5pm. Other related products, such as Facebook Messenger and Workplace, have also stopped working.
Facebook and Instagram began working for users again at around 11pm, while WhatsApp remained still down.
In June and April this year, the social media giant's platforms unexpectedly went down due to a "network configuration issue".
Read our live coverage of the outage below
1633401986
Facebook reveals what caused six-hour outage
Facebook said in an official blog post on Monday evening that the six-hour outage across its platforms including Instagram, Messenger, Whatsapp, and OculusVR were caused by configuration changes to its routers which coordinate network traffic between the company's data centers.
"This disruption to network traffic had a cascading effect on the way our data centers communicate, bringing our services to a halt," the company noted.
Facebook said it has no evidence yet that user data was compromised as a result of this downtime.
"The underlying cause of this outage also impacted many of the internal tools and systems we use in our day-to-day operations, complicating our attempts to quickly diagnose and resolve the problem," it added.
Vishwam Sankaran5 October 2021 03:46
1633398303
Big tech expert advises how we should view Facebook's mass outage
When Facebook, Instagram and WhatsApp went dark for more than six hours, it left its billions of users without a major form of communication and severely disrupted their online lives.
Facebook and its apps, which are all owned by Mark Zuckerberg's social media giant stopped working at around 11.40am Eastern Time on Monday, and started coming back to live after 6pm.
Graeme Massie5 October 2021 02:45
1633394703
Facebook whistleblower will urge Congress to regulate the company
Facebook whistleblower Frances Haugen will urge the US Congress on Tuesday to regulate the social media giant, which she will compare to tobacco companies.
"When we realised tobacco companies were hiding the harms it caused, the government took action. When we figured out cars were safer with seatbelts, the government took action," said Haugen's written testimony to be delivered to a Senate Commerce subcommittee, according to Reuters.
"I implore you to do the same here."
Haugen will tell the committee that Facebook executives routinely chose the firm's profits over user safety.
"The company's leadership knows ways to make Facebook and Instagram safer and won't make the necessary changes because they have put their immense profits before people. Congressional action is needed," she will say. "As long as Facebook is operating in the dark, it is accountable to no one. And it will continue to make choices that go against the common good."
Graeme Massie5 October 2021 01:45
1633390923
Facebook stock nosedive costs Zuckberg $6bn as whistleblower interview and service outage rattle investors
Shares in Facebook fell sharply on Monday in the aftermath of the explosive interview with whistleblower Frances Haugen and as its service outage dragged on for fifth hour.
It is the worst session performance for the company in nearly a year with the share price falling 4.9 per cent – the worst decline since the five per cent drop recorded on 9 November 2020.
Oliver O'Connell has the story.
Graeme Massie5 October 2021 00:42
1633387680
Facebook apologises for company outage
"To the huge community of people and businesses around the world who depend on us: we're sorry. We've been working hard to restore access to our apps and services and are happy to report they are coming back online now. Thank you for bearing with us," the company said in a statement posted on rival platform Twitter.
Graeme Massie4 October 2021 23:48
1633385673
Facebook and its apps appear to be coming back online after a huge outage
Facebook and its apps appear to be coming back online after its hugeMonday outage.
Instagram, WhatsApp, Messenger and the main Facebook app had all been offline for more than five hours in one of the biggest technical failures in the company's history.
Andrew Griffin has the story.
Graeme Massie4 October 2021 23:14
1633384023
Gmail, TikTok and Snapchat users complain apps are slowing down amid Facebook going down
Gmail, TikTok and Snapchat users have complained that the apps are slowing down amid the continued outage of Facebook companies.
Facebook, WhatsApp and Instagram all stopped working at the same time of Monday, forcing their 3bn users to flood across to other social media platforms.
And many of those apps then themselves saw significant slowdowns as they dealt with mass sign-ups and log-ins as Facebook remained unavailable.
Graeme Massie4 October 2021 22:47
1633382477
As outage continues into fifth hour, Facebook tries to restart
There are rumours whipping around the internet that, among other things, Facebook has been "deleted", that it has been "hacked", that is has "gone". The truth appears to be a little less dramatic – though still plenty dramatic.
Essentially, Facebook has deleted its DNS, or the address book that helps people find its websites. When someone types "Facebook.com" into a web browser, the DNS should be able to provide it with the numerical address to get the data that represents the website. But that DNS is broken, so the web browser gets lost, and you get an error message. (The same thing happens, effectively, with the app, although not in such an obvious way.)
That's so widespread because Facebook controls its DNS. And Facebook does that on behalf of all the services it owns: WhatsApp, Instagram, Messenger, Workplace, Oculus, and more besides. So everything has broken, all at once.
What's more, Facebook also heavily relies on its own systems internally. So, for example, the fact the DNS isn't working means that those engineers who should be able to fix it also can't access it. That's why staffers are now reportedly being sent to actual physical data centres to try and make things work again. And that's where we are now.
To borrow an analogy from earlier, it is as if we (or our web browsers) have turned up at the Facebook office in the hope of getting into one of its many rooms. But the receptionist who usually keeps the record of which room is which is gone – they've been deleted – and so you're stuck outside with no idea where to go.
Inside those rooms are not only Facebook but every Facebook property, which together makes up much of the internet. And all the people who would normally be able to hire a new receptionist can't find their way around the building, too. We're all stuck outside, looking in, even those people who would normally be on the inside.
It's now been five hours since Facebook lost its receptionist. And there's no sense when they'll return.
Andrew Griffin4 October 2021 22:21
1633380290
Twitter slows down
Everything is having a bit of trouble, presumably as many more people than usual switch to it to make up for lack of Facebook. Like Telegram, Twitter is struggling.
Andrew Griffin4 October 2021 21:44
1633378818
Telegram slows down
As Messenger, WhatsApp and other Facebook chat services break, some people have turned to Telegram. So many people, in fact, that it seems to be struggling – while it's still working, it's doing so much more slowly than usual.
Andrew Griffin4 October 2021 21:20