3 min read
Enduring inequality between pupils at state, selective and private schools, and those on free school meals, has been brutally exposed in this year's GCSE results, Labour has claimed.
While 68.4% of children at grammar schools got the highest grades of 7 and above, only 28.1% of state school pupils got the top marks. At independent schools those getting grade 7 and above was 61.2% – double the rate for academies and secondary comprehensives.
Children on free school meals (FSM) have also seen the attainment gap widen since 2019 for the top grades, with just under 14% getting the top grades compared to 31% among those not on free school meals.
Labour said the difference in attainment in two years has grown to a 32% gap, although the jump from 2020 to 2021 was less, at 9%.
They also believe these latest figures show that children on FSM are 57% less likely to achieve a grade 7 to 9.
Labour leader Keir Starmer said the results have revealed "baked in" inequality and renewed his call for education secretary Gavin Williamson to stand down.
"The gap between those going to private schools and state schools has got bigger, rather than smaller," he said.
"Inequality in education is unforgivable. We should all be aiming to close the gap in terms of attainment. We had huge inequality going into this pandemic and it's just got worse. A lot of that is down to the way the education secretary and the government has handled this, with a chaotic system.
"The net result is that the gap between private schools and state schools has got bigger and when inequality goes up in education, it's pretty astonishing the education secretary is still in post."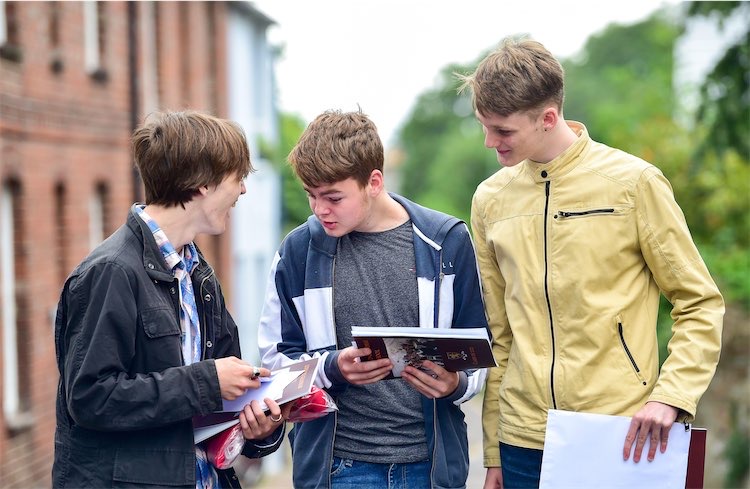 Data released by Ofqual showed between 2019 and 2021, the longstanding gap indicating lower outcomes of FSM candidates relative to prior-attainment-matched candidates, have widened by 2.27 percentage points.
The gap was smaller for those with grades 4 and above, widening by 1.31 percentage points.
Overall the gap between FSM and non-FSM children widened by 0.12 of a grade.
Labour mayor of the Liverpool city region, Steve Rotherham, also lamented signs of inequality in this year's GCSE grades.
"The pandemic hitting the poorest hardest once again. This government are failing our young people. Levelling up it ain't," he tweeted.
The pandemic hitting the poorest hardest once again.

This government are failing our young people. Levelling up it ain't. https://t.co/BrNiAy9jhs

— Steve Rotheram (@MetroMayorSteve) August 12, 2021
Data shows that at grammar schools 98.7% of pupils achieved grades 4 and above. This was 95.5% for independent schools and 78.2% for academies.
The private sector also saw the biggest rise in absolute increase in the highest grades compared with other types of schools and colleges, up 4 percentage points on 2020.
Dr Tony Breslin, an education policy analyst believed that after lenthy school closures, differences in home life could help explain why the gap between schools was so clear this year.
"If you've got the opportunity to work in a large space of your own undisturbed with access to all the technology and when you're taught in school being in smaller teaching groups [with those] like yourself with similar levels of advantage," he told Sky News.
"It's that aggregation of advantage that always comes out in the statistics."
PoliticsHome Newsletters
PoliticsHome provides the most comprehensive coverage of UK politics anywhere on the web, offering high quality original reporting and analysis: Subscribe