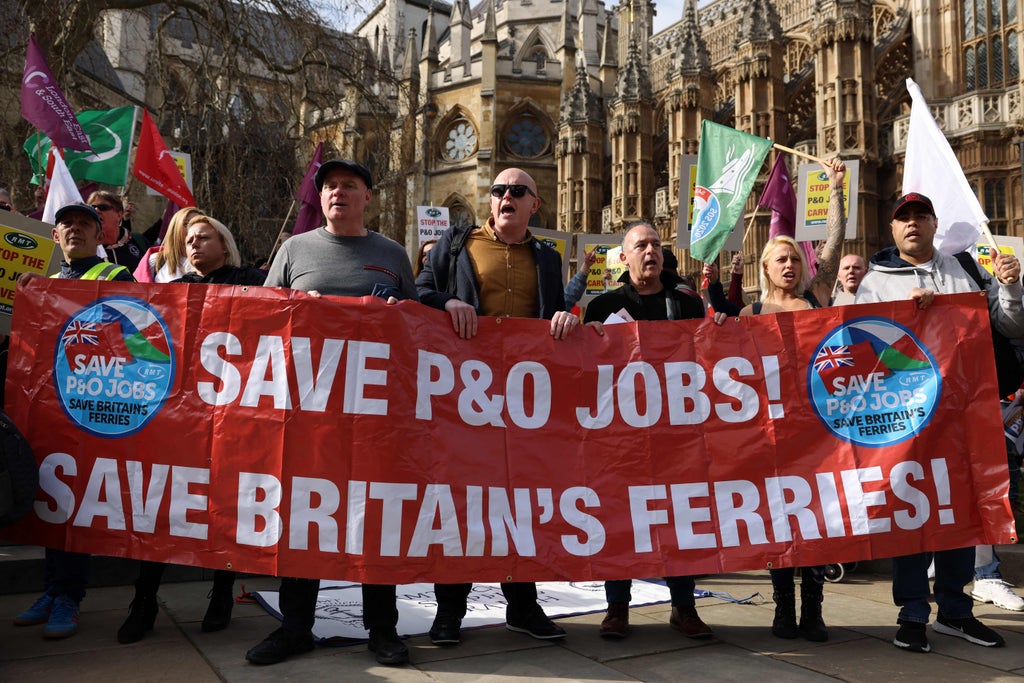 Grant Shapps was warned four months before P&O Ferries sacked 800 staff that the firm planned cost-cutting changes on its UK operations, it has emerged.
Minutes from a meeting with its parent company DP World reveal the transport secretary knew "commercial decisions" were looming and asked to be kept "informed".
Sultan Ahmed Bin Sulayem, the company's chairman, told him it was threatened by "a new low-cost competitor from Irish Ferries", saying: "This poses challenges in respect of P&O's operations."
In response, Mr Shapps said: "I'm aware of the issues relating to P&O. I recognise you will need to make commercial decisions, but please do keep us informed," the minutes show.
Immediately before the statement, the pair discussed what the transport secretary called the "exciting" decision to create a tax-cutting freeport at the London Gateway port run by DP World.
Mr Shapps added "I appreciate everything you've done to support P&O. I see a tremendous future for ports in the UK."
The meeting has only been revealed after it was disclosed by P&O chief executive Peter Hebblethwaite, at the Commons committee hearing where he admitted knowingly breaking the law.
There is also controversy over how much ministers were told the night before the firm provoked fury by making 786 workers redundant without notice, many over a Zoom call.
The department for transport has insisted Mr Shapps was only told in general terms, in the meeting on 22 November, of the challenges P&O faced.
But Louise Haigh, Labour's shadow transport secretary, said: "Despite the clear warning signs, Grant Shapps didn't appear to raise a single word of concern for the workforce when he had the chance.
"Throughout this scandal, every window of opportunity to save jobs had been missed and hundreds of British workers are paying the price."
Mr Shapps has demanded the resignation of Mr Hebblethwaite for his "brazen and breathtaking" admission that he intentionally broke the law – and would do so again, in the same circumstances,
He has also vowed to change the law to "undo" the mass sackings, saying the under-fire ferry firm had "exploited a loophole" that would now be closed off by legislation.
"Next week, we'll be returning to parliament with a package of measures to make sure that situation is undone," he pledged on Thursday.
However, a No 10 spokesman refused to guarantee that the overhaul would see P&O prosecuted – despite Boris Johnson making that promise in the Commons.
Asked if the firm will end up in court, he replied: "All I can do is point to the changes that we will set out next week, which will ensure this can't happen again."