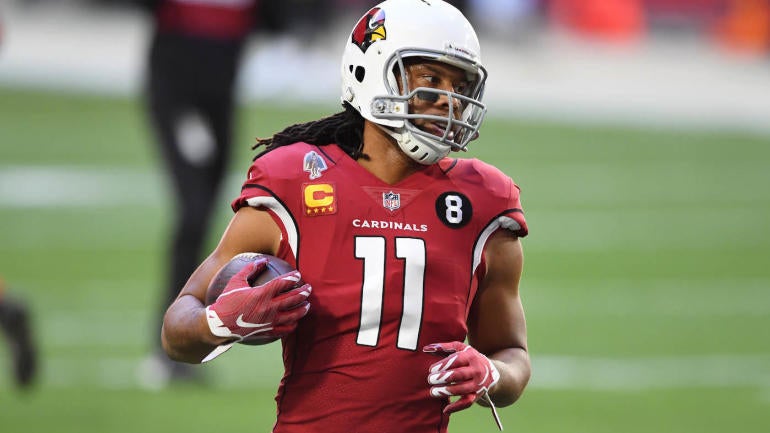 Norm Hall/Getty Images
Larry Fitzgerald has been taking his time on a potential return to the NFL — if the Arizona Cardinals legend chooses to return at all. Fitzgerald hasn't announced a decision to return to the Cardinals for the 2021 season, and taking the year off seems like a possibility at this stage of the game.
"To be honest with you I just don't have the urge to play right now," Fitzgerald said to Jim Gray on Sirius XM NFL Radio Friday, via ESPN's Josh Weinfuss. "I don't know how I'll feel in September, October, November moving forward but I just, today, I just don't have the urge."
If Fitzgerald, who turns 38 later this month, were to come back to the Cardinals, it would be his 18th season with the team. Fitzgerald is coming off a career low 54 catches for 409 yards and a touchdown in 2020 — as his 7.6 yards per reception was the lowest of his Hall of Fame career. The 13 games Fitzgerald played in last season also tied a career low.

The Cardinals have plenty of options if Fitzgerald decides not to come back. Arizona already has Christian Kirk and DeAndre Hopkins in the fold, and added A.J. Green in free agency along with selecting Rondale Moore in the second round of this year's draft. There may be no room for Fitzgerald to receive significant playing time, but having Fitzgerald on the Cardinals is better than not having him for a team with NFC West title aspirations.
Fitzgerald has caught 1,432 passes for 17,492 yards and 121 touchdowns in his Hall of Fame career, all with the Cardinals. He's second only to Jerry Rice in receptions and receiving yards and sixth all-time in receiving touchdowns. Fitzgerald holds 24 NFL records and 40 franchise records, etching himself as one of the greatest players in NFL history.
Perhaps Arizona making a potential playoff run will change Fitzgerald's mind in a few months, but the urge isn't there for him at the moment. If Fitzgerald does decide to retire in the coming months, he'll go down as one of the greatest wide receivers in NFL history.