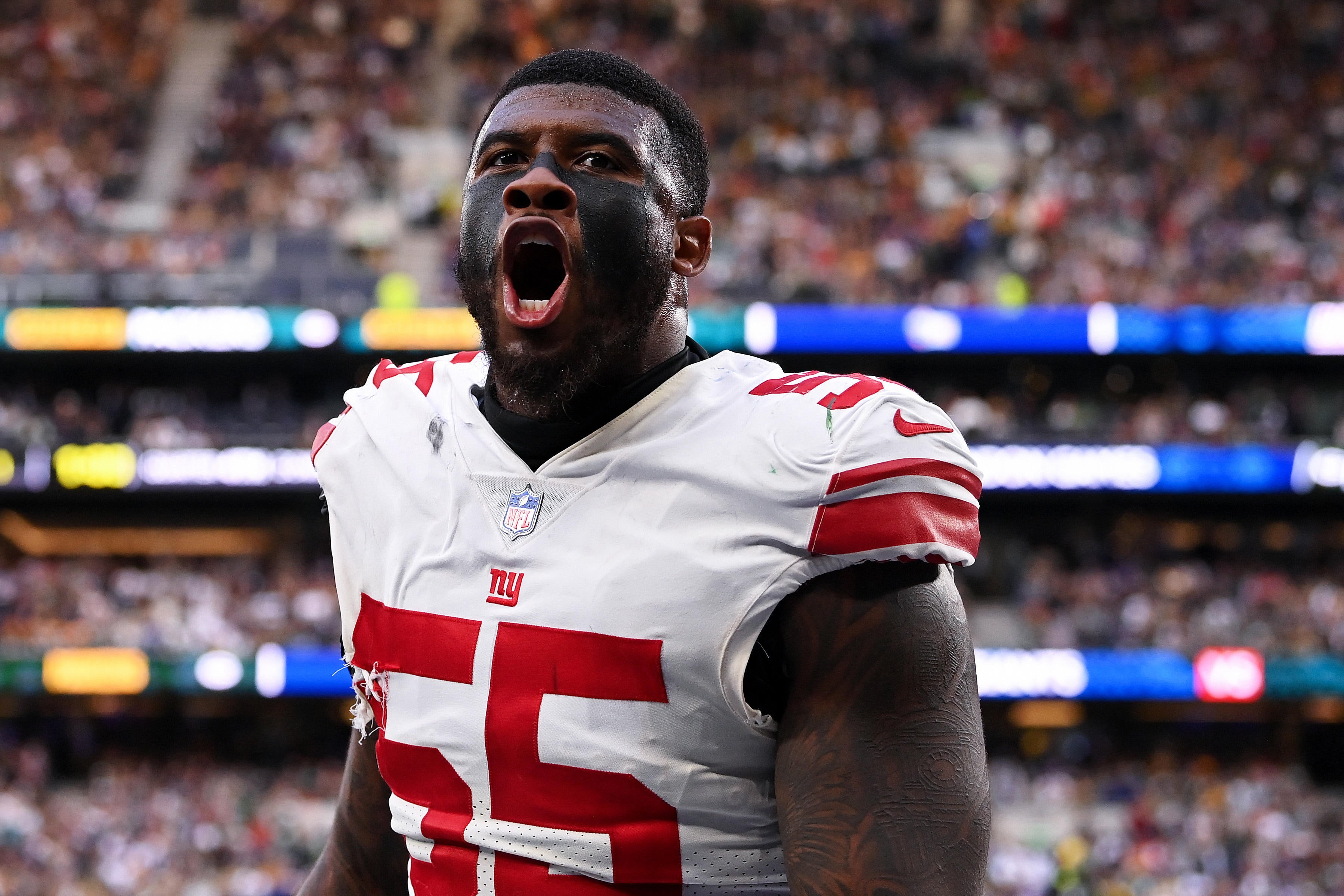 The Giants have been to London three times and all three times, they've come away with a victory and it's probably safe to say their most recent win was also their most improbable one.
On paper, it didn't seem like the Giants were going to have much of a chance to beat the Packers on Sunday, but the Giants clearly don't read the paper. In front of a raucous crowd at Tottenham Hotspur Stadium, the Giants were able to steal a 27-22 win in a game that no one thought they could win. Not only did they go into Week 5 with a banged-up starting quarterback (Daniel Jones), but they were also missing several key receivers.
And to be honest, it was actually worse than that. Here's what the Giants were dealing with this week:
With his options limited on offense, Giants coach Brian Daboll decided to throw the kitchen sink at the Packers: He devised a game plan with offensive coordinator Mike Kafka that kept the Giants offense one step ahead of the Packers defense for nearly the entire game.
The Giants saved their most unique plays for the red zone. Their first touchdown of the game for New York came on a 2-yard run from Daniel Bellinger that was way more exciting than your standard 2-yard run.
That score came in the second quarter and cut the Packers' lead to 17-10.
In the second half, the Giants were even better on offense, scoring on each of their first three possessions. A big reason they were able to do that was because of the play of Saquon Barkley. After briefly leaving the game in the third quarter due to a shoulder injury, Barkley stormed back on the field to come up with two of the biggest plays of the game for New York.
The first one came on a short crosser from Jones that Barkley was able to turn into a 41-yard gain.
Four plays after that, Barkley lined up in Wildcat formation on a play where he ended up getting in the end zone for what ended up being the game-winning touchdown.
Barkley carried the ball 13 times for 70 yards on a day where he gashed the Packers defense with 5.38 yards per rush.
Although Barkley was great, you could argue that the Giants offensive MVP was Jones, who came up clutch for his team despite playing on a gimpy ankle. Jones was nearly perfect, going 21 of 27 for 217 yards. He also rushed for 37 yards, which probably surprised the Packers, who didn't look like they were really expecting him to be able to run due to his injured ankle. One big play from Jones came in the third quarter on a third-and-3 when he kept a drive alive by running 4 yards on a QB draw.
The Giants are now 4-1 on the season for the first time since 2009 and there's no reason to think they can't keep winning. They didn't just prove they can play with the big boys on Sunday, they proved they are one of big boys by knocking off the Packers.
The Giants might also want to start volunteering to play in London more often. They're now perfect in England and they've made the playoffs in every year where they've played overseas.
Alright, let's get to the grades for every game from Week 5. If you're looking for a deeper dive on the Colts' 12-9 win over Denver that was played on Thursday, be sure to click here.
N.Y. Giants 27-22 over Green Bay (In London)
Giants-Packers grades by John Breech (Love the grades? Hate the grades? Let him know on Twitter.)
L.A. Chargers 30-28 over Cleveland
Chargers-Browns grades by John Breech (Love the grades? Hate the grades? Let him know on Twitter.)
Minnesota 29-22 over Chicago
Bears-Vikings grades by John Breech (Love the grades? Hate the grades? Let him know on Twitter.)
New Orleans 39-32 over Seattle
Seahawks-Saints grades by John Breech (Love the grades? Hate the grades? Let him know on Twitter.)
Tampa Bay 21-15 over Atlanta
Falcons-Buccaneers grades by John Breech (Love the grades? Hate the grades? Let him know on Twitter.)
Tennessee 21-17 over Washington
Titans-Commanders grades by John Breech (Love the grades? Hate the grades? Let him know on Twitter.)
Houston 13-6 over Jacksonville
Texans-Jaguars grades by John Breech (Love the grades? Hate the grades? Let him know on Twitter.)
Buffalo 38-3 over Pittsburgh
Steelers-Bills grades by Bryan DeArdo (Love the grades? Hate the grades? Let him know on Twitter.)
N.Y. Jets 40-17 over Miami
Dolphins-Jets grades by Jordan Dajani (Love the grades? Hate the grades? Let him know on Twitter.)
New England 29-0 over Detroit
Lions-Patriots grades by John Breech (Love the grades? Hate the grades? Let him know on Twitter.)
San Francisco 37-15 over Carolina
49ers-Panthers grades by John Breech (Love the grades? Hate the grades? Let him know on Twitter.)
Dallas 22-10 over L.A. Rams
Cowboys-Rams grades by Jordan Dajani (Love the grades? Hate the grades? Let him know on Twitter.)
Philadelphia 20-17 over Arizona
Eagles-Cardinals grades by Jeff Kerr (Love the grades? Hate the grades? Let him know on Twitter.)
Baltimore 19-17 over Cincinnati
Bengals-Ravens grades by John Breech (Love the grades? Hate the grades? Let him know on Twitter.)