April 08, 2021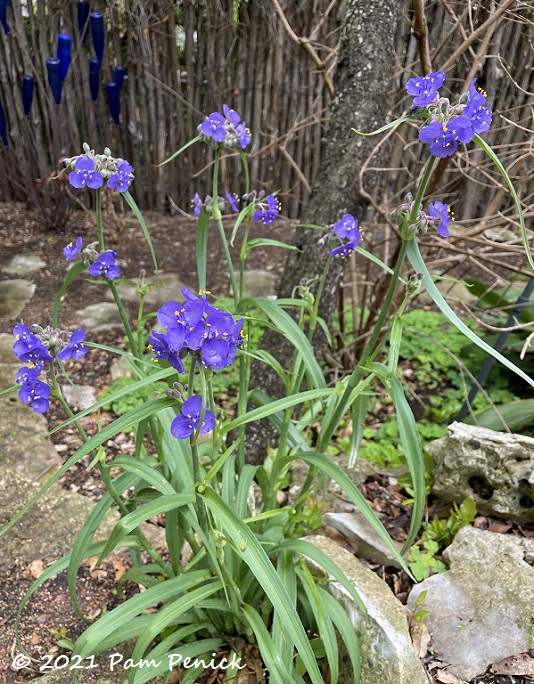 Every year native spiderwort (Tradescantia occidentalis) seeds itself into rocky nooks and crannies and pops up in new places in the garden. I usually like where it shows up, like this spot at the top of a stone stair. Bees love the flowers too, so having lots of early-blooming spiderwort makes everyone happy.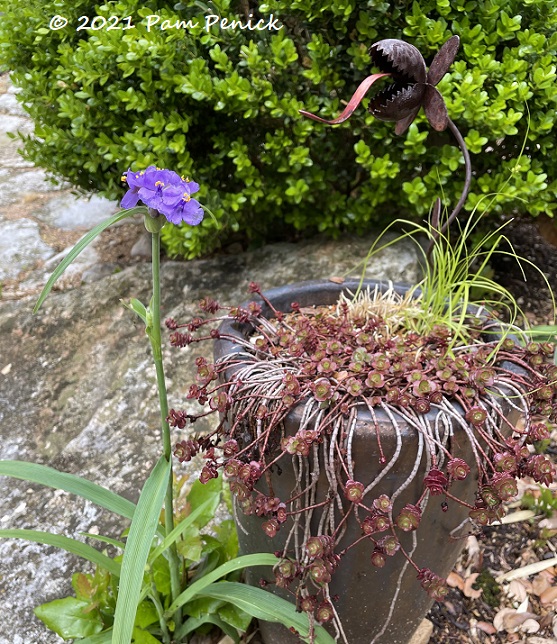 The shade-loving flowers open in the morning and close up in the afternoon for their siesta. By late spring, they'll go to seed, and other plants will take over visually.
This self-sown spiderwort is getting a raspberry from my little Audrey garden stake, which rises from a pot of 'Dragon's Blood' sedum and sedge (Carex leavenworthii). The burgundy-hued sedum came through the Big Freeze outdoors in this unprotected pot. It also holds up all summer (in dappled shade) with no fading away. A winner!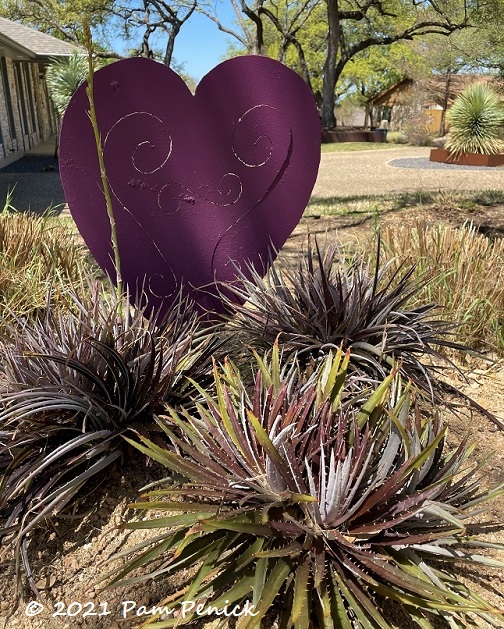 Same color scheme, but all my 'Burgundy Ice' dyckias died during the epic freeze. So I replaced this trio and am impatiently waiting for the bamboo muhly grasses all around to return from their roots and provide a fluffy, chartreuse screen for my neighbor's driveway. By early summer, I hope!
I welcome your comments; please scroll to the end of this post to leave one. If you're reading this in a subscription email, click here to visit Digging and find the comment box at the end of each post.
_______________________
Digging Deeper: News and Upcoming Events
Join the mailing list for Garden Spark! Hungry to learn about garden design from the experts? I'm hosting a series of talks by inspiring garden designers, landscape architects, and authors a few times a year in Austin. (While in-person talks are currently on hiatus due to the pandemic, I plan to resume again as soon as possible.) Talks are limited-attendance events that sell out quickly, so join the Garden Spark email list to be notified in advance. Simply click this link and ask to be added.
All material © 2021 by Pam Penick for Digging. Unauthorized reproduction prohibited.