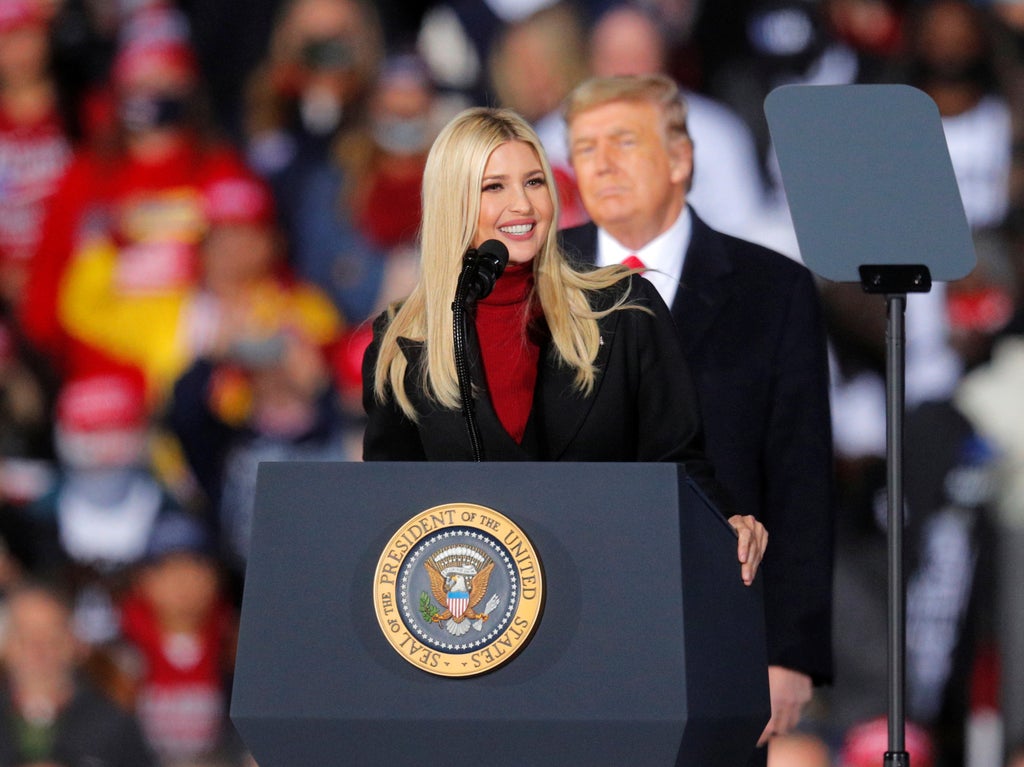 Former Trump aide says Trump "gleefully" watched footage of the Capitol riot on 6 January
Former President Donald Trump has defended his "perfect" phone call with Georgia officials regarding election fraud in the state. Earlier on Thursday, the Fulton County district attorney requested a special grand jury as part of the investigation into Mr Trump's interference in the 2020 election results.
Meanwhile, Ivanka Trump, his eldest daughter and one-time White House adviser, has been invited to meet with the House select committee investigating the January 6 Capitol riot.
In a public letter that reveals some of the information that the committee has gathered to date, chair Bennie Thompson said they would like to question Ms Trump on her knowledge of various White House conversations relating to that day, as well as her father's state of mind.
Mr Trump's former press secretary Stephanie Grisham has previously told the committee about "off-the-books" secret meetings before January and has provided the names of aides who may know the details.
The former president was dealt a blow by the Supreme Court on Wednesday when justices rejected his bid to block the release of White House documents about the riot in an 8-1 decision. Diaries, visitor logs, and other materials will no longer be kept confidential under executive privilege.
1642700769
Committee seeks Ivanka's testimony on whether Trump held up National Guard deployment
From the letter to Ms Trump:
Third, the Select Committee is evaluating whether the President did or did not give any order to deploy the National Guard to respond to the violence on January 6th. Acting Secretary Chris Miller, who was in the chain of command and reported directly to the President, has testified under oath that the President never contacted him at any time on January 6th, and never, at any time, issued him any order to deploy the National Guard. Miller did speak with Vice President Pence on January 6th, but not with President Trump. The Committee is aware that certain White House staff devoted time during the violent riot to rebutting questions regarding whether the President was attempting to hold up deployment of the guard, and that Press Secretary McEnany issued a tweet that afternoon suggesting that the guard would be deployed (this occurred hours later). But the Committee has identified no evidence that President Trump issued any order, or took any other action, to deploy the guard that day. Nor does it appear that President Trump made any calls at all to the Department of Justice or any other law enforcement agency to request deployment of their personnel to the Capitol.
The Select Committee respectfully requests that you share any information you may have on this topic.
Oliver O'Connell20 January 2022 17:46
1642701134
Prosecutors want to ask Ivanka Trump about NY apartment
Prosecutors from New York Attorney General Letitia James' office want to talk to Ivanka Trump about a Park Avenue apartment she leased from her family's eponymous real estate company that was offered to her for purchase at a price far lower than the unit's public valuation, court documents reveal.
In a motion asking a New York state judge to order Ms Trump to appear for a deposition with investigators from the attorney general's office, the prosecutors allege she "obtained apparently extraordinarily favourable terms" for renting an apartment at the Trump Park Avenue condominium building, with her monthly payments at "a mere fraction" of what the general public would have paid.
Oliver O'Connell20 January 2022 17:52
1642701614
Ivanka Trump letter includes texts between Sean Hannity and Kayleigh McEnany
The committee is also keen to ask Ms Trump about her father's state of mind during this period and Sean Hannity's efforts to stop the president from talking about a "stolen election".
A text conversation between Mr Hannity and then-White House Press Secretary Kayeigh McEnany on the day after the Capitol riot is included in the letter. It lays out a five-point approach for conversations with the president.
The first item is "No more stolen election talk", the second is "Yes, impeachment and 25th amendment are real, and many people will quit…"
Ms McEnany responds: "Love that. Thank you. That is the playbook. I will help reinforce…"
The press secretary also agreed with Mr Hannity's recommendation to keep Mr Trump away from certain people. "No more crazy people," said the Fox News presenter underlining it as "Key now".
Ms McEnany replied: "Yes 100%".
Oliver O'Connell20 January 2022 18:00
1642702214
Ivanka Trump invited to meet committee in early February
Rep Bennie Thompson suggests an early February meeting for Ivanka Trump to be questioned by the Capitol riot select committee:
We would like to meet with you soon, but we also want to accommodate your schedule. We propose meeting with you on February 3 or 4, 2022. Please let us know whether one of those dates will fit with your schedule, or connect us with your counsel so we can coordinate on scheduling. If you are unavailable on those dates, we can arrange a time during the week of February 7, 2022.
Oliver O'Connell20 January 2022 18:10
1642703114
Special grand jury requested by Georgia prosecutor in Trump investigation
The chief prosecutor in Fulton County, Georgia has requested a special grand jury as part of her investigation into Donald Trump's attempts to overturn the state's results in the 2020 presidential election.
Fulton County District Attorney Fani Willis, who launched her probe nearly one year ago, follows the former president's phone call with Georgia's Republican Secretary of State Brad Raffensperger, in which he appeared to pressure him to "find" votes that would overturn Joe Biden's victory in the state.
Oliver O'Connell20 January 2022 18:25
1642703157
Ivanka Trump spokesperson gives statement on committee request
A spokesperson for Ivanka Trump tells NBC's Peter Alexander:
"Ivanka Trump just learned that the January 6 Committee issued a public letter asking her to appear. As the Committee already knows, Ivanka did not speak at the January 6 rally."
"As she publicly stated that day at 3:15pm, 'any security breach or disrespect to our law enforcement is unacceptable. The violence must stop immediately. Please be peaceful.'"
Oliver O'Connell20 January 2022 18:25
1642704674
Trump says everyone wanted vaccine when he was president
In an interview last night, former President Donald Trump claimed that everyone wanted to be vaccinated against Covid-19 when he was president, but after Joe Biden came into office some people won't get the vaccine because they do not trust him.
Oliver O'Connell20 January 2022 18:51
1642705874
Hannity urged White House aides to end 'stolen election talk'
Fox News host Sean Hannity sent a post-Capitol riot text message to then-White House Press Secretary Kayleigh McEnany urging her and other top aides to then-president Donald Trump to stop "stolen election talk" and keep "crazy people" away from him.
Mr Hannity's 7 January message laid out what Ms McEnany called a "playbook" for conversations with Mr Trump during his final days in office.
New Sean Hannity texts to White House aides after Jan 6 revealed
Fox News host Sean Hannity sent a post-Capitol riot text message to then-White House Press Secretary Kayleigh McEnany urging her and other top aides to then-president Donald Trump to stop "stolen election talk" and keep "crazy people" away from him.
Oliver O'Connell20 January 2022 19:11
1642707377
Trump hits back at Georgia county DA's investigation into 2020 election
Former President Donald Trump has released a statement through his spokesperson regarding his "perfect" call to the Secretary of State of Georgia following the 2020 election.
He continues to allege "massive voter fraud" and says that the Civil Special Grand Jury requested by Fulton County DA Fani Willis should instead focus on that and not his "perfect phone call" in which he tells Georgia's Brad Raffensperger he needs to find 11,780 votes.
He signs off with: "No more political with hunts!"
Oliver O'Connell20 January 2022 19:36
1642708394
Trump tries to twist Biden's words in 2020 election fraud argument
Donald Trump has tried to twist President Joe Biden's words to falsely argue that the 2020 election was fraudulent, despite having no evidence to support the repeated claims.
"President Biden admitted yesterday, in his own very different way, that the 2020 election may very well have been a fraud, which I know it was," the former president said in a statement on 20 January, the anniversary of his last day in office. "I'm sure his representatives, who work so hard to make it look legit, are not happy."
Gustaf Kilander in Washington, DC has the details.
Oliver O'Connell20 January 2022 19:53