Teaching our middle school students how to be money confident kids is part math, part life skills. We want our students to learn skills to make smart decisions about money both today and years down the road. But we don't always have the resources or tools to do so. That's why we love this free workbook and guide from our friends and financial experts at T. Rowe Price. They've put together a teacher's guide and student workbook for grades 6-8, so you have everything you need to get started teaching financial literacy.
Lesson Plan Guide
Find everything you need to get started teaching middle school students financial literacy. The guide covers five concepts: goal setting, decision making, money and inflation, asset allocation, and diversification. Here's what's inside:
Step-by-step lesson plans with sequencing suggestions and learning objectives and vocabulary.
Lessons on identifying "needs" vs. "wants," how to budget for short- and long-term goals, and more.
Handouts, activities, games, and conversation starters.
Assessments and answer keys
Built-in flexibility. You can decide if your students need more practice or are ready to move on.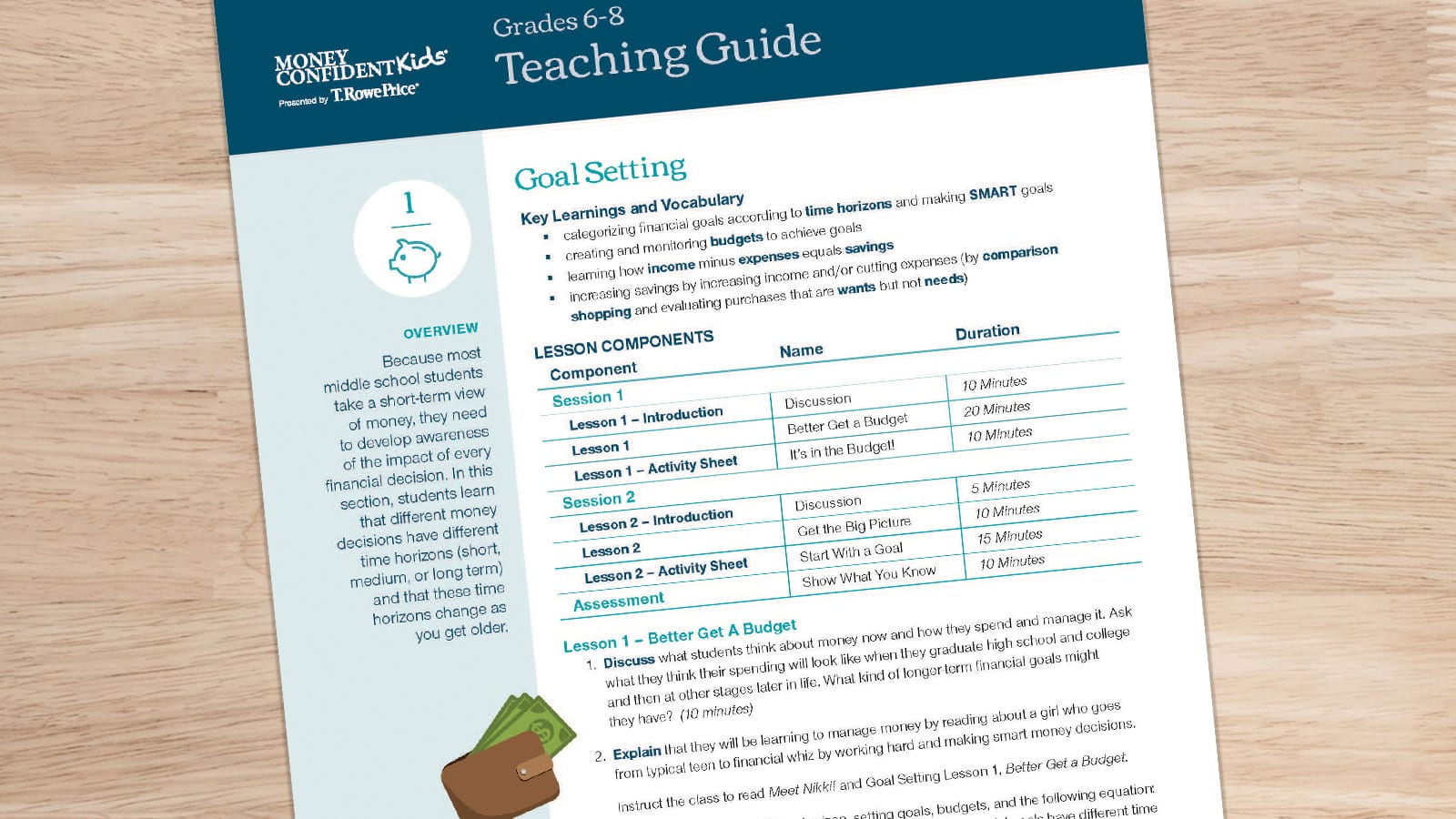 Student Workbook
Teaching our middle school students financial literacy now means fewer mistakes later. When students open this workbook, they meet Nikki, a fictional middle school student, and follow her money choices from middle school to adulthood. Here's what we love about it:
There are multiple lessons and activities for each topic.
Students get to know Nikki and see how her financial choices affect her future.
Nikki's goals are relatable–like saving to buy a car or budgeting to plan for a party.
Activities help students think about immediate and future goals.
There are so many fun ways for students to show what they've learned.
We love the glossary that defines key financial literacy terms.